Research Study of Expats Moving to and Living in Mexico Containing Fascinating Results Released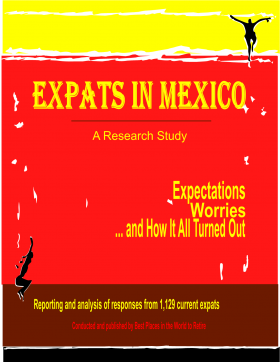 Lake Chapala, Jalisco, Mexico—October 9, 2017— Best Places In The World To Retire (Best Places) announced today
the release of its research study of 1,129 current expats living in Mexico, "Expats In Mexico—Expectations, Worries… and How It All Turned Out."
The more surprising findings included:
81.6% moved to Mexico in search of a "simpler, less stressful life," almost the same percentage who moved for better weather and a lower cost of living.
In what way the healthcare situation in Mexico was the biggest surprise the expats found.
What were Mexico expats' fears, which ones came true, and which did not.
Which areas in Mexico were the places the respondents liked best.
What myths were shattered and which are true.
"Mexico is a leading destination for Americans and Canadians considering moving abroad," said Chuck Bolotin, Vice President of Business Development, "yet there was very little objective data on the Mexico expat experience. Now, with the release of this rigorously designed, executed, and reported study with more than 1,100 respondents, there is."
Alan Alexander, Chairman of the Best Places Advisory Board added, "In addition to being perfectly designed for those considering moving to Mexico, this study is constructed to make it easy for journalists. The top-line, most interesting findings are highlighted in the introduction; there are lots of clear, interesting, and surprising graphs and charts; and there is commentary to help to explain it all, not only by the study's authors, but also by hundreds of expats, who provide a very human, firsthand perspective to the numbers."
"This study contains the answers to the most basic, most interesting questions about people moving to Mexico. Why did they do it? What were their expectations? What were their fears? What surprised them? How did it all turn out?" said Bolotin. "This study is a 'must read' for anyone considering moving to Mexico or anyone interested in those who are."
"Expats in Mexico—Expectations, Worries… and How It All Turned Out" is available for download
here
.
About Best Places in the World to Retire
Funded and run by an experienced group of entrepreneurs and investors based primarily in Southern Arizona and utilizing an innovative business model, Best Places In The World To Retire solves the problems of 1) those searching for "no spin," organized, balanced, diverse and credible information about moving, doing business, or visiting abroad; and, 2) for-profit organizations seeking new clients and non-profit organizations seeking new donors and volunteers.
The site currently covers the most popular expat destinations in Panama, Mexico, Belize, Nicaragua, and Portugal.
The main areas of the site are: 1) Community Q & A, with thousands of answers to the most often asked questions about living abroad, provided by a community of experts; 2) Location Advisor, a real time, interactive, fun and informative questionnaire that recommends the best places to live; 3) Expat Stories, where real expats share their experiences; and, 4) Marketplace, where for-profit and non-profit organizations have their commercial listings, all tied into the questions they answered and the stories they posted. The following are available for free download here:
eBooks: Our Year on the Road & Traveling in Mexico; and Panama-- the 62 Things You Must Know

Study about Mexico:

Expats in Mexico—Expectations, Worries… and How It All Turned Out
Studies about Panama, Belize and Nicaragua: Expats: Expectations and Reality; Expat Reports: Is it Cheaper to Live Abroad; and Expat Report: How is Healthcare Abroad
Contact:
Vice President, Business Development, Marketing & Sales