The Need For Insurance Lives On In Panama
Posted by Linda Jensen on April 9, 2014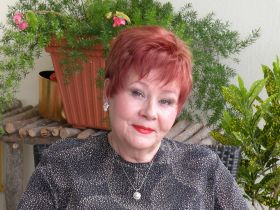 In Panama, the government doesn't allow insurance to be written for individuals over 62. That makes health care an important issue. Yes, it is cheaper than in the USA. However, the type of insurance available with MS Chiriqui Hospital in David has changed! (David is the closest large city to Boquete. The picture to the right is of the author, Linda Jensen.)
When we originally signed up for coverage we paid $147 per month and it had a term limit of $25,000 a year. Then another company purchased the insurance program and for the same coverage our monthly fees went up to $157 per month with a term limit of only $15,000 a year. We pay an additional $108 a year for a cancer policy with a limit of $1 million this year.
The nightmare is that although you are covered in the hospital for some of the costs, you are still responsible for 30% of the billed items. I was told they do not pay for a back up doctor for surgeries (that comes out of your pocket), they do not pay for skilled nurses (you pay that daily), and they may not pay for all of the anesthesiologists or other specialists. You have to pay for your own dressings, and sometimes the other items needed for a surgery. So one can see that this can lead to massive costs if say a person had a heart attack or stroke. This leaves me weak in the knees.
However you can Google or otherwise go online and find numerous companies that provide most of the coverage you need at a reasonable price ( in todays market) with worldwide or international coverage that often excludes the USA. Once again, many exclude the USA, but for a price you can add that coverage. However, with the USA being such a police state now if you happen to be the wrong political mindset you might not get care anyway. There have been at least three individuals in the US who had serious illnesses, life threatening cancers and they were told there was no treatment available for people over 75 year old. That is wrong on so many levels, it makes me so angry, I digress. Sorry.
My husband is 75 and I am 67 this year, and we have found a worldwide coverage (almost everywhere except the USA) with most of the things we consider necessary from a reputable company for $571.85 per month for both of combined. It has a $3,000 deductible annual deductible. Yes, it is a bit higher than the $157 a month we pay to MS Chiriqui Hospital Plan but it does cover more and the most we could end up paying out of pocket is $5,000. A friend told me his out of pocket at MS Chiriqui would have been over $25,000 for his much needed surgery on his hand. He is going to have it done in the USA at a cost to him of $1,600 plus his airfare and expenses.
I am writing this story to help you understand if you are living in high tax USA and home of the medical nightmare called Obamacare, there are other options. Panama has some excellent hospitals with new state of the art equipment and diagnostic services. People survive heart attacks, strokes and cancer here all the time. Do some research and find out what is available and see if the less stress, more affordable options for lifestyle and healthcare would be right for you. We love Panama.
This photograph is taken from the Los Molinas hotel.