How Former Texan Jackie Lange Found Her Paradise in Boquete and Unintentionally Started a Business, All at the Same Time
Posted by Jackie Lange - Panama Relocation Tours on December 30, 2015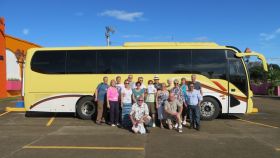 As told to Best Places:
Hi, I'm Jackie Lange. I have lived in Boquete, Panama for almost 6 years now. I moved after deciding I was just sick and tired of the heat in Texas. One summer we had 90 days straight of 100˚ weather. I lived on a private 500 acre lake. It was too hot to get out on my boat, so it was just too hot to stay in Texas.
I spent two years exploring about ten countries other than Panama, including Mexico, Belize, Uruguay, Argentina, Ecuador, Chile, and Costa Rica. When I saw Panama, the amazing natural beauty immediately struck me, and the more research I did about the stability of the economy and the government, the more I liked it. I really like the fact that Panama is a small country with not a lot of people. One of the other things I liked was that Panama didn't have a real strong conservative group and a real strong liberal group that were always butting heads like in the United States. Everybody in Panama just seems to get along, which was very refreshing.
So my husband and I made the decision that we were going to move to Panama and put ourselves on an 18-month to 2-year plan because I still had several companies in Texas. We had a lot of rental properties, my house in Dallas, and a house in East Texas, so we had a lot of things to liquidate, which we anticipated was going to take a while.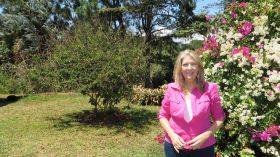 I've been a real estate investor for 25 years. Shortly after I came on that first trip, I was telling some of my real estate investor friends that I was planning to move to Panama, which made them really curious. Why is Jackie moving to Panama? What in the world is she seeing in Panama and why would she want to go? We were all travel buddies from our yearly trips, so we were used to getting on an airplane and going some place together. In about a week, I had eight real estate investor friends who I've known for 15 to 20 years who wanted to come down and see what I saw in Panama, which we did. We had a great time.
About two weeks after that I was getting phone calls from people asking me when I was going to do another tour of Panama, so I did another one. I did not come to Panama planning to start another business, but I wound up starting one showing people of the country, and it's been a lot of fun.
I live in Boquete, which is on a far western side of Panama, up in the mountains. The town itself is about 3,400 feet in elevation and most of the time the weather is about 75 to 80˚. I live about 1,000 feet higher than downtown so it's a little bit cooler where I live.
When I originally came to Boquete, I just rented a house for $600 a month, completely furnished, all bills included, on about an acre of land with 120 banana trees, avocado trees, orange trees, mountain views, and lots of coffee plants. After I had been here about a year I purchased that house for $125,000 with all of the land that goes with it.
The great thing about buying property in Panama is much of it has no property taxes. Because my house was built in 2007 I won't have any property taxes for another 13 years, which saves a lot of money. I also saved money with my water bill. In my lake house in Texas, I used to pay $70 a month for water. The bill for water in my house in Dallas was about $60 a month for water. But here in Boquete, my water bill is only $60 a year for unlimited water use. There's not even a meter, so you can use much water as you want for the same price. It's a huge savings.
Some other big savings include my cell phone bill, which in Texas cost me about $200 a month for unlimited data and calling. Here I spend $10.37 a month for an unlimited data plan. Regarding healthcare, I have international health insurance through Worldwide Medical, which is part of United Healthcare. I'm covered in any country in the world, including the US and Panama. I have a $1,000 deductible that applies only to services provided outside of Panama and the cost for the plan is only $2,100 a year. So that's a big, big savings compared to what I would be spending in the US.
As to the gardening, I can put just about anything in the ground and it just grows like crazy. So I have food year round that I can grow in my yard.
You can certainly save money by moving to many different countries, but that's not the only thing you need to take into consideration. You also have to take a serious look at the stability of the government and the economy because if the economy isn't so good then sometimes there is tension between the "haves" and the "have not's." In places where the economy is not so good or the wages are real low, you see that there's more crime, compared to places where the economy is doing very well like it is in Panama.
Some other things to take into consideration when you're picking a place to move to are the natural disasters. Are there hurricanes? Are there active volcanoes? Do they have tornadoes? We certainly have tornadoes in Texas. Luckily, Panama is so far south that it gets no hurricanes, they've never had a tsunami, and we don't have any active volcanoes that we have to worry about like they have in places such as Ecuador and Guatemala.
Some other things I really like about Panama is how friendly and helpful the Panamanians are, even if you don't know the language. If you just smile and make a little bit of an effort they will bend over backwards to help you.
Panama has so many expats from many different countries. We did a survey a few years ago and found that, even in this little town of Boquete, there are expats living here from about 60 different countries. It's very common to go into a restaurant and find somebody speaking German at the table on one side of you. One table over, somebody could be speaking Spanish and next to that table, you may hear a little Italian and some French someplace else. It's so cool to meet people from so many different countries.


The expats here in Boquete also come from such a variety of backgrounds and economic situations. Some people are just barely scraping by, living only on Social Security. Other people came here with a lot of money and they're living in real fancy houses. One great thing about the expat lifestyle is that, usually, nobody cares. Everybody gets along. Just the other day, we had movie night. On Sunday night we have potluck dinners at different people's houses. Sometimes I go to a $5 million house and sometimes I'm going to a $500 a month rental for the movie night. It doesn't matter. Everybody gets along and nobody really cares how much money you have or what kind of car you drive or what kind of clothes you're wearing. It's just doesn't matter when you're an expat; at least not here.
So I think I have found my little paradise right here in Panama where the sky's blue, it's green all year round, people are so friendly, and the economy is just booming.
Jackie Lange's Panama Relocation Tours with bus and tour group

Jackie in Panama

Aerial view of Boquete