Tuesday Market In Boquete Provides A Sense of Community
Posted by Linda Jensen on January 10, 2016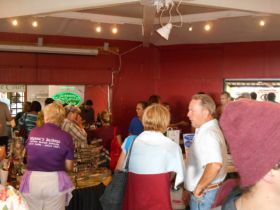 Tuesday Market in Boquete, Panama is a busy place. Vendors, crafts-people, artist, services, produce, coffee makers, cosmetics, oils, soaps, candles, baskets, bread, meats and more fill every free inch of space! Therapy such as chiropractic and massage seem to do a good business in this busy place as well.
The market opens at ten on Tuesday each week and closes at noon. In the early morning, vendors arrive to set up their display tables, have coffee with friends and chit-chat with each other. Vacancies are few and usually, people are waiting for someone to leave an opening. A food truck sets up on the parking lot. (My husband loves his sausage on a stick.) Inside there are food vendors too. People sell plants, flowers, books, hats, jewelry, household items, tourist trinkets, tee shirts, vitamins, honey, coconut oil, seafood and used books.
You will linger at one table or another listening to the description or prices, and how the product works.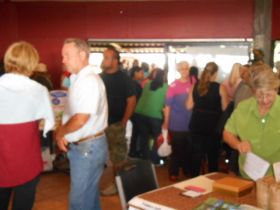 This community supports the Tuesday Market and enjoys the displays of beautiful gifts, jewelry, all that the various vendors have to offer. This is a destination location! Located in the BCP Building across the street from the fairgrounds.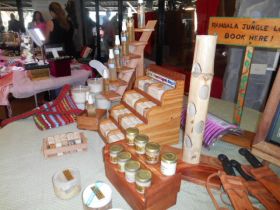 More than a shopping venue Tuesday Market provides a sense of community to the many expats who choose to live in this area. If you want to meet people, just show up and meander through the crowds. People are very friendly and welcome new- comers with a smile and handshake more often than not.
Having lived here for three years, I seldom go to the market anymore. My husband enjoys it far more than I do. He likes seeing friends, the food, the produce, the books and will stand and talk to anyone for a while!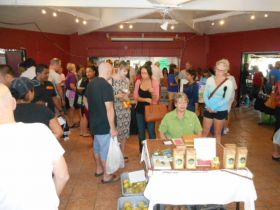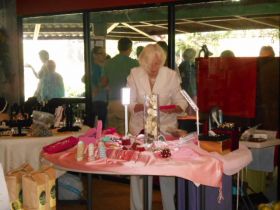 Recently I helped a good friend by setting up her table and doing her sales while she attended a wedding out of the country. Her husband helped me, too. For me, it was fun watching people. Learning more about the community. I even met a lovely lady helping her friend out and we became friends. It was instant like for both of us. There are many faces I recognize from the area but I do not know their names. It was fun explaining about the tagua beads that my friend's jewelry is made of called eco jewelry. The bead is a substance like ivory without the need to kill an elephant to make things!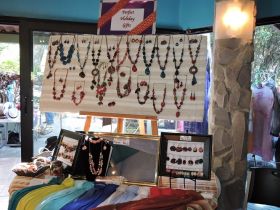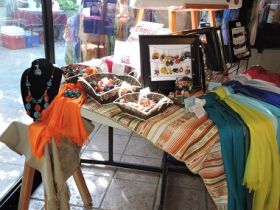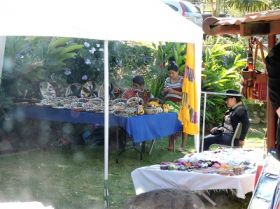 The Tuesday Market is a place for all manner of goodwill ambassadors to meet and greet. Organizers have programs to inform and help new arrivals transition to this country. There are differences between Panama and other countries and through informative meetings and discussions, people learn to love this country. (Sometimes people learn they are not suited for Panama too.)
Boquete is a lively community; it is a melting pot of diverse cultures and people. Boquete is a place of tourism and excitement. We have all we need, maybe not all we want and this beautiful little town is poised for growth. The climate is spring-like year round. It is no wonder so many visitors become residents!