"Honey, Don't Look Back!"—the Founding and Development of River Ranch Farms, Between Boquete and David, in Panama
Posted by Kjersten Van Horn - River Ranch Farms Panama on October 30, 2017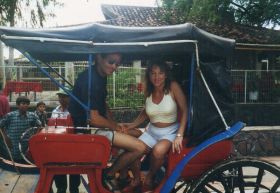 My dear husband and I left the good ol' USA when we sold our home in California in 1994. He told me: "Honey, don't look back!" We were young and adventurous so we drove from California to Costa Rica.
Since we were young we still had to work. Some Costa Rican partners and I started our own real estate business and network. I had worked in California as a top producing real estate agent for Better Homes and Gardens for five years so I had the experience. My husband had the talent and the skill to build homes and I would sell them. We were a good team. We had a great ten years in Costa Rica and made many friends of all nationalities.
In 2004 we moved to Boquete, Panama. Costa Rica got too expensive and the crime was getting bad so it was a no-brainer to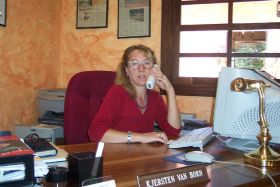 move to Panama. We were reaching retirement age and not only did Panama offer better immigration laws for foreigners but they also offer retired residents (including expats like us) many great discounts!
While we were still in Costa Rica around the year 2000 my husband and I met the developer of a now-famous gated community in Boquete called Valle Escondido. So when we decided to move to Panama the developer offered me a job working in sales at his project. We lived there and I worked there from 2004 to 2006. It was a good experience and I watched Boquete ("The Valley of Flowers) blossom from a sleepy little town into an expat haven and tourist destination.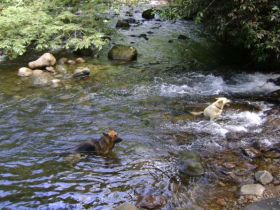 In 2006 I realized I am not a gated community type of girl, so we left Valle Escondido. I found some incredibly beautiful farms half-way between Boquete and David (the closest major city to Boquete) and developed a community of smaller ranches of approximately five to six acres, all with river frontage, that we named River Ranch Farms Panama.
I have three horses and love to ride. We have miles of trails for riding at River Ranch Farms. I enjoy the sound of the river, especially for sleeping. My three dogs love their morning walks with me and they love to swim in the river as well! The water is clean and refreshing and good for our souls. The soil is rich and volcanic and great for growing your own organic fruits, vegetables and ornamentals. It's a great tropical lifestyle!
Pictures, from top to bottom:
John and Kjersten Van Horn prior to coming to Boquete, Panama
Kjersten Van Horn at her desk at Valle Escondito, the development that "started it all" in Boquete, Panama
Dogs playing in the river at River Ranch Farms Panama