Merry Christmas in Boquete, Panama
Posted by Linda Jensen on December 22, 2013

This is our second Christmas in Boquete. Our first Christmas was just three weeks after we arrived in Panama. We are now enjoying our second Christmas with some of the many new friends we
have made this year in Boquete.
Arne and I spent the first Christmas with our landlord and his friends.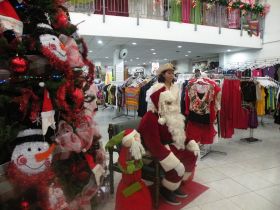 We have been to a couple of small holiday events.
Parties are all over the place, festive decorations are
up in just about every business.
Shopping is fun and the holiday spirit abounds. Since shopping online is easy I made it easier this year by ordering Visa cards from our American Bank. Not only did they get delivered within two days of ordering them
but they were sent via Fed Ex and insured! No hassle for any of us this year.
We send the kids love and greetings via our phone calls and SKYPE is great for making it feel like we are part of their celebrations.
Our weather is spring-
like and nice. We sit on the patio often during the day and eat most meals out there. The stars are beautiful at night. Our patio is where we enjoy a glass of wine and relax amid the flowers and tropical trade winds. We are not rich, but comfortable here.
God's gift to us was His Son, Jesus, who was born for us; he taught us about faith, love, sacrifice, discipline, and showed us the way to everlasting life. This gift is beyond all others, it is the gift that keeps on giving. I pray for all who know the Lord to be blessed abundantly this year and from this Christmas to the next.
Come to Panama for a visit and you will want to stay for a lifetime.