Fresh Air, Great Climate. What's Not To Love About Boquete, Panama?
Posted by Linda Jensen on May 28, 2013

Boquete is located in the cool mountains just 45 minutes north of David, (the largest city in Chiriqui Province in the Republic of Panama.) The trade winds blow through the valley and keep pollution to a minimum. The air is fresh and it is wonderful to breath deeply, very relaxing for us.
We arrived on December 12, 2012 ready for our adventure. We rented a car in Panama City and drove to David, it took about 6 hours or so. Our first night we spent in Volcan, it is on the other side of Baru Volcano. We enjoyed the beautiful scenery and stayed at the older hotel Dos Rios.
We set out for Boquete early the next day. Once we arrived in Boquete it felt like we were home. So many places in the small town were familiar because we had seen so many videos and pictures over the last four months while researching safe and affordable places to live.
We rented a small townhome style apartment at Los Pinos. It was clean, the furniture was quite old, and the bath was small and the only hot water was from the shower head and it looked dangerous. We found out they are called suicide showers for a reason. The grounds were lush and beautiful flowers and shrubs decorated the walk ways. The manager was very sweet and spoke some English.
We felt a bit confined in such a small space and we also thought the rent was too high. So we got online and found Boquete Valley of Flowers Condos. We met Roger and his lovely wife Margaret and without much effort we soon had rented a two bedroom, two bath condo in wonderful location. We also had hot water! It is a more American style construction and quite comfortable. Roger has built three buildings and a fourth is under construction, he plans to build four more buildings. Each building has four units two lower and two upper level. Even though our unit doesn't have the spectacular views most of the units have, we love our patio area and enjoy our morning coffee watching the sun rise above the mountains in the east. Our patio is shaded and comfortable almost all the time. You do not need heat or air conditioning in the mountains. The climate is spring like more than any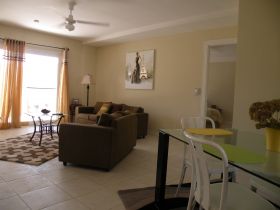 other description spring like fits best!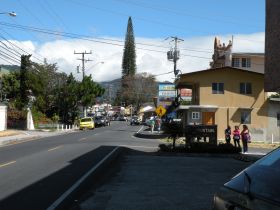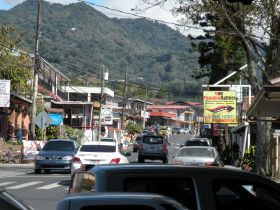 We enjoy shopping in the pueblo ( town) and we enjoy the many restaurants, bars and grills found along the side streets. We have two favorite bakeries, Sugar and Spice is a very popular Gringo hang out. The other one is next to Duran Coffee shop as you head to the bridge over the river.
Although Boquete is a bit more expensive on rent when you consider the comfort and less expensive utility cost it is still a bargain. Here you can purchase fresh grown produce, exotic fruits, delicious baked breads, Peruvian foods, French, and Italian, Panamanian, Columbian and American.
You can walk which is very healthy or hail a taxi or take a bus to and from almost any place, anywhere to town. We rent a car once or twice a month and drive to David for Price Smart shopping.
Eating is a joy, we go to happy hour with friends once every week or two. We love the coffee's so many to choose from and so rich,aromatic, and delicious. We have our health insurance with the hospital MS Chiriqui in David, for the two of us $147 a month.
My husband said the other morning, I love it here, I am still amazed that you found it and wanted to come."
I asked him if he was really that happy and he said yes! We feel better, can afford to do more than we ever could in the states. The only thing missing is our grandkids but we use Skype and phone calls to stay in touch.
Like I said, what is not to like about Boquete!