I Love Las Lajas Beach
Posted by Linda Jensen on January 30, 2015

We recently enjoyed a day trip to Las Lajas Beach, a lovely beach on the Pacific Ocean just two hours from Boquete. Oh yes, I fell in love with it! So the next week we got a chance to go overnight. We arrived on Wednesday morning with our wonderful next door neighbors. We checked into our rooms, which were very clean, had nice large big screen TVs, and comfortable beds; adequate in every way. We did take a coffee maker, as they do not provide those. It looks like they have about 12 to 14 rooms in this little resort.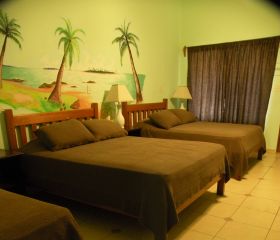 Then we went to the beach and Arne and Donna jumped right into the waves! Joe chose to lounge in the sparkling pool, near the bar/restaurant. I was all about taking pictures!
The trade wind breeze was very comfortable. It is warm but not unbearably hot, at least while we visited. With the neat grounds and tropical vegetation you feel as if you are in a comfortable backyard with old friends. There is the shade of the thatched roof cabanas. and plenty of sunshine to enjoy a nice bake in the lounge chairs. Arne was red as a lobster when we left, and I had a few spots of red as well, my badge of honor that I was at the beach for some sun and surf.
We enjoyed walks on the beach, dips in the ocean, and pool. The Las Lajas staff is friendly plus we like the small, country charm of the location. The beach is not perfect or even beautiful as white sand beaches in other locations go, ah, but the relaxation is just about perfect. The village is just down the road and looks like a typical Panamanian village. The police patrol the beaches occasionally. You find you are among friends because so many people from Boquete go to this place. There are camp sites, places to park for day outings and picnics. Small stores for cold beers and soda pop along the beach, just past the hotel.
Children, adults, teens, and senior citizens can all mix and mingle happily in this charming location. I am usually not a big fan of beach or swimming, but this place has changed my mind, I would say for us it is more desirable than the Bocas Del Toro beaches, and closer, too.