The Foods and Cuisine of Panama, Part 1
Posted by Jet Metier - Best Places in the World to Retire on December 27, 2012

Note: If you would like to watch me read this essay, click on the YouTube below. However, be warned, I am quite amateur; I stammer, I mispronounce words, and apparently, I suffer from chapped lips. But I hope you'll be encouraged to tell your experience and impressions to the camera, for that is an intimate way to tell your tale to others on Best Places.

I approached the food in Panama as if I were an anthropologist; an awareness I have, that food is shaped by the culture of people, and through the pleasure of eating, I found myself detecting Panamanian history and traditions while munching contentedly under the shade of ranchitos at every repast.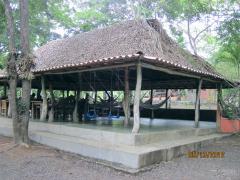 That is, because I knew, before Panamanian meals are passed from pot to plate, from spoon to mouth: it came from luscious earth to harvest, from hunter and gatherer, agriculturists to processors to market vendors, from new founders to new immigrants, from waves of conquerors to waves of tourists, and that is how I tasted Panamanian culture, as if it were a palatable museum. In Panama, I tasted before I ever learned, and in actuality have not studied, but believe in my mouth, I know Panama.

As a first time traveler, in the planning stages of curiosity, I looked at the map of Panama, which resembled a dog, head and muzzle, long body and tail. And carved within that isthmus that stretches between the great ocean of the Pacific and the romantic Caribbean, in that slender land, are provinces where tourist and citizen may not trespass.

What mystery I thought; the first settlers are in governance of their own, living within brackets of a country, in which the whole earth passes its products horizontally through the narrow waist of the heavy continents of North and South America, and they at their home fires, their hands magnificently adorned with bedecked bracelets peeling bursting fruit, practice their cooking, impervious to the opening and closing of the locks and ships bouncing up and down through them.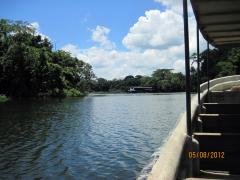 These foreigners cannot traverse with their foodstuffs and batterie de cuisine into their barrier jungles and isolated islands, and onto the indigenous ones' protected tables, where dinner conversation is still spoken in an arcane tongue.

I am not sure what the indigenous folk eat, or had eaten in the past, but I can guess that they did not originally use cast iron skillets to sauté their side dishes of leafy forest fronds, or stew in cauldrons for hours, bush meat shot from the trees,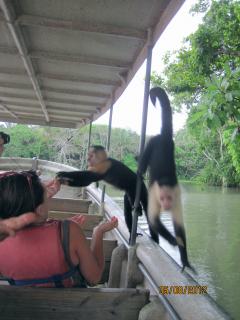 for that would have taken the practice and the art of metallurgy, and I bet the Bronze Age did not come to that part of Central America before the Age of Discovery.

And by looking at the pictures of these native folk (which seems to be the happiest occupation of both amateur and professional photographers alike), these original people, their richly embroidered and beaded garbs, colorful as the wings of birds who feast on the gay flowers that they resemble, their style is the style of nomads, who carry their wealth on them, that is, on the portable hems and collars of the women.
These people, and come to think of it, mostly the women, steadfastly show that they are a tribal people: their clothing, exotic yet uniform, an identification of the region, perhaps, of clan and family to which they belong, for no matter where they are, in the church plazas selling
or on a slow dugout back home, how they dress, is most likely, who they are hereditarily, and still patterned after the frocks and finery of their artistic ancestors.

So it would seem to me, these women who do not change their wardrobes, would probably not be inclined to change their menus either. And so, the meals these traditional women cook are ancient too. Conceivably, a tribal woman cooks as her grandmothers cooked, a fish twirled on a spit as her baby snacked, or, for when she has to work a full day away, she cooks beneath the soil, in pits with smoldering charcoal, to make starchy vegetables sweet and palatable, nourishing food which later is to be eaten, as night falls and without implements.


And how they must feast, for what they eat, gourmands would weep for their deliciousness and rarity, for I found them in the Indian marketplace in El Valle de Anton, fruits and vegetables for which we have no translation or even concept, brought out as the found goods of the virgin woods, fragile offerings that would not last an ocean passage.

II

I do not know the timeline of Panama, but the French had once waved their lacy cuffs centuries back in the district of Casco Viejo, now miraculously entering a haute renovation mode.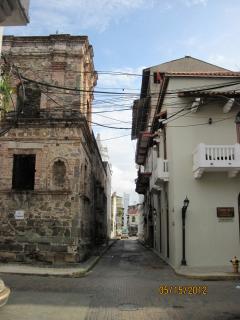 This once gentrified neighborhood could be interchanged with parts of New Orleans and Martinique, whose facades were once exuberantly grand as creole France, the love of the ornate, the delicate, and the madness for femininity, the sign of their stay.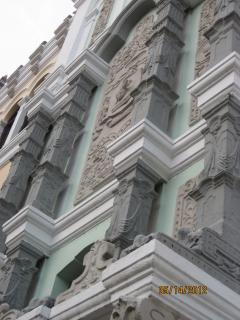 Through the food, I tried to taste the remnants of that French epicurean glory, like its love of crusty bread, preserving the hand of the boulanger. And I wondered if the Gaelic descendants, in the outpost of Panama, retained their dependencies on sauces, beginning with a roux, the basic white sauce, to blanket every cut of meat, especially those that once swung from the high tree tops.

I suspect those techniques were shrugged off, as the colonialist died at the pinpoints of malarial bites, and their culinary habits evaporated, and those remaining European settlers and their ways were absorbed into the land, the way the floor of the forest, covers everything in its jungle béarnaise.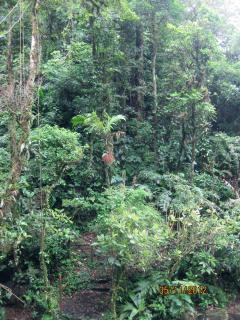 To be continued
.