Day Trip to Boca Chica
Posted by Linda Jensen on February 7, 2016

On a windy day in February three of us ladies drove the hour and forty-five minute scenic route to Boca Chica. Bright as a blue umbrella the sky above us was a vivid blue. Strong winds pushed us down the narrow, two-lane road toward the Pan America Highway. it was definitely time for the A/C in the car! We chatted and laughed all along the way. Donna was making the trip to spruce up and change out her jewelry display at the Seagull Cove Lodge gift shop. Patsi and I were just helping with logistics and companionship.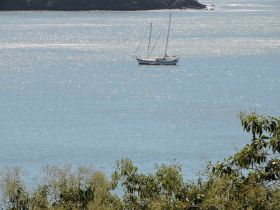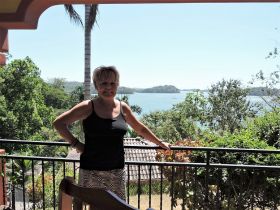 We arrived before noon and enjoyed the beauty all around the lodge site. The staff at Seagull Cove are long time employees there. They made us feel like old friends, the same as their guests of the lodge. The employees are very nice young people. The views from the restaurant are quite beautiful, even in dry season. We learned a film crew from UK was there shooting a show. It was unfortunate that since it is high season, there was no way they could stay at Seagull Cove. One must reserve a long time in advance for high season accommodations. However, the management did their best to help find suitable rentals for the large crew. We lingered long enough to have some cool beverages, Donna sold some bracelets, and then we packed up and drove to Boca Del Mar, another beautiful resort.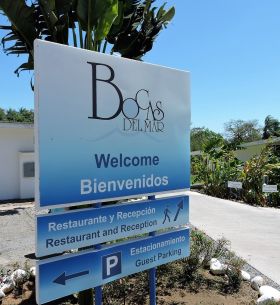 Maybe not breathtaking views, but certainly mesmerizing views of the water against the islands, and the tropical blue sky above, it worked for us. Once at Bocas Del Mar, we enjoyed some salads, wine, appetizer, and a meal.
People played in the crystal clear, pool next to the dining area. Patsi and I took pictures of the views, of foliage, and boats then right after we seated ourselves a tree fell from a huge gust of wind! We count ourselves lucky because only a few minutes before we had stood right in the path of the downed tree! We laughed about it. It felt so comfortable on the outdoor patio we stayed a while longer than we planned.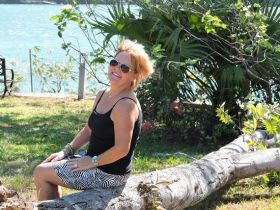 A nice man and his wife were relaxing in the pool. They currently live in Canada and asked where we lived, So we chatted about Boquete, and gave him our cards. As we left, a good deal after lunch time passed, we peeked into one of the rooms. Although it looks plain from outside, it was well appointed and looked comfortable. I must say the outdoor patio with such a panoramic view of the ocean was a nice touch.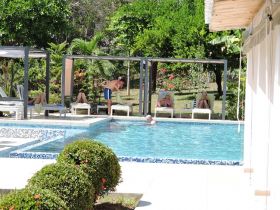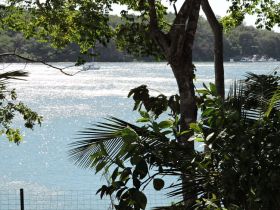 Both of these resorts are off the beaten path, signage is not the best in the world and it is easy enough to miss if you are not looking hard for them. The roads off the blacktop are primitive and bumpy, but the rewards are worth a few bumps in the roads.