Los Olas Beach, Surf, Sand and Sun
Posted by Linda Jensen on August 14, 2015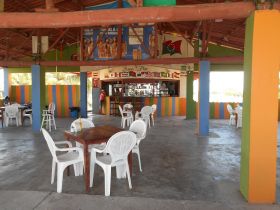 Only a little over and hour drive from Boquete there is a beautiful beach with something for everyone. Los Olas is also known as Playa La Barqueta. Here you will find dark volcanic sands, public access to the beach and a quaint bar that offers cold beers and beverages in cool shade with good views of the ocean. You can dine on fresh fish and seafood in the small cafe next door to the open air bar. This open air bar is a cool place to get a cold beverage while still in view of the ocean waves.
Not far from there is Los Olas Beach Resort. There are forty eight rooms, pools, a playground, seaside chairs and shades, a lovely patio, as well as an indoor dining room that offers views of the Pacific and the beach. The hotel has affordable rates during the off season, a bit higher in season, as well as condos for sale and for rent.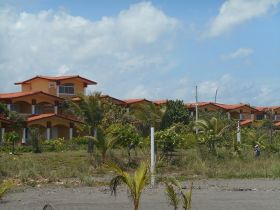 Further down the beach is new construction of condo towers, and past that is a gated residential community. There is a real estate center located there. You can see some of the nice homes in the picture to the right.
Our recent day trip was just this week. We drove to Los Olas from Boquete, our friends and their wonderful Panamanian friend with us. It was a lovely drive from David on the winding two lane blacktop road as it twists and turns through farmlands, pastures, rice fields, and small villages.
The picture just below and to the right is of a rice field with the grain facility in the back ground. Panama is very diverse. Here we find a growing middle class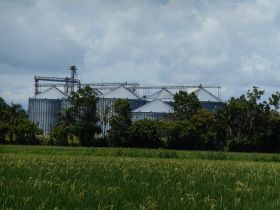 and many more opportunities than in years past, as well as farms with modern equipment. Yet villagers are seen walking and riding bikes all along the way.
We had fun taking photos along the way. Once we arrived at the beach the sun was high, and the dark sand was very hot to walk on. Still, we braved the burning sands for our photos of the waves.
Waves crashed ashore with thundering noise. The surf was beautiful and dangerous at the same time. There were many waves that were larger than the picture just below shows.
There is always a danger of rip tides along the Pacific beaches. This day would have been a bad day for swimmers, even experienced ones.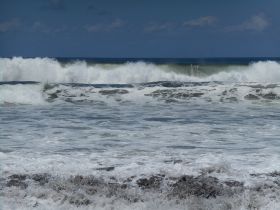 There are no life guards on the beaches. So always read the warning signs. For those who want to enjoy the water, try the hotel pools. They are clean, inviting and safer than the surf. (You can learn more about rip tides and how to deal with them by going online.)
After our little trip, after all the photos, after the cold beers, we enjoyed lively conversations all the way back to David. We ate a late lunch, shopped a while and got home to Boquete before dark!
We were tired, but impressed by Los Olas.