A Quick Trip Across The Panama - Costa Rica Border
Posted by Karen Walter - Local Travel Excursions on April 14, 2015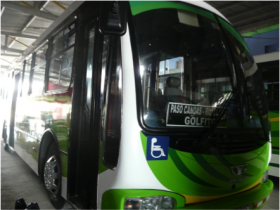 Since my arrival in Panama I have made many business connections, some of whom are in Costa Rica. It was finally time to make a trip across the border to meet some folks and tackle the dreaded border crossing that many expats experience frequently for different reasons. Having researched the immigration requirements and talked to many who have made the crossing, I expected things to be somewhat different, and not in a good way. To my surprise, the trip was uneventful and might I even say... pleasant. No surprises. No delays. No hassles. Here's an overview of our trip.
We took a local bus out of David to Paso Canoas (otherwise known as the "Frontera"), which took about 45 minutes. That cost was $2.00. At the Frontera, members in our group were able to shop around, grab some lunch and make plans to pick up items on their way back. The shopping area is vast but the Panama immigration building sits right in the middle and you cannot miss it. First, you get your passport stamped to EXIT Panama. (No charge for this.) You then walk less than 5 minutes to the Costa Rica immigration building, complete the short visa form and get stamped to ENTER Costa Rica. (No charge for this.) At this time we walked across to the Transgolfo bus station and caught a bus to our destination. This time we were headed to Golfito.
Once in Costa Rica we were completely thrown by the money exchange. My last time in Costa Rica was several years ago and I had completely forgotten about the use of colones. On my next trip I will remember to take a money exchange cheat sheet. The bus ride to Golfito was 1.5 hours and cost approximately US $2.25. The buses are much larger than our coasters in Panama and the large windows allow for great viewing opportunities. Overall, it was a very pleasant trip.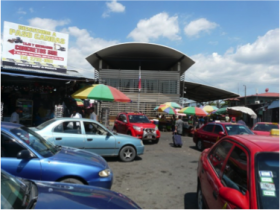 Returning home was even easier. The buses run very frequently to Paso Canoas so we were able to have a morning of leisure and enjoy some lunch before heading back. We pulled into the same bus station in Paso Canoas and walked across to the Costa Rica immigration building. We completed the same immigration form and went to the bank that is right across from the immigration counter and paid our Costa Rica exit tax of $7.00 per person. (Note: this bank is closed daily from 12:00-1:00. Reportedly, there is a machine that accepts credit cards where you can pay your exit tax.) This receipt was presented to immigration in the EXIT line and we received our passport stamp. We then retraced our steps back to the Panama immigration building for our passport stamp to ENTER Panama.
Those who are in Panama on a tourist visa were asked to show their travel information (plane ticket) back to their home country. Those who are permanent Panama residents do not have this requirement. No one was asked to show "proof of economic solvency" which at this time is $500 per person, but we understand that the agents sometimes request this. Upon completion, the immigration officer smiled and offered a "Bienvenidos a Panamá (Welcome to Panama)" and we were happily on our way. For some, there was more shopping to be had while others enjoyed local snacks before our ride home. All in all, it was a great experience. Golfito was also wonderful, but we'll save that for another post.