Surfing in Panamá
Posted by Lourdes Townshend on January 27, 2014

Regions of Panama: Punta Chame
Panamá has always been a country with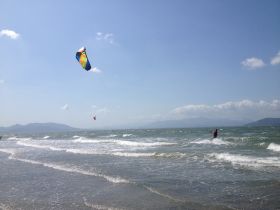 warm and friendly people who
welcome all nationalities. It has also been a place of transit since the 15th century, when visitors came with gold from Perú to Spain. Later, with the construction of the Panamá Canal (considered one of the Eight Wonders of the World), workers from all the world wanted to be part of this great mega-project.
Today, in the 21st century, again the world remains focused on this small but unique country, not only for the picturesque beauty of its environment, the nicest weather and history, but for so many things it has to offer.
And one thing for which Panamá is very attractive is their beaches and outdoor sports, including surfing. Several places are specially designated and known as great surfing spots in Panamá. The main ones are Punta Chame (pictured above), Gorgona, Pedasí, Santa Catalina, The San Blas Archipelago, the San Miguel Archipelago, and some other beaches in the province of Chiriquí and Bocas del Toro.
Some international celebrities visit Panamá just for surfing, and famous events take place in these places for the pleasure of all surfing fans.
At the international airport, it is common to see surfers with happy faces arriving with their equipment, eager to feel the pleasure of great waves of Panamá.
If you don't have your own equipment, don't worry. There are places here specially designated to supply equipment and products for surfing.