Enchanting Beauty Along the Back Road to Santiago
Posted by Linda Jensen on November 28, 2015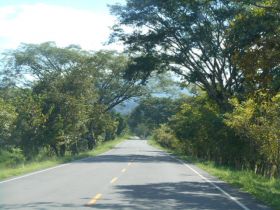 Americans like the fastest route from point A to Point B. I find that truly boring. Unless there is some schedule to be kept I much prefer the back roads to get around. My reasons are simple; I like to be on the less traveled road. I enjoy less traffic, fewer potholes, no hurry. I love taking pictures and seeing real people doing what they do best, being themselves!
Another reason at this time to take a scenic drive is to miss the massive construction projects between Santiago and David on the Pan American Highway. Here I warn you that there are enough curves in this small two-lane back road to break a snake's back! Yet the breathtaking views, the many opportunities to stop and take photographs makes this side trip worthwhile.
From Boquete on the Pan American Highway at the checkpoint leaving Chiriquí Province, you stay to the right and make an almost immediate turn to the right. Follow the road to its end and you are in Santiago! You still have to meander over to the Pan American Highway, generally coming out near the bus terminal on the south side of town. Follow signs to "Sona" when coming into Santiago from Panama City or Coronado. In one village, there is a place to stop and a gazebo area so that you can take stunning pictures of the Pacific Ocean.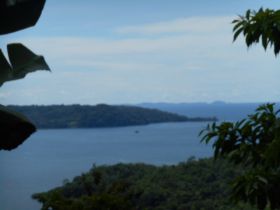 You will drive slower, always alert for dogs lying in the sun on the pavement. Look out for horseback riders, families and people walking on the road or standing nearby waiting for the bus to pick them up. No, it is not a drive for the hurried, careless driver. You have to be willing to slow down! There is so much to see you really need a driver who pays attention and another person to yell "stop" for photos. This a photo of a pre-holiday Friday in Sona, Panama on the way to Santiago.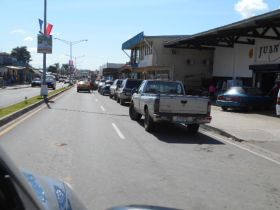 We have been this way three times. I never tire of it. These are recent pictures of a few of the sights along the highway.