Hidden Treasure in Las Perlas Archipelago, Panamá
Posted by Lourdes Townshend on April 1, 2015

Panamá History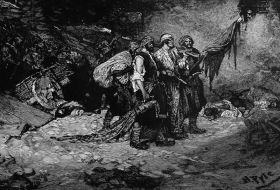 Sometimes when you read about a country, many times you only find the "tourist" attractions. But I want to introduce a little bit of history about Panamá that is not mentioned in many books or tour guides.

Recently, in a popular newspaper in Panamá, the "La Estrella de Panamá" there was an article about a very particular history that was, until now, little known, but nonetheless, is a magnificent piece of a glorious past.

Panamá has always been "the path of wealth (mainly gold)" between America and Europe, especially around the 15th century. (Gold from Peru was transferred through Panamá on its way to Spain.)

However, this story is more about another kind of treasure that is related to pearls, and a hidden paradise in the Pacific Ocean, south of the city of Panamá, called the "Archipiélago de las Perlas", which in English, translates to "Pearls Archipelago".
As a side anecdote about pearls, my husband´s grandfather, an immigrant from Italy, was among the hard workers in agriculture and cattle, and also a pearl fisherman, who found an extraordinary pearl in the ocean, close to the town of Soná, in the province of Veraguas.

The pearl I found in the newspaper story is about the submarine Explorer," brought from New York in 1866 into Panamá Bay for the purpose of pearl fishing, which it did until 1869, at this extraordinarily beautiful archipelago, a place no nature lover should miss, Las Perlas Islands.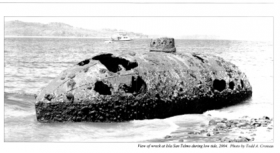 It was in 2001 when Dr. James Delgado, an aquatic archeologist, came on a small cruise from Central America to visit the Panamá Canal and do some bird watching, that he heard about this submarine, which could still be seen when the tide was out. Instead of the bird watching, Dr. Delgado stayed for long hours until he could see the submarine. He was astonished by what he saw.

Dr. Delgado wanted to now more about this submarine, which was near the small island of San Telmo, and its inventor, Julius Kroehl, who died in 1867 while engaged in studies in the area, as had previous people involved in the project. (Julius Kroehl is buried in the local cemetery in El Chorrillo, in the city of Panamá).
(The submarine Explorer, pictured above.)
The history of the submarine Explorer somehow reflects the history of Panamá and its great wealth, which always attracted pirates and explorers, who wanted to take it away from Panamanians. Others say that this submarine was the inspiration for Jules Verne for the movie 20,000 Leagues Under the Sea.

(An illustration of "The Sacking of Panama," published in "Buccaneers and Marooners of the Spanish Main," Harper's Magazine, 1887, pictured.).
Only five submarines before 1870 have survived, and, except for the Explorer, all of them are in museums or in restoration process. Because the project of restoring the Explorer would take millions of dollars, Dr. Delgado and his crew decided to help the nearby village of La Esmeralda instead, to leave the submarine as a "natural museum" for generations to come, and let nature take its process.


Dr. Delgado, says that the best part of his job, as sub-aquatic archeologist, is to discover new things, investigate history, and then, talk to everyone about his discoveries. That's the reason why he is the director of maritime patrimony at the National Oceanic and Atmospheric Administration, in Washington D.C. (USA), and enjoys his work.

Panamá is very fortunate to have this piece of history in their very own waters.


(The longitudinal Isometric Section​ of the Submarine" Explorer," located along the beach of Isla San Telmo, Pearl Islands, Isla San Telmo​, Panama pictured above.)