Staying At The Coconut Lodge Near Panama City Is Just Like Visiting Relatives You Like!
Posted by Jet Metier - Best Places in the World to Retire on December 26, 2012

Mike Pop, the co-owner with his wife Nancy of the Coconut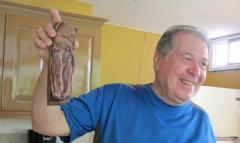 Lodge, in the Panama City area, is like the uncle who is always upbeat and happy, makes big delicious big breakfasts, (including his own smoked meats), realized his dream of moving to the tropics and putting a tennis court in the backyard, tells funny stories, and is such a stickler for details that each stone in the pathways of this beautiful home is set perfectly and aesthetically.
Nancy Pop, Mike's wife, is caring and considerate like a sister, who waits for your arrival late at night and gives you refreshments and company until you are wound down enough to retire to your room. Nancy makes special things happen, like getting the Jungle Land Panama tour which had planned to been closed that day to heave anchor for us. Her heart is in her work and any kindness you show her, her response is manifold.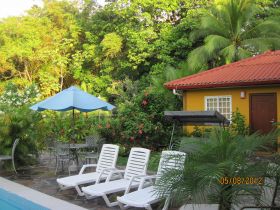 Melissa, one of their daughters, is like a cool and smart cousin, helping us find a cheap cell phone and getting it activated (not easy), skillfully driving like a local taxi driver to get us to our car rental place, and giving us insights into life as a young Canadian expat artist living in Panama.
Mike, jovial and enthusiastic, picked us up from the airport late our first night, and Nancy welcomed us with refreshments and conversed with us until the we were ready to retire.
This tangerine colored villa in an upper middle class neighborhood is an oasis from the frenzy of traffic and visual cacophony of Panama City. There is precision and care in this intimate resort; I instantly felt relaxed the moment I stepped through because the stones in the passage ways were aesthetically
placed and level, signaled to me that this place would be well run and professional. The areas surrounding the pool are immaculate and serene, landscaped with the most exotic trees and plants in firm design, gently dropping to a tennis court beside a stream, all that can be overlooked from the terrace, which is cool and comfortable and laden with a generous and delicious breakfast table, and dinner by candlelight if you wish.
I'm nutty for the Coconut Lodge, for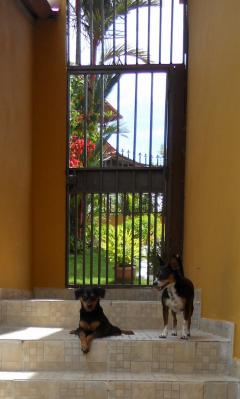 this tangerine villa in a restful neighborhood, the white blossom trees that shimmer next to the pool and fountain, our casita that was ample, sophisticated and clean, the stream at the edge of the property and the hills that surrounded it, for these transplanted Montrealers, including the dogs and parrot, that made our first days in Panama like visiting family who we would love to visit us in return.