Hanging Out on the Amador Causeway, Panama
Posted by Bob Gugel - Origen Real Estate Panama on July 27, 2013

Located at the Pacific entrance of the Panama Canal is the Amador Causeway, a road and pedestrian walkway that connects the mainland of Panama City with three islands. This causeway was built with material extracted from the Culebra Cut when the Panama Canal was built from 1904-1914. It provided a breakwater for ships waiting to enter the Canal, and to prevent the buildup of sediment. Later the United States militarized the promontory and fortified it with ordnance during the two world wars. At the end of 1999 the Canal Zone, including the Causeway, was handed over to Panama. Today it is popular with tourists, as well as locals.
On the Causeway, you can jog, walk, skate, or rent a bike. With the ocean on both sides, you enjoy an enviable view of the entrance to the Canal, the Bridge of the Americas, and the skyline of cosmopolitan Panama City. Shops, a wide variety of seaside restaurants, bars, marinas, and a few hotels and condos have proliferated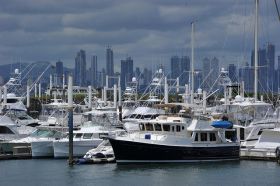 since the end of the Canal Zone days.
The Figali Convention Center, where many concerts are held, the Zona Vida Entertainment Center, and the Smithsonian Marine Exhibition Center are current attractions. The Biodiversity Museum, designed by renowned architect Frank Gehry, is due to open very soon. It is anticipated that it will become a major attraction in Panama. A huge modern convention center to replace the current Atlapa Convention Center in San Francisco will be built on the Causeway in the near future.
The first time my wife and I visited Panama on a side trip from Costa Rica, we were here for only four days, three nights. On one of the days we strolled down the Causeway, enjoying the scenery, exploring the abandoned military base, watching the ships go by, getting a bite to eat at Mi Ranchito, dipping into a pool, and having a glass of sangria.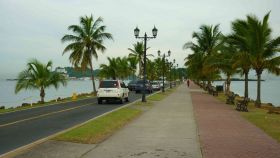 We came back a year later and rented an apartment near the beginning of the Causeway while we got established here and got our immigration papers in order. We took many walks and bike rides, often stopping at the Balboa Yacht Club and other watering holes along the way.
When we returned five months later we managed to find an apartment in a neighboring building on "Top Brass Road" where top naval officers once lived. We came to see the Panama Canal, but then like many others who were captivated by Panama, came to stay. The accompanying video gives a flavor of what the Amador Causeway is like.