A Short History of Juan Diaz, Panama
Posted by Bob Gugel - Origen Real Estate Panama on July 16, 2013

Unlike the Panama Canal, Casco Viejo, the Amador Causeway, and Panama Viejo, the name Juan Diaz does not attract much attention from visitors to Panama City. Yet the township of Juan Diaz has become equally important to the Republic of Panama, economically, commercially, and educationally.
The origins of this region go back to the days of Spanish colonization. It is believed that Juan Diaz was a Spanish soldier who settled in this same area. In the year 1875 one of the founding families of the village of Juan Diaz, the Ortiz family, purchased a parcel of land on a narrow dirt road for $50. Juan Diaz eventually became a township in the District of Panama in 1913. Since that time Juan Diaz has seen phenomenal growth, especially in the last decade. With a population of over 100,000 this township has become the most populous of the Panamanian capital.
Juan Diaz is one of the centers of manufacturing in Panama, including food processing, wood products, paper, textiles, and other products. In the last decade the village of Juan Diaz has become the focus of large real estate developments which has stimulated population growth and trade. Numerous public schools and several exclusive private schools dot the area. An extension of the National University of Panama has opened here to meet the growing demands of college students.
The centerpiece of Juan Diaz is the MetroMall with 260 stores under air-conditioned roof, including four department stores, 40 restaurants, and 10 cinemas, as well as a new Courtyard by Marriott Hotel. One of the largest shopping centers in the country, Centro Comercial Los Pueblos, has attracted hundreds of shops, stores, restaurants, supermarkets, cinemas, and universities over the years. The Santa Maria Financial District and Crystal Plaza shopping center which will have about 200 stores are recent additions to this community.
The development and growth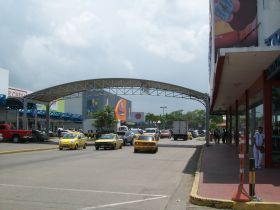 of Juan Diaz reminds me of Orange County, California, in the '50's and '60's. The huge tracts of orange groves and strawberry fields gave way to Disneyland, master planned communities, high rise office buildings, shopping malls, and other commercial and residential projects.
On the edge of all this amazing development in Juan Diaz sits the Ortiz property, which remains in the family. The narrow dirt road where an occasional horse drawn cart once plodded, is now Jose Austin Arango Avenue, a major highway where 75 thousand vehicles travel daily. My wife and I had the pleasure of meeting this wonderful, humble family in their modest home in a working class neighborhood as they related their fascinating story.