Experiences Crossing the US-Mexican Border at Mexicali (or is it Calexico?)
Posted by Chuck Bolotin - Best Mexico Movers on June 10, 2016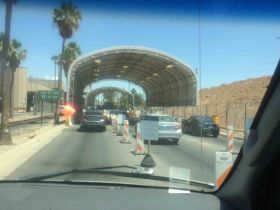 Whoever chaired the city naming committee for the Calexico – Mexicali area was too clever by half. Calexico (a mash-up of "California" and "Mexico") is on the US side, while Mexicali (a reverse mash-up) is on the Mexican side. Or is it the other way…
In any event, what strikes you as you travel through the general area is how much blending there is of the two cities. We felt we needed one, final, all American act before crossing into Mexico, so what better place to do this than at the Wal-Mart about a mile or so from the border on the US side. In the parking lot, we passed perhaps two dozen people, all Hispanic, all of whom were speaking Spanish. Once inside, I asked the cashier where they kept the caffeine gum. She looked at me with a quizzical look, but didn't speak. Not only did she not speak English, but I guess she found it odd that I did.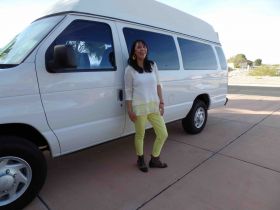 We had been told by the Mexican border official that we had to go to the next point of entry to the east. Unfortunately, it wasn't on our map, and Google didn't know it existed. After verbal instructions by a US customs official, an unanticipated detour and zero signage until about a half mile from the border, we stumbled upon it.
The temperature was rising and we had a deadline. Pretty much everyone told us not to drive in Mexico after dark, so we had to completely clear the border and be on our way to San Felipe (about 120 miles miles away on a road I knew nothing about) within the next two hours. I pulled up to the Mexican border agent, rolled down the window, smiled, and prayed he wouldn't ask us to take out all our cargo.
"Hi," he said, "I'm Jorge." (So far, so good.)
"Pull over there for inspection." (Not so good.)
We were entering under a temporary residence visa, so we had to make sure to go to the Immigration office at the border, but we weren't sure where it was. When I asked Jorge, he became visibly pleased, broke out in a large smile and informed us that he would be the one helping us.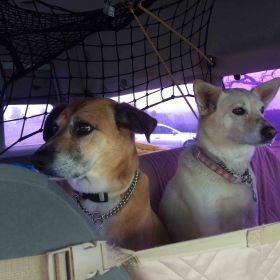 (I had made my first friend in Mexico.)
Our next encounter started out much less easy-going, in the form of a side arm-carrying female border official who came over to do the inspection and who was quite a bit more serious. Upon her instruction, I dutifully opened the back doors of the van, upon which, a high up and poorly placed bag fell out and missed hitting her by probably about an inch and a half. While she didn't burst out laughing, she didn't handcuff us either, so I figured we were still OK to that point.
She asked very politely if she could look into various containers, and asked me if we were bringing gifts. My assumption is that the van was so large and so incredibly cram-packed that she was either looking to see if we were illegally importing goods to open our own well-stocked mid-sized store, or smuggling in items for some other purpose.
I told her that all the items were ours and we were bringing them for our one-year tour of Mexico. She turned, tilted her head to one side, raised one eyebrow and, her eyes fixed on me, she paused. My assumption was that her look of incredulity was on account of the sheer volume of items. Satisfied that I wasn't going to spill the beans, at least not yet, she began her more intensive inspection. The first container she opened was packed to overflowing with just a portion of my wife's shoes—about 18 pairs. She looked down at the shoes, then she looked at me… and waited. Either she thought she had caught me in a lie, or otherwise was silently asking why one woman needed so many shoes.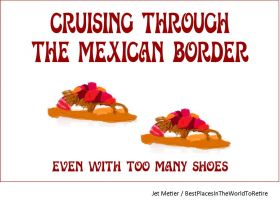 "Who are these for?" she asked.
"They all belong to my wife."
She didn't answer. She just looked at me behind her sunglasses, expressionless. I guess she was waiting for me to crack under the heat of the day and the pressure of the situation. I assumed that she was trained to notice the single bead of sweat that rolled down my forehead.
Then, it hit me how I could prove that all these shoes belonged to one woman. "Look," I said, "they're all the same size!"
OK. That container passed. Next, she climbed up into the van and tried to look into several other containers in turn. Suddenly, she made a strange motion with her hand and a small yelp that needed no interpretation. She had cut her finger on one of our containers and was bleeding.
This may not end well.

Hearing the screech, my wife Jet quickly appeared with the first aid kit, applied antiseptic and carefully bandaged the border agent. Right afterwards was the first time we saw her smile.

Either out of returned kindness, exasperation, or fear of further injury from things both falling and cutting, there would be no further inspections. We had passed.

Next, it was time to visit Jorge.

Jorge is one of those larger, jovial people who you just immediately like. On the other side of the counter, he carefully and deliberately placed two forms right side up for us on the counter, one in front of me and one in front of my wife. Then, he gave each of us a pen.

"Number one," said Jorge, pointing to the place on the form, "your first name." He then patiently waited for us to finish writing before proceeding.

"Number two, your last name."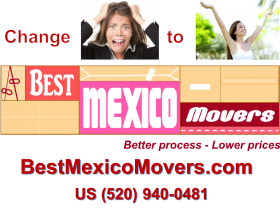 I loved it. It went on like this for about 5 minutes, with Jorge making absolutely certain, with the patience of a saint, that we would fill in the form correctly. Then, he left with the forms to go to some other room where I assume his supervisor waited.
In about five minutes, Jorge returned, but with a sad look on his face. Evidently, we had filled out the forms improperly, and it was his fault. He apologized, brought out new forms, and then said, "Number one…"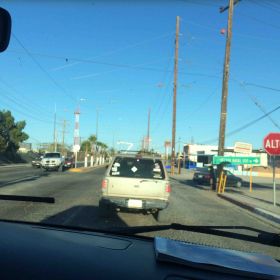 Even with the finger injury to the border agent and Jorge's very patient, meticulous style, we were finished in less than 20 minutes. We pointed the big white van south, and entered Mexicali proper. At 3:15 on Monday, May 19, we became expats.
You may remember the game "Where's Waldo", in which you try to find a particular sort of goofy-looking guy wearing what looked to me like a white and red striped Victorian England sleeping cap in a very busy drawing with lots of people and lots of activity. It's not easy, which is sort of the fun of it. If you add to this playing the game as it's moving and the risk of serious injury if you don't find a particular stop sign, you have a feel for what it's like to try to drive safely in Mexicali for the first time.
In Mexico, the stop signs say "Alto" on them. I believe I stopped at the first two or three, but then, to my complete horror in pretty heavy traffic, I barreled right through the next one at about 35 miles per hour, with my wife yelling about half way through the intersection, "Alto! Alto!" I didn't know how she had learned to speak Spanish so quickly. Perhaps I would have stopped a bit sooner had she yelled something like "Stop sign!", but that's another story. In any event, the drivers around me didn't seem phased at all, and no one even honked.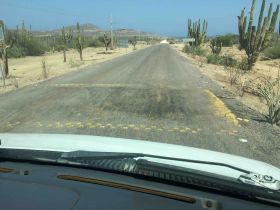 After I calmed down and the thought of being in an accident within minutes of crossing the border and / or having my first encounter with a Mexican police officer and / or Mexican jail had diminished, we decided to coin a new game: "Where's Alto?" In addition to how the alto sign and Waldo's hat shared the same red and white colors, the reasons for the similarities include that the stop signs in Mexicali are about 2 feet lower than we're used to in the States, and placed further back off the intersection. Some are faded, and many of them can easily be obscured by a truck that isn't even that tall.
The second Spanish word my wife learned that day was "tope", which she usually pronounced in a rather insistent, loud way as "TOW-PAY!!" In this case, "tope" is Spanish for "speed bump", many of which are not insignificant and not obviously placed, at least for an American. After you've hit a few topes at full speed, you'll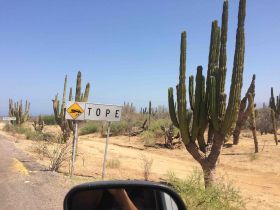 learn to respect them. The one to the right and above is very mild. There is no uniformity.
So, we proceeded along, with alternating cries of "alto!" and "tope!" periodically jarring my sensibilities. Lucky for us, we had cell service at the border, so we had Google maps well up until the time we hit the main highway, and we assumed that it would be very unlikely we would get lost on the way to San Felipe.
I'll tell you about that in the next story.
(Map data 2016 copyright Google INEGI)
See links to all Mexico road trip stories below. You are currently reading the one highlighted with the
yellow background.
To see hundreds of questions answered by expats
already living in Mexico, click
here
.
To see hundreds of questions answered by expats already living in Mexico, Panama, Belize, Nicaragua and Portugal, go
here
and navigate to the place you're most interested in.
Want online, interactive help finding the best place abroad for you? Try the
Location Advisor
.
To download free research studies conducted with over 1,000 expats currently living in Mexico, click
here
.