From Merida to Valladolid to Akumal, Mexico: Interesting Friends, How to Pronounce 'G' in Spanish, and Pre-Planned Inspiration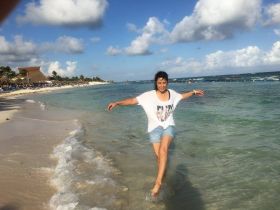 To paraphrase, add to, modernize (and a little bit botch) Robert Burns: "The best laid plans of mice and men often go awry… so it is great to have the Internet for quick research and decision-making."
And that we did. Upon leaving Merida, on very short notice, we had to find a place to stay during the first week of December, which is the beginning of one of the most popular tourist times of the year, and in one of the most popular tourist areas in the world-- the famous Mexican resort area known as the Riviera Maya, which includes the coastline areas of the Mexican state of Quintana Roo, roughly from Cancun to Tulum. Additional twists to the challenge included we needed a secure place to park our very large and tall van and that accepted our two dogs, not to mention the unhappy but unavoidable facts that neither my wife Jet nor I are heirs to a family fortune, and that we had no connections whatsoever. We were alone, left with nothing but our wits, an Internet connection, a tough set of criteria, and a normal budget. However, we were on our way to a famous resort location. Overall, not too bad a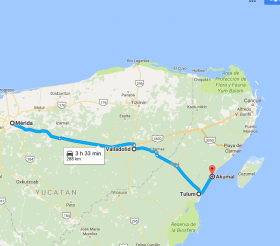 situation, if we could just find a reasonable place to stay.
Through a good amount of research, Jet found a sanely priced alternative called Tao Inspired Living. It was in a mixed master planned development of resort hotels (yes; more than one) and residences called Bahia Principe, in Akumal. Even though we would only be there about a week (we would be forced to find a new place before the prices rose and vacancies evaporated towards Christmas and New Year's), it looked like a good alternative, located as it was just north of Tulum and not too far for day trips to Cancun, Playa del Carmen, and all the other alluring places along the Riviera. We would have to worry later about where we would go after that. We left Merida and headed east.
Close to half way from Merida to either Cancun or Tulum is the town of Valladolid, right about in the middle of the Yucatan Peninsula, about two hours due east from Merida and a good 60 miles from any water element other than a swimming pool or a cenote. Even though we were in Valladolid only a few hours, we did fortunately have the time to meet with John Venator, who did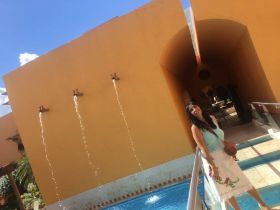 some major renovation on his traditional home, Casa de los Venados, adding very interesting architectural designs and modern touches, turning it into a museum that you can visit, with more than 3,000 pieces of Mexican folk art. We also
met with Denis Larsen, just a short drive from John, in the house he renovated into a bed and breakfast called Casa Hamaca, while Denis and his staff were assembling and giving out "dispensas" to help the local people
.
As is so often the case when you travel to places you don't know much about, Valladolid, to the unschooled and ignorant observer (i.e., Jet and me, in the few hours we were there), was a bit of a puzzle. For example, Valladolid seemed to have lots and lots of retail jewelry stores. Why? We don't know. They also had some pretty good Chinese food, in a very nice plaza in the middle of town served to us by what looked to be authentic Chinese people. What were Chinese people doing in the middle of the Yucatan Peninsula? I wish we had the time to find out; it would probably have been a good story.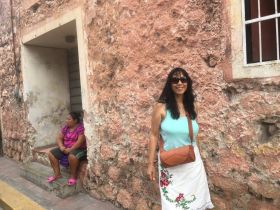 From Valladolid, you can drive to either Tulum or Cancun, both about 90 minutes away. We chose to go to Tulum because we were running out of time and Tulum is only 20 minutes or so from where we were staying in Akumal. Leaving Valladolid, we passed several small villages, then long stretches of very little other than straight road and flat jungle. When we came across some eco-villages, it was our first indication that we were entering Tulum. Almost immediately thereafter, Tulum appeared at a "t" in the road. To the right was the bulk of Tulum and to the left was the bulk of Riviera Maya, including Akumal.
We had envisioned a dramatic punctuation in this part of our six-month road trip all the way from the US border in Mexicali in the form of a dead end into the Caribbean, where in our imaginations we would conduct some ceremony that would include walking on pure white sand and swimming in crystal clear water, but for the time being we would have to be content with this very standard commercial intersection. Jet and I looked at each other and shrugged. After the light turned green and the truck in front of us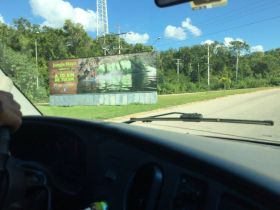 started moving, we just made our left, onto a highway we would become very familiar with as we would travel between Cancun and Tulum.
Almost immediately, we began to see large resorts, men sitting or standing on platforms behind fences for some reason we couldn't figure out approximately 100 meters or so apart, and lots and lots of jungle. What we couldn't see was the Caribbean. That is, unless we were to try to talk our way past the guards at one of the mega-resorts.
After twenty minutes or so, we made the left onto a "retorno" (which I'll describe in the next article), and approached the first of two guard stations we had to negotiate our way past in order to get to what we were told would be our inspirational unit. We knew enough to say we were going to Tao, so the first guard let us through into the larger complex and pointed us to the next guard station, at the entrance to Tao.
Our room was designated "Kin G2", which we pronounced to the guard as "Kin Gee Too," smiled, and prepared to breeze through. Rather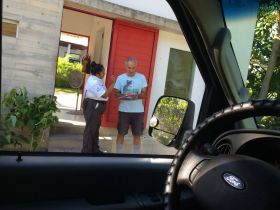 than returning our smile and opening the gate, he just looked at us, perplexed, while the gate arm stayed unmoved, in the down position. No dice, so I tried again, displaying my knowledge of Spanish numbers with a self-congratulatory, "Kin Gee Dos." Evidently, that wasn't the problem, because neither the guard nor the the gate moved. OK, maybe I should try it louder. "KIN GEE DOS". It was only after several minutes of what seemed like an Abbott and Costello routine that the guard (not us) figured it out. "Kin Hay Dos?" (In Spanish, the letter "G" is pronounced "Hay".) "Si!" Up went the gate, and onward we went.
"Hay Dos" was very nice. Walkie-talkie carrying employees of the management company showed us our room, answered our questions, made us comfortable, and explained to us where to go if there were any problems. It was very much hotel-type service.
If you don't want to read about anyone going to Mexico to live in anything new and pre-planned, you won't like reading about Tao, so you may want to skip to the next story. For the rest of us,
it's pretty nice
. The geometrical and somewhat boxy modern style of
homes so often preferred by Mexicans with the means to buy them were arranged very tastefully and integrated into a forest / jungle with geometrically placed flowers and plants, all immaculately maintained.
Our bottom level condo with the patio and a small garden had comfortable couches and native art.
Looking out the sliding glass door, through some trees, we could just make out the circular drive with a huge fountain, which at night, came complete with a burning torch coming out of the water.
Jet's first impression was that it was a like a college dorm area for really rich kids. You could walk to many areas on wide sidewalks or strategically placed dirt paths without braving the highway. The builders took great pains to integrate their development into the physical environment and the advertised Tulum culture of yoga, exercise, living in concert with nature, etc.
It had a golf course and meeting facilities. Everything worked flawlessly. The water pressure was perfect and the air conditioning was wonderful, not a trivial amenity, in that, even though it was December, without it, we would have been uncomfortable. We had access to the workout facilities, which were in an architecturally imaginative and relaxing pod of buildings flanked by two elevated lap pools. There was an outdoor café set into the wilds of the jungle where we brought our dogs with us to dinner. In the early morning and at night all four of us would all walk the grounds of the resort, peaking into the lovely villas and custom homes while spotting families of coatimundis below the trees.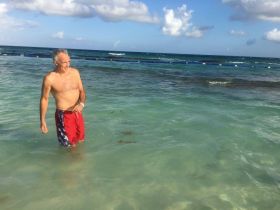 We could also visit any of the several other pools in the complex, and after we signed up to get our properly colored bracelets (that's right; bracelets), we could
visit two resort hotels
, which is kind of nice, if you like that kind of thing.
They had an all you can eat lunch buffet for a very reasonable price that we would access via first passing through the two guards on our side of the highway, driving across the highway to the appropriate hotel, displaying our bracelets to their guard, parking the car, and
getting on a tram with 50 or so other people who were going to various parts of that sprawling resort
. It was like being at Disneyland, but with better food, at much lower prices, and on the authentic blue-green waters of the Caribbean, while getting fruity, mildly alcoholic drinks with your meal at no additional charge. The gigantic palapa lobby and the various jungle creatures capering on the lawn fascinated Jet, who had never stayed in an all-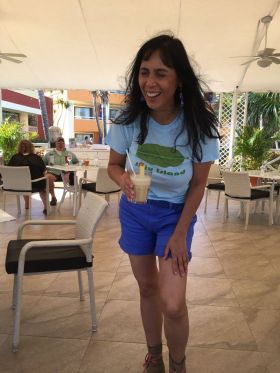 inclusive resort, much less one that was carved out of the wild Yucatan peninsula with the stray capybara or two foraging in fastidiously maintained flower beds.
Because it was just so easy, we ate lunch at the same buffet three times. We also
swam at the beach in front of the resort
and visited several of the pools, which was a blast for Jet, who swam around and around the island in the center of the biggest pool she had ever been in, all the while listening to the music and watching the dance class being taught poolside to guests visiting from all parts of the world. If you were blindfolded and placed in the pool area and asked what country you were in, your answer would have to be a pure guess. We would clearly have to go outside the resort to experience the more traditional Mexico.
In our next article, I'll describe what I'll call the Riviera Maya Speedway, Cancun, Playa del Carmen, Akumal and Tulum.
---
See links to all Mexico road trip stories below. You are currently reading the one highlighted with the
yellow background.
To see hundreds of questions answered by expats
already living in Mexico, click
here
.
To see hundreds of questions answered by expats already living in Mexico, Panama, Belize, Nicaragua and Portugal, go
here
and navigate to the place you're most interested in.
Want online, interactive help finding the best place abroad for you? Try the
Location Advisor
.
To download free research studies conducted with over 1,000 expats currently living in Mexico, click
here
.
Posted in
My Travels in Yucatan: Riviera Maya, Playa del Carmen, Cancun, Merida, etc, Mexico
May 26, 2017