Merida, Yucatan, from a 400-Year-Old Veranda to a Mystical Cenote
Posted by Chuck Bolotin - Best Mexico Movers on April 24, 2017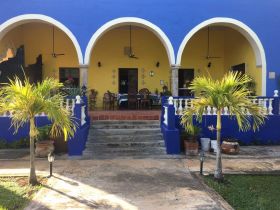 At each of the stops on
our road trip through Mexico
, there emerged a personal and unique theme for Jet and me. In Baja California Sur, it was the
rugged beauty of the desert juxtaposed against the almost unimaginably blue and clear waters of the Sea of Cortez
. In the little town of
Lo de Marcos
and
Nayarit in general
, north of Puerto Vallarta, it was the rich, verdant jungle, plunging into the Pacific in little bays bordered by volcanic outcroppings. In
Jocotepec
, it was our walled garden set amongst a working class Mexican town.
Ajijic
had easy, comfortable, moderate, relaxed living and friendly people. In
San Miguel de Allende
, the theme was splendor and pageantry.
In
Merida, in the state of Yucatan
, the theme was history, which was more than reinforced from the perspective we enjoyed so often sitting on the elevated veranda of the 400-year-old Hacienda San Pedro Nohpat, overlooking a generous lawn and then the fence separating the hacienda from the little town, in the municipality of Kanasin, about 25 minutes by car from downtown Merida. From this privileged vantage point, we could be observers to the other side of the fence largely unnoticed as the locals went about their day-to-day life, seemingly unaffected by our presence.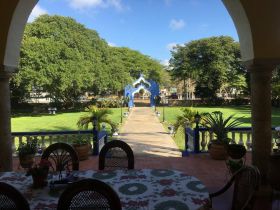 We could so easily imagine looking out from that very same veranda 100, 200, 300, or more years earlier and watching the great-great-great grandparents of those we saw now, making decisions and experiencing events that would alter the course of those presently living their lives on the other side of that fence. If we imagined very hard, we could even envision the hacienda being built, with close to no other buildings and close to no other people around it. Like all haciendas, this one was built to make things.
Iona Chamberlin
, the proprietor along with her husband, JR, told me that the root of "hacienda" was "hacer," which in Spanish means, "to do" or, "to make." This particular hacienda had its own history of making things, as evidenced by its still standing huge smokestack.
To understand modern Merida, you have to know about cenotes and Mayans. And after that, you have to know about henequen. Let's start with cenotes, because before there were humans in the Yucatan, there were cenotes.
Jet found a highly-rated and more remote cenote called X Batun on TripAdvisor (another juxtaposition the ancient Mayans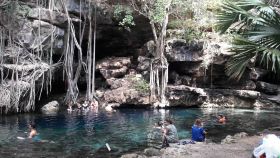 didn't have), so off we went, through the gates of the hacienda, out to very temporarily merge into the tapestry of village life we would view from above, and out again, up onto a modern highway about one hundred yards away, on our way to the town nearest the cenote, San Antonio de Mulix.
About 45 minutes later, we turned off from the main highway to a country road that had long stretches of nothing, except the thick jungle and flat terrain one sees pretty much throughout the entire Yucatan peninsula. There were no
towering mountains or valleys like we saw on the road from Puebla to Cordoba
, and not even a hill of any size to punctuate the scenery. Just every once in a while, we would see and then pass a trici-taxi, usually being driven by a man, many times without the benefit of a motor, with more often than not a very nicely dressed woman seated and ensconced properly inside, shaded from the sun by the trici-taxi canopy. Occasionally, a small village would appear, and then it was gone.
As we got closer to our destination, it was becoming increasingly common for us to see handmade signs every so often with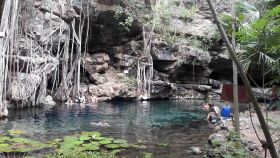 the name of a cenote we were not familiar with and an arrow pointing to a dirt road. We didn't know for certain if we were lost or if we should visit one of these other cenotes, but we decided to persevere because we wanted to at least visit the cenote described in TripAdvisor. We came across another small town, but just a bit larger than the others, which turned out to be San Antonio de Mulix. Through the center of town we drove as the only moving vehicle in sight and made a right towards another handmade sign pointing to X Batun. We had found it, whatever "it" was.
Up to a gate we went, where we startled a young man acting as a guard who probably hadn't seen many people that day. He told us we needed a ticket to pass and pointed to an open-air office that we had already unwittingly passed near a small store about 50 yards away. We purchased our tickets and a life vest for Jet and returned to the now more alert guard, where we dutifully handed over our ticket. Through the gate we went, down a dirt road that ended at a parking lot with no other cars, but had a bored man underneath a palapa doing pretty much nothing but looking at his cell phone. We speculated that his job was to keep order or make certain no one drowned, but we're not sure.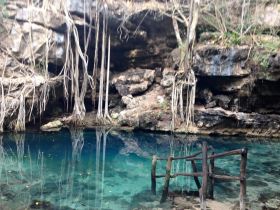 The first time you see a cenote, you can't quite believe your eyes. Literally. I got out of our van first, and went over to a small rise that looked overlooked Cenote X Batun. I had never seen anything like it (and I'm pretty old). Down the stairs and handmade wooden railing the water was luminous. It was like someone had taken a picture, over-saturated the color and then made everything crystal clear with colors so deep you wondered if you had ever seen them before. The waters and surrounding area radiated calm energy.
At the top of the cenote and along the sides, we could see several gorgeous and mature trees, but with their long, gently winding and exposed roots plunging into the cenote water more than 40 feet below, sometimes hugging the dirt along the side, sometimes not. Several of the roots had formed together towards the bottom to create a vine-like grotto and small caves just above the surface of the water. It was a cut-away adorned with plants and outcroppings, all set atop shimmering water that was both clear and colorful at the same time. At the far end of the cenote on a pile of rocks three iguanas watched us, motionless, as if providing silent physical testimony to the timelessness of our location.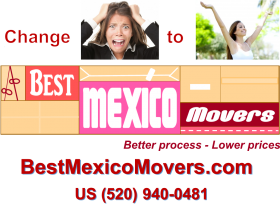 Did we dare to go into the water and join this unearthly scene? We did, almost reverentially. We could clearly see and be among fish of different dimensions and colors, some that scattered when we approached and some smaller ones that came by to nibble on us newcomers.
While all the water seemed iridescent, in various places it took on shades of blue and light green, the colors blending into each other, depending on the light from above, the passing of a cloud, or the depth of the water below. It was almost like we were in a place suspended between two physical and even spiritual worlds; one above, and one below. In between these two worlds, in silence other than the chirping of the occasional bird and the rustling of some leaves far above us at the top of the cenote, Jet floated for hours, never leaving nor wanting to leave, taking it all in, experiencing it all and for a short time in the history of Cenote X Batun, being part of it. There were no other people, and no other sounds. We could just as easily have been there a thousand years earlier.
Next on our road trip story, we'll take you with us to explore more of Merida, meet some present day Mayans, and learn just how the more modern Merida began.
Editor's note: Thank you, Erin Rudin, for providing pictures of X'Batun. (We had lost ours.)
See links to all Mexico road trip stories below. You are currently reading the one highlighted with the
yellow background.
To see hundreds of questions answered by expats
already living in Mexico, click
here
.
To see hundreds of questions answered by expats already living in Mexico, Panama, Belize, Nicaragua and Portugal, go
here
and navigate to the place you're most interested in.
Want online, interactive help finding the best place abroad for you? Try the
Location Advisor
.
To download free research studies conducted with over 1,000 expats currently living in Mexico, click
here
.