My New Mayan Friend, and the Evolution of Merida, Mexico
Posted by Chuck Bolotin - Best Mexico Movers on April 30, 2017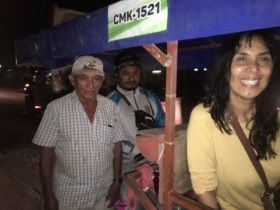 My new Mayan friend had a beautific smile. Most likely in her 50s, I met her as she and her family were making and selling sandwiches from the very small porch in front of her home with the half wall she used as a built-in shelf. On the street was a solitary plastic table covered by a plastic tablecloth, with two plastic chairs.
The street of my friend's house was perpendicular to the main street bordering the hacienda in which we had rented a place to stay. It was an easy walk for us from the gate of the hacienda; merging into the village life we viewed in front of us from the hacienda's veranda, and turning right to go up her street. In rough terms, you could call this street the main street of Nohpat, a little village about 25 minutes from downtown Merida, because this street had the most retail activity, the bulk of which was from make-shift stores or
food stands that appeared or disappeared in front of small homes depending on market demand. In relevant part, the street was probably no more than a 10-minute walk from end to end.
My friend was a woman completely at peace and comfortable in her environment. She was obviously content. Around her was her daughter and several grandchildren. From my viewpoint on the street, I could see the children playing inside what looked to be not much more than a one or two room home, complete with a hammock, standard issue in this part of the world. Every once in a while, her grandchildren would venture out to look at my wife Jet and me, and then resume playing in the safety and comfort of their grandmother's home.
One granddaughter, who was probably around six years old, wanted to show us that she spoke English. From behind her mother's skirt she would pop out and announce in a small but clear voice, "Buenos dias… hello," which of course is only roughly correct. She would then look to us with expectant eyes to see if she got it right, reward us with a smile, and go
back to hiding behind her mother. When we responded, "Muy bien, es correcto," everyone beamed with pride. In our 16 days in Nohpat, we met several foreigners who stayed at the hacienda, but we met no other foreigners on the street.
My new Mayan friend with the almost perfectly round face and intelligent, kind eyes wanted to communicate with us but spoke no English. Using Spanish instead of Mayan, she was aware enough of our limited understanding and kind enough to speak to us slowly and distinctly, using easy words so we could understand her. She would tell us about her absent sons working elsewhere and her daughters and grandchildren, and sometimes, Jet and she would talk about their shared Catholic faith.
Every time I would take a walk out from the hacienda, I would make sure to stop to visit for some small talk. One day she asked why she hadn't seen me the previous day, so I had to explain that I had a small intestinal problem, for which she offered a remedy. Another day, I found her on her hammock inside her house and after calling from the street, presented her with a gift of some carrot cake we had picked up at a local modern grocery store. More than once, she invited us into her home.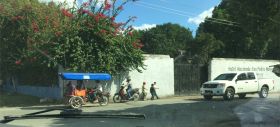 As I would explore the neighborhood on foot, I would sometimes come across my friend's grandchildren, not at my friend's home, but at their own, no more than a five-minute walk from their grandmother. When they would see me from the open doors of their house or the sheets that were hung from their doors or perhaps while playing outside, they would recognize me, usually startled to see someone new, and wave warmly with a big, shy, silent smile.
When we first arrived at the place where they made and sold handmade tamales on the corner in front of the hacienda and diagonal to my friend's house, some teenagers asked me my name and made several attempts to pronounce "Chuck." Thereafter,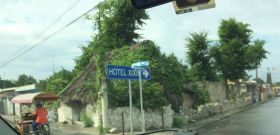 every time I walked their micro-neighborhood, I would be regaled with calls of "Chook! Chook!" and "Hi, Chook!" as I walked, the greetings sometimes coming after a slight delay from many directions at once as everyone who knew the joke joined in, followed more often than not with dispersed and gleeful laughter. In addition to me being a curiosity and my apparently unpronounceable name being good for a hearty laugh, the neighborhood people were very warm and welcoming.
For dinner out, Iona recommended a standard sit down restaurant about two miles away in a village just slightly larger called Kanasin at La Susana Internacional. Jet had wondered was international about it, because it never served anything but Yucatecan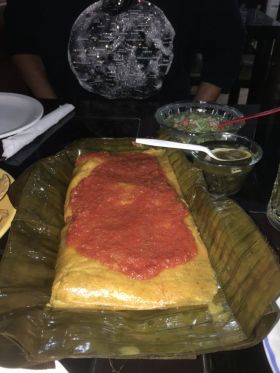 food, but never received a satisfactory answer.
Iona told us that if we ordered one tamale for 60 pesos (about US $3), it would be enough for Jet and me to share for an entire meal, and she also recommended that, instead of driving our huge white van, we take one of the taxis constantly buzzing around in every direction. This taxi wouldn't be an automobile like you might expect, but rather a trici-taxi. As I described in
my earlier article about Merida
, a trici-taxi is essentially a large tricycle with a place for passengers to sit in front where a car would have a bumper or lots of protection. We further came to understand that at night, some trici-taxis had lights, and some did not.
Once we resolved to ignore the very real possibility of being crushed by a much larger vehicle that may not see us in the dark and pondering why each of the trici-taxi drivers had helmets but we did not, taking the trici-taxi was a fun experience, as we got a very good chance to see the surroundings without the hindrance (or benefit) or a lot of steel between us and objects that may crash into us, and of course, we went slowly. Jet always pointed out the upcoming potholes to help the driver avoid them and would prattle on with the driver asking about their children and whatever aspects of Merida gave them civic pride.
For some reason, each ride we took to the restaurant was via a different route, so we got to see a good amount of Kanasin.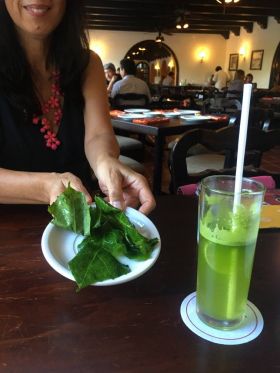 However, we were always dropped off at the same place in front of the restaurant, paid our 15 pesos (about US 75 cents), and looked forward to a great meal. We ate there three times, and were never disappointed. Afterwards, we would walk to the local panadería to buy bread and pastries for breakfast the next day and then walk to the plaza to take the next trici-taxi in line to go back to the hacienda. It was a very good system.
As Mexicans like to tell you and you wouldn't necessarily know if you just ate at Mexican restaurants in the US, the food in Mexico can be significantly different from region to region, and this is certainly true of Yucatecan food. Evidently, La Susana Internacional had a following among some of the more urban residents from Merida who would come there to eat more traditional Yucatecan food. More than once, we would see a nice car pull up that was very likely not owned by a local, and watch as well dressed people got out to enjoy their meals at one of the tables next to us in the spacious dining room.
Jet had been cooking Yucatecan food for years and was interested in experiencing the real Mayan version. Yucatecan food, including the tamales we bought across the street from our hacienda, often includes turkey, so we ordered that. (I had always thought of turkey as being North American, but I was told that turkey was indigenous to the Yucatan.) The soup was rich with pieces of turkey and a broth delicious with unidentifiable (by us) spices. The tamale we ordered was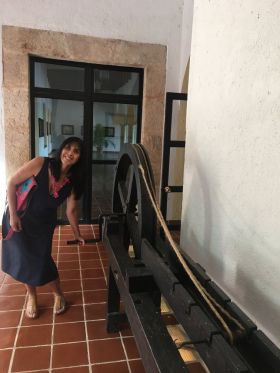 wrapped in a banana leaf and had a very moist filling. There were always a variety of salsas to go with our meals and Jet always laced her food with very hot salsa made with habanero chilies.
Among the most memorable parts of our meals at La Susana Internacional were the drinks. Our favorite was made with a local spinach-like vegetable that was slightly tart. (It tasted much better than it sounds.) The service was excellent and the waiters nattily dressed in traditional clothes. There we sat, eating Yucatecan food and drinking green drinks in an international restaurant, at the same table every time with the view to the street, enjoying different ambiance and music while we watched Kanasin village life go by, in 75-degree weather at night, in December, with all the windows open.
One afternoon we visited a hacienda down the road from where we were staying called Teya that had buildings from both the Spanish colonial period and the French colonial period. On display in a mini-museum setting were a good amount of the implements that were used to make the area rich; tools that had been used to process henequen. In the present day, no henequen was being processed. Instead, Hacienda Teya had a highly-regarded restaurant and for some reason, a very elegant pool.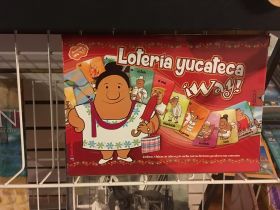 Because the pork we ordered was steamed in an underground oven, Jet was reminded of traditional Hawaiian cooking while the music reminded her of "hapa haole" Hawaiian music from the '30's and 40's. With so many Mayan words that looked Chinese, the grass huts, the foliage and wooden furniture, the eerily similar knickknack souvenirs and the almost exact same latitude, Jet mused that Merida was the Hawaii of Mexico.
To complete our gastronomical tour of Merida, we experienced two very different eating adventures, other than both being "all you can eat." One was at a downtown Merida hotel with a buffet restaurant where Jet went crazy tasting all the traditional exotic Mayan specialties made from various pig parts and the other was at an ultra-modern parrilla style restaurant called Mr. Pampas that had nothing to do with Mexico other than it looked to be wildly popular among the better-heeled Yucatecans. ("Parrilla" is an Argentinian or Brazilian barbeque where they bring lots of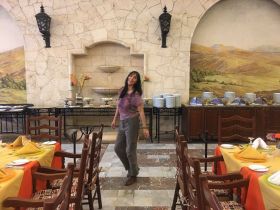 different types of meats on skewers to your table and you just point to what you want and eat way more than you should. The price in Merida was about a third of what it would cost in the US.)
With the exception of Mr. Pampas and other scattered modern parts of Merida, one gets the feeling of this being an old place, as evidenced by the existence of Mayan ruins, cenotes, present-day Mayans, and 400-year-old haciendas. What at one time made the Merida area rich from the 1880s to about 1915, is a fibrous plant you can see growing everywhere-- henequen. Before substitutes were developed, henequen from the Merida area was prized for many purposes, among them ropes needed for the boats and ships of the time. In this golden era for Merida, the state of Yucatan became the wealthiest in Mexico, with its newly monied families building huge and ornate mansions on Paseo Montejo, what is now the main road in Merida. After several decades, as the need for henequen
diminished, so did the wealth of the Merida area, but the grand mansions remained, even though its inhabitants were much less rich than before.
One of the advantages of an area that was once wealthy but that had fallen on an extended period of tough times is that, often, because there is no economic reason to demolish older historic structures to make way for modern and monotonous glass and steel buildings, the architectural and historical heritage remain in place. This is exactly what happened with Merida, as Jet and I could
stroll the wide and tree-lined streets of Paseo Montejo
and be among huge, ornate and interesting mansions dating back to the heyday of henequen and Merida, interspersed with new hip nightclubs and trendy restaurants. In areas many times directly abutting the Paseo Montejo there are people buying old, sometimes decrepit homes for relatively low prices and then spending a lot of money remodeling them into a style that could be called "renovation chic" with all the modern conveniences. The result is a downtown of architectural interest, combined with the energy of change, and fun.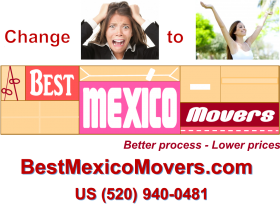 Unfortunately, we couldn't stay in the Merida area longer because the host at our Hacienda Nohpat, who had so graciously
given us a place to stay when we showed up unannounced
, had bookings for our room for the holiday period later in December, so we packed up the van, said our goodbyes, and headed towards the world-famous vacation destination of Quintana Roo.
See links to all Mexico road trip stories below. You are currently reading the one highlighted with the
yellow background.
To see hundreds of questions answered by expats
already living in Mexico, click
here
.
To see hundreds of questions answered by expats already living in Mexico, Panama, Belize, Nicaragua and Portugal, go
here
and navigate to the place you're most interested in.
Want online, interactive help finding the best place abroad for you? Try the
Location Advisor
.
To download free research studies conducted with over 1,000 expats currently living in Mexico, click
here
.