Mahahual to Chetumal, Mexico: An Otherworldly Lake, a Time Machine, and Great Presents for Everyone
Posted by Chuck Bolotin - Best Mexico Movers on June 9, 2017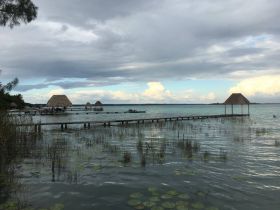 Almost on cue, just minutes after my wife Jet was
finished with her massage on the beach in Mahahual
, the wind picked up, and we and everyone else could notice that the squalls that earlier were further out and more separated were now consolidating and moving closer. Evidently not strangers to what would happen next, everyone but us folded up and headed for nearby shelter. Having a full itinerary, we got in our van, retraced the road back to the main highway, and made a left to head south, on our way to Bacalar before reaching our final intended destination for the day in Chetumal.
Bacalar is not that well known, perhaps because there is no obvious turnoff. After cruising by several times where we thought it should be and were we were told it would be and confounding the local school children standing on a corner who saw us pass back and forth several times, by luck we blundered through a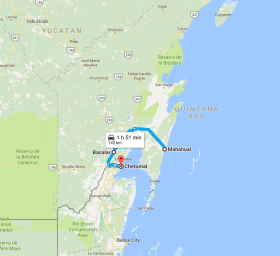 residential area and onto the right spot, in front of the lake.
We were glad we found it. The water in the lake at Bacalar is so iridescent and filled with energy that it could be confused with a giant
cenote
, but with a shoreline that looks like Tahiti. In the foreground, lily pads bobbed in the water to create a fairy tale ambiance, while in the near distance, multiple piers were staggered so as to be more picturesque against the Caribbean-like water. If you didn't know any better, you would think were dreaming that you were at some surreal seaside with water that is almost unnaturally saturated with color and clarity, all at the same time. Neither Jet nor I had ever seen this exact set of picturesque components arranged in quite the same way. It was enchanting.
I walked out on a pier with the dogs to experience more. Looking back, I saw some hippies parked on the shore, complete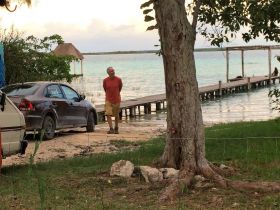 with the perennially favored, standard issue VW camping van. There was an early twentyish guy with dreadlocks and his blonde girlfriend, suitably bedecked with peace signs on her clothing. To the other side was a Mexican woman waiting for her husband and son, who were snorkeling in the clear water. There was no one else around.
Turning back to the lake I instinctively experienced a moment of reverence for my surroundings. Unable to stay longer, we took a good number of pictures, got back in the van, turned around, waved at the school children one last time, and headed for the highway.
About ten minutes later is when it happened.
"Mennonites!" shouted Jet.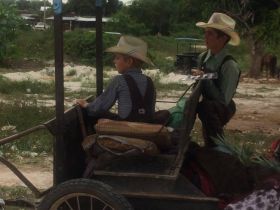 And Mennonites they were, in their overalls, long sleeved shirts and a cart. Some had blonde hair. They looked as if they were sucked up in a time machine from a worm hole somewhere in Europe 200 years ago before there was any automation and plopped right in the middle of a typical Mexican village, but where the Mexicans were so used to them they didn't give it a second thought, unlike me, who had never seen a Mennonite before.
Jet was especially excited because she had admired Mennonite culture and their fine furniture-making. Years earlier, she had purchased a beautiful display case made by Mennonites from where we were now in Mexico for our home just outside of Tucson, Arizona that was one of her favorite pieces of furniture. Were any of the people we were witnessing crossing the road now one of the very artisans who had a hand in making this prized piece displayed several thousand miles north? We'll never know.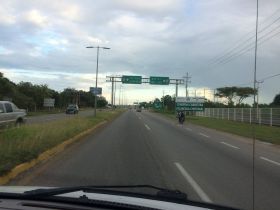 As we started to enter Chetumal, we crossed the airport and signs for the border with Belize, which is just a few miles away. If we had made a right onto one of the roads to the border, we would have driven the entire length of Mexico,
from the northern-most part of Mexico near Mexicali
to the southern-most, where we were now. If we had driven directly, it would have been about 2,500 miles, but instead, we
drove through Baja
, and visited several expat locations not directly on the path, including
Ajijic
,
San Miguel de Allende
,
Merida
, and most recently,
Cancun to Tulum
, which added another 500 – 1,000 miles or so to our trip. Instead of going to the border, we headed past the significantly less momentous Sam's Club, to our hotel.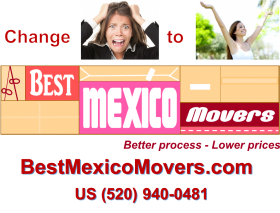 Even though I like to pay as little for things as possible, it is my belief that there are a few things you should be careful about paying too little for, for example, someone to do an operation on you and uncooked meat. While not as critical as selecting a surgeon or butcher based on the cheapest price, I believe it would also be possible to pay too little for a hotel, and Jet had found one in Chetumal for $26. I was a bit worried.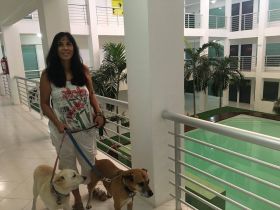 I needn't have been.
The hotel was actually very nice and clean, with working Internet, very good plumbing for showers and toilets, a television and even a workout area by their indoor pool
. It was also located right near downtown and the bay. We enjoyed it thoroughly, as I re-calibrated my "worry meter" about cheap hotels, at least while in Mexico.
Chetumal itself was also surprisingly nice
. Sharing the Bay of Chetumal with Belize (which Belizeans call Corozal Bay),
Chetumal had a very pleasant malecon and nice amenities
. We were there right in the height of the Christmas present buying season and on a Saturday, so the streets were packed (but not too crowded) with shoppers and restaurants open late. For some reason, they also had several Boba stores, which we very much enjoyed, along with the free concert downtown, just walking distance from our hotel.
But the best shopping experience had to be along the malecon and provided by young men from Chiapas, which is located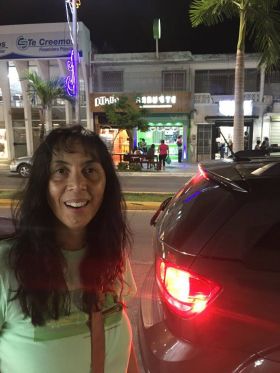 a good 300 – 400 miles away. Evidently working as a team with a master ringleader carefully hidden and speaking the indigenous language of Chiapas instead of Spanish, they had a huge variety of beautiful, hand-embroidered blouses, which they told me were 100 pesos each (at that time, about $5). It was very difficult to judge the age of the young men, as they were very short for fully grown men and just didn't look that old (very little or no facial hair, etc.), while yet having a maturity about them that would make you think they were in their mid-twenties.
After watching and listening these young men trying to sell to the local Mexicans and hearing the same price (so I knew I wasn't being quoted the Gringo Price), I went to find Jet to tell her about my find, mindful of a piece of advice I had learned years earlier: never get between Jet Metier and a good purchase.
After telling her of my discovery, I prudently stepped aside before becoming invisible or just seen as an obstacle that had to be cleared, thereby safely presenting a clear path for Jet to the goods and the promised shopping paradise. She told me she appreciated that I encouraged her to buy to her heart's content (it's easy to be a hero at these prices), and set to work.
As if guided by a shopping laser beam and pulled by an irresistible gravitational field, feet barely touching the ground, Jet was drawn over. She looked at the merchandise, somewhat shocked. Every blouse was beautiful and every one was different! Almost too good to be true and jammed by too much stimuli, for several minutes, she couldn't even process the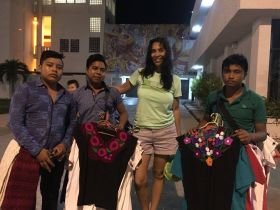 "price / quality / how many should I buy" equation; words and higher level thought simply eluded her. After taking a moment or so to regain her composure, she told me that blouses of this quality would cost at least six times as much in Forever 21 and more in other places, if you could find them at all.
Since many Mexican handicraft markets have no changing stalls, and certainly these young-looking hawkers from Chiapas on the street did not cart around screens, Jet has had to try on shirts over hers right on the Chetumal malecon. Because there was no mirror for Jet to see how each blouse fit, I took pictures on my cell phone of her for her to see how each one looked and based on how each one fit, who to give it to (or to keep it herself). Intermittently during this joyous spectacle, a passerby or two would nod their approval of a particular choice. Shopping knows no language.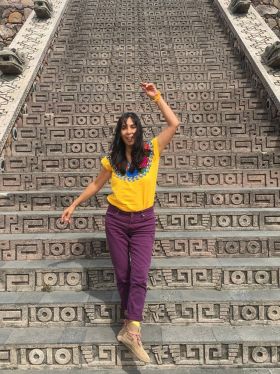 Over the next 30 minutes, we had purchased distinct, memorable, quality, and beautiful Christmas presents for every female on our list, and five or so additional for Jet.
Carrying our bags as we walked further on the malecon to enjoy the sights and reflect from our starting point that morning in Akumal (story
here
), we both agreed: it had been a great day.
Next, we'll turn north, back through the Mexican Highlands to see what's changed...
See links to all Mexico road trip stories below. You are currently reading the one highlighted with the
yellow background.
To see hundreds of questions answered by expats
already living in Mexico, click
here
.
To see hundreds of questions answered by expats already living in Mexico, Panama, Belize, Nicaragua and Portugal, go
here
and navigate to the place you're most interested in.
Want online, interactive help finding the best place abroad for you? Try the
Location Advisor
.
To download free research studies conducted with over 1,000 expats currently living in Mexico, click
here
.