Mexico's Riviera Maya, Including Cancun, Playa del Carmen, Akumal and Tulum: From Modern Resort Destinations to Mayan Ruins
Posted by Chuck Bolotin - Best Mexico Movers on May 29, 2017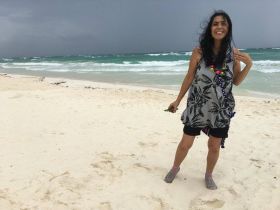 If you want to travel by any vehicle in the Riviera Maya (Cancun, Playa del Carmen, Akumal, Tulum and everything in between), you'll have to take the main highway. As in every other place in Mexico we've been, this means driving amongst Mexicans who drive way too fast to be safe, and lots of ill-advised passing. In addition, there are "returnos."
The simplest, most non-threatening definition of a "retorno" is that it is nothing more than a left turn lane for turning around. Upon first thought, a highway with a retorno every couple of miles and no other way to cross the highway or to turn around is a good idea, because this configuration reduces the possibilities of crossing traffic, thereby reducing accidents. Even if you can see where you want to go directly across the highway, you can't just drive across.
Here's how it works in practice. Upon entering the highway from the right, you must wait for a break in the traffic, jam on the accelerator like a teenage boy in a Camaro, burn rubber, and get up to speed before being rear-ended by someone coming up behind you at about 80 miles per hour.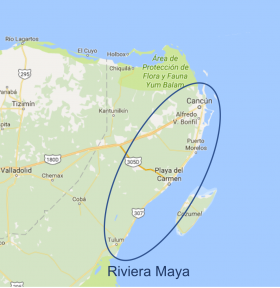 Then, once you've reached the 80-mile per hour speed you must drive if you are not going to become a hazard, you must get to the left lane, and upon entering the additional left lane for the retorno, you must decelerate and come to a complete stop extremely quickly, deploying your parachute, if you had thought in advance to retrofit your vehicle to have the kind of accessories that would make sense for stopping in a Mexican retorno or, alternatively, landing a fighter plane on an aircraft carrier.
Once at a complete stop, you must pick your spot amongst cars, trucks and buses coming at you at the standard 80 miles per hour as they take turns passing each other, sometimes around blind curves. Then, you step on the gas again to turn around, keep to the right, and get up to speed as fast as you can, before you're rear-ended by a busload of Australians on holiday.
One of the great benefits of being able to stay in a place for six weeks to two months or longer, as we had planned for everywhere we wanted to go and previously accomplished in
Baja
,
Ajijic
and
San Miguel de Allende
, is that you avoid the "small sample bias" that comes from a shorter visit. A "small sample bias" is the very natural trait we humans have that causes us to believe that whatever we experience in a short or small sample is how it always is, which many times is not true. This small sample bias can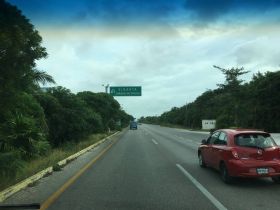 come from a few bad experiences or a few good experiences over a short period of time that are not representative of what you would experience over a longer stretch of time.
For example,
we stayed in a little village southeast of La Paz, in Baja California
, all the way through July 4
th
, which, because of the heat that is normally there during that part of the year, is considered to be the low season. However, for us, it wasn't that bad at all, and adding to our fun was the fact that we had all these
wonderful places to visit and experience
with close to no other people around. It was great. However, perhaps we were just lucky and got some unseasonably less hot weather.
Perhaps the opposite happened when we were in the Riviera Maya, made worse by the fact that we were only there for eight days. It was unseasonably hot, especially given that it was December, an opinion voiced to us by everyone from the two Mexican women who worked at a hotel in Cancun who we spoke with during a sweaty lunch at an outside restaurant, and everyone else we asked, from a lifeguard to waiters and waitresses. If we had been able to stay longer, we most likely would have been able to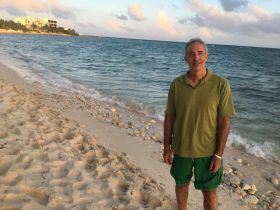 experience more average weather, had a much better time, and developed a much more positive view of everything. However, like most tourists as opposed to residents, we couldn't stay longer, so our experiences were tainted by what we believe to be much more than average heat and humidity, especially for December. That's why, if at all possible, if you are considering moving to a place, stay for as long as you can; that way, you're more likely to see what "normal" is-- the good and the bad.
We didn't get to go to all the areas we heard so much about, including Puerto Morelos and Cozumel, because we only had those 8 days. (This is another reason you really need to stay for longer in any place to appreciate what it's like.) We hope to visit next time and stay much longer. Here's what we did get to visit.
When viewed from the highway, the entire Riviera Maya is jungle, punctuated with grand resorts with magnificent entrances, billboards advertising zip-lining, jeep riding through the jungle, swimming with dolphins, cenotes, caves, etc. And there were LOTS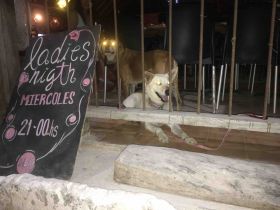 of huge tour buses. From the highway, everything appeared to be big, relatively new, and prosperous. It was quite a contrast to the experience we had just left,
staying in a 400-year-old hacienda amongst a sleepy village populated mainly by descendants of the ancient Mayans
.
At the northern-most end of what many people consider the Riviera Maya is
Cancun
, which was created by the Mexican government when virtually nothing was there before. Given this lack of existing villages, old infrastructure, etc., before, the government could build infrastructure scaled to its projected future needs from scratch and carve out large-sized parcels for large-sized resorts, with the result that today, everything looks big and about the same age. Unfortunately, we were only able to spend a few hours in Cancun, which we did touring the hotel zone,
eating in a very out of the way restaurant next to the swamp side of the road
, and
visiting one public beach
. From what we saw, it was pretty much what you would expect: big, beautiful resorts with beautiful people doing beautiful things.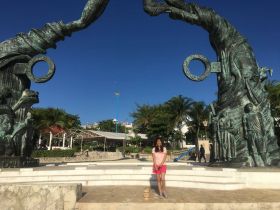 A little more than an hour south of Cancun and about midway to Tulum is
Playa del Carmen
, which has lots of expats, quite a few of whom are not old enough to retire. The focal point of Playa del Carmen is the beach, which is broad, with white sand, flat, and very pretty; and 5
th
Avenue, a pedestrian shopping / eating / partying area, which runs just parallel to it. To envision 5
th
Avenue think "Waikiki Beach meets Beverly Hills"; a combination of slightly kitschy souvenir and tee shirt shops, pushed up against Victoria's Secret Oakley, etc., punctuated by lots of good places to eat and party.
A little more than 30 minutes further south (mostly depending on traffic leaving Playa del Carmen) is Akumal, where we stayed in the Tao Inspired Living section of the Gran Bahia Principe, on the non-beach side of the highway, which I described in "
From Merida to Valladolid to Akumal, Mexico: Interesting Friends, How to Pronounce 'G' in Spanish, and Pre-Planned Inspiration
." To the beach side of the highway in Akumal are several larger hotels, but also the town of Akumal itself, which is charming. Very soon upon entering, you find yourself on a single-lane country road (one lane in each direction), going very slowly, which is a very good thing, because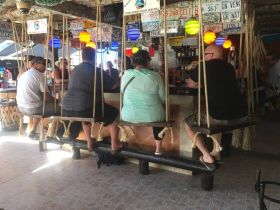 sometimes there's not enough room for cars to pass each other from either direction while there were pedestrians walking on the side of the road. And there were a good number of pedestrians walking on the road, which, along with the small lot sizes and unlike Cancun, gave it a nice, less institutional scale.
On the beach side of the street in Akumal were most of the restaurants and small hotels. Sometimes there were residences on the beach side, but more often, the residences were on the non-beach side. Sometimes the houses were grand and impressive, and many times, they were smaller. The jungle was apparent everywhere, providing shade and an exotic, slow-moving feel, as the breeze ruffled the leaves of the palm trees above. Several times, we strolled with our dogs on this street and enjoyed just looking at the houses and the boutique shops and hotels. At one good restaurant, we sat at the bar and looked at the sea while seated on swings, which turned out to be quite comfortable and relaxing.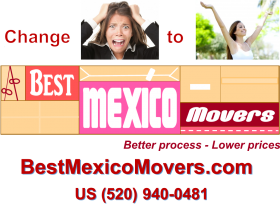 Before there were Westerners in Tulum, there were the Mayans, who build a city on the cliffs along the shore with the clear, blue-green waters of the Caribbean, and on this ground the ruins exist today. It was these ruins, along with the beach, that attracted the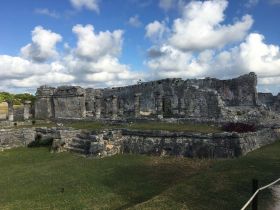 first Western visitors (often, hippies) to the area when there were very few services in Tulum. Today, Tulum is still a bit of a hippie hangout, but one whose values have
merged with modern, upscale Yuppie sensitivities and no shortage of hotels, restaurants
, and even a nice, large chain supermarket called Chedraui, which for some reason, had the nicest looking produce we had seen in Mexico.
The restaurants, hostels and stores along the highway in Tulum have less style and personality than what you will find
along the beach road
. They also tend to be less expensive along the highway. Especially on the beach road, you'll see lots of opportunities to do yoga and eat vegan or locally grown food, mixed with hostels, expensive boutiques, expensive and less expensive boutique hotels, and partying, all in a way that is advertised as having a low environmental impact.
Like in Akumal, to gain access to most of the beach areas in Tulum, you would have to stay at one of the hotels or eat at one of the restaurants along the beach road, and the feel one gets while in Tulum on the beach road is similar to what you would feel in Akumal.
Walking on the same roads as the ancient Mayans and seeing and experiencing what is left of their city was a wonderful and contemplative experience, all set, as it was, on cliffs overlooking a gorgeous part of the Caribbean. In the quiet of the ruins, you could almost imagine what it was like 800 years ago, when the Mayans built their city on the cliffs. Gone would be the tour guides and tourists with their cameras and gone would be any of the surrounding areas of Quintana Roo. But the sky would look the same, as would the never-ending and ever present gently rolling waves down below and ahead, the wide sea beckoning with endless possibilities.
Our next destination is Chetumal, which borders Belize. Along the way, we are privileged to experience a dazzling and wonderful little known beach town called Mahahual.
See links to all Mexico road trip stories below. You are currently reading the one highlighted with the
yellow background.
To see hundreds of questions answered by expats
already living in Mexico, click
here
.
To see hundreds of questions answered by expats already living in Mexico, Panama, Belize, Nicaragua and Portugal, go
here
and navigate to the place you're most interested in.
Want online, interactive help finding the best place abroad for you? Try the
Location Advisor
.
To download free research studies conducted with over 1,000 expats currently living in Mexico, click
here
.