Puebla to Lake Chapala, Mexico: A Place Worthy of Return
Posted by Chuck Bolotin - Best Mexico Movers on July 30, 2017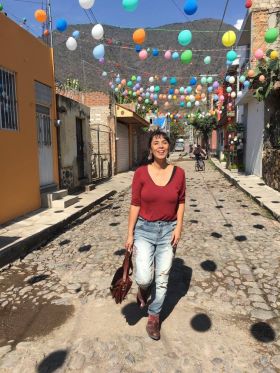 From Puebla, it's only about 80 miles to Mexico City, and there were plenty of signs encouraging us to visit. However, with over 21 million people in the metro area and us being on a tight schedule on our way to Lake Chapala more than 420 miles away, we decided it would be better to see Mexico City some other time, and instead pointed our van to the Northern Arc, which, true to its name, curves around the fourth most populous city in the world.
The scenery to each side of the Northern Arc is filled with huge corporate farms and massive granaries. In front, behind, and to the sides of us on the highway were what seemed like a never-ending parade trucks fully-laden with Volkswagen Transits manufactured in Puebla and on their way to their respective showrooms or perhaps to a loading dock for transport elsewhere.
To the sides of the road were vast expanses with very little in them; basically flat areas with medium-sized volcanic-looking mountains defining the horizon, and in the near view, high desert and hardly any trees. The few trees that grew naturally looked to be Joshua trees and others that resembled California Pepper and Spruce. We also saw paddle cactus farms with the cactus packed so closely together we figured that, to harvest them, you would have to start at the edge and move inward. We were traveling through a huge valley ringed by medium-sized peaks poking up from our already high, plane-like elevation.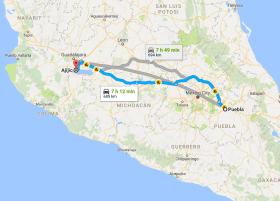 For us, the atmosphere and general feeling of the area was relaxing and mellow, with not much change in the scenery to look at for quite a while. If you've ever driven though the San Juaquin Valley in California, it was a bit like that, but with higher mountains. The modern highway was very good, so I could drive smoothly at 80 miles per hour, and of course, this being Mexico, I was being passed by motorists going 100 miles per hour.
Given that the driving was so non-demanding, my mind had time to wander, as I thought back to a few days earlier, when, on a two-lane highway (one lane in each direction, each with its own shoulder), for the first time ever, I experienced being passed by two cars at the same time; one using the shoulder to the right of me and one passing on the left using the opposing lane of traffic. In my more than 40 years of driving, I'm quite certain this has never happened to me before, because I would have remembered it.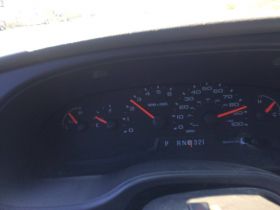 "Passing cars irrespective of their speed seems to be an imperative for Mexicans," I thought.
And then I came up with an experiment: what would happen if, instead of going 80 miles per hour, I were going 110 miles per hour? Would they still pass me?
Fortunately, my wife Jet's rather impassioned opposition and the fact that our fully packed van couldn't safely go 110 miles per hour stopped me from performing my ill-advised experiment… but I still do wonder…
High up in the mountains in Temascalcingo, about 75 miles northwest of Mexico City and 3 ½ hours from Puebla (in other words, pretty much in the middle of nowhere),
we visited a remarkable rest stop called Café km 118
. We knew immediately we were not at just some ordinary rest stop, because the outside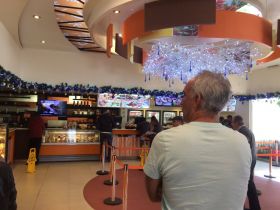 was spotless and modern, with a flower wall. Inside, there were good-looking, fashionably-dressed, tall Mexican customers (especially tall when compared with the Mayans in Yucatan), quite a few of whom seemed to be wearing ski-wear.
Everything was state-of-the-art, the bathrooms were very clean, and everything was orderly. The servers wore plastic guards around their faces I assume so that they didn't breathe on the food, which was varied, bountiful, beautifully displayed, very inexpensive (by American standards, not Mexican), and delicious. In every way, it was a tasteful melding of corporate efficiencies with style, so It wasn't sterile. It was as though we been transported via a time machine to visit a standard Mexico rest stop in the year 2040. Even the cakes on display were intricate and world-class. We had never seen a rest stop like this in the US, let alone in Mexico. We wondered if people visited this place not as a rest stop, but as a destination.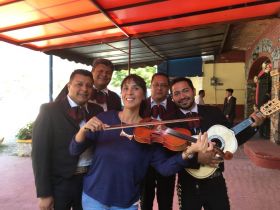 Several hours later, before reaching Guadalajara and as a bypass to this huge city, we made a left onto the cuota (toll road) that headed straight towards Lake Chapala. When we were last there, it was the summer rainy season, so then everything was incredibly lush, dripping, plump and green, with clinging vines to soften the graceful landscape and a musky / "it just rained" smell in the air. Now, as we approached, because it was mid-December, everything was dry, including the air.
As the road crested, we saw the lake down below and in front of us, the landmark to our ultimate objective the last four days and more than 1,100 miles of driving from
Chetumal, on the border with Belize
. Down we drove to the "T" near the lake's edge, where we stopped at the light, a perfect place and time to trade our road trip mentality for a "we'll be staying here for a while" mentality.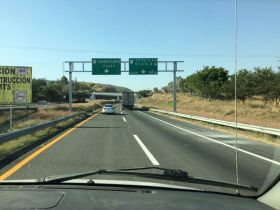 As the light turned green, we made our turn onto the main road in town, now past the place where we had shopped for produce, past the man we knew selling coffee from his truck on the side of the road (we both waved in happy recognition), now past the place we had eaten when we first came to town, when we were completely ignorant of the area we would be staying. We slowed down even further as familiar faces and familiar places with happy memories filled us with comfort. Yes, the hills that used to be green were brown this time of the year, but the trees overhanging the road were just as pretty and the people and places we knew and enjoyed were all still there.
Seven months earlier, starting as naive beginners without any guide or experience
, without having completed our temporary residence papers, without knowing much Spanish, without much of an idea of what we would experience or even if we would soon or eventually turn tail and run back to the US in failure, Jet, me, and our two dogs
crossed the border at Mexicali
in a fully packed, big, white van, and
pointed it south, to Baja California
.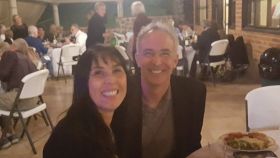 During that time on the road, we had overcome obstacles, celebrated new competencies, small and large victories, saw, lived in, and fully experienced beautiful and completely unexpected places from
Baja
, through
the area around Puerto Vallarta where the jungle drips into the sea
, to the Mexican Highlands with
comfortable Ajijic
and
sophisticated San Miguel de Allende
, down to the
Yucatan with its mystical cenotes
and Quintana Roo with its flashy resorts in
Cancun, Playa del Carmen, Akumal and Tulum
, and all the way to
the border with Belize
.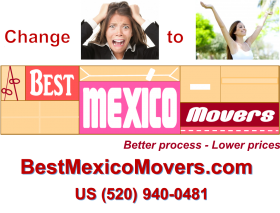 In those seven months, Jet and I had adventures together to last a lifetime, made new friends of all different walks of life and backgrounds and expanded our horizons and understandings, all of which had changed and deepened us and had become a very welcomed part of us both. Now, driving down the road with Lake Chapala to our left and the mountains to our right, we had arrived at a place we would stay for a while.
See links to all Mexico road trip stories below. You are currently reading the one highlighted with the
yellow background.
To see hundreds of questions answered by expats
already living in Mexico, click
here
.
To see hundreds of questions answered by expats already living in Mexico, Panama, Belize, Nicaragua and Portugal, go
here
and navigate to the place you're most interested in.
Want online, interactive help finding the best place abroad for you? Try the
Location Advisor
.
To download free research studies conducted with over 1,000 expats currently living in Mexico, click
here
.