The Road from Puebla to Cordoba, Mexico: Otherworldly Canyons, Meeting Celebrities, and the Cordoba Gift Exchange
Posted by Chuck Bolotin - Best Mexico Movers on March 11, 2017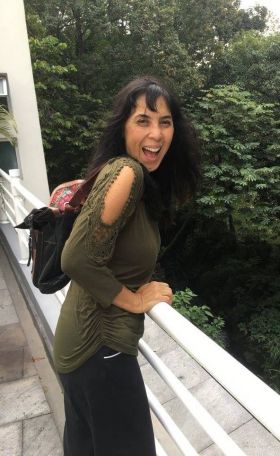 Given that our planned drive from Puebla to Orizaba was only a little more than three hours, that our combination Puebla hotel / restaurant / fraccionamiento was so pleasant, and that the restaurant had an all you can eat Mexican buffet breakfast, we saw no compelling reason to refuse the beautifully arranged food we found so temptingly arranged before us. Even in this upscale restaurant with impeccable service and sophisticated ambiance, they allowed us to dine "con mascotas" (with our dogs), albeit on the covered patio, which is where we would have wanted to eat in all circumstances. The waitress, Elizabeth, kept bringing us off-menu appetizers the region is known for and my wife Jet was introduced to amaranth (a small grain-like wheat germ, but round, lighter and not as crunchy) that she sprinkled liberally over her fresh papaya and mangoes.
We had been in Mexico for more than five months and had noticed a curious phenomenon regarding the bills we received at restaurants: the amount owed was always either exactly what we expected, or less than the stated price on the menu or elsewhere. In this upscale restaurant in Puebla, it was about 20% less. I have no idea why. In any event, we left an outsized tip, and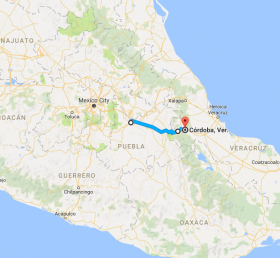 heavily laden with copious amounts of delicious food, we waddled over to our car. The dogs jumped in, and with more food in our bellies and money in our wallets than we had anticipated, we drove towards the exit, with no plans for lunch.
After leaving the urban areas of Puebla and accelerating to speed, we were once again in the vast countryside of the highlands, occasionally passing a mid-sized, meandering river. A huge flock with what looked to be thousands of birds seemingly acting as a single, coordinated organism hovered in front of us and then turned mid-flight and flew north, on to their own destination.
Puebla sits at about 7,400 feet, more than 2,000 feet higher than Denver. As we pointed our van close to due east, still higher we went, into the mountains where, even at this tropical latitude, there can be snow amongst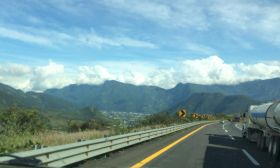 the pines. As we started to descend to Orizaba the road became more curvy, sometimes perilously close to the sheer drop-offs that seemed to be several thousand feet and descending into valleys, where occasionally, we would see a village far, far below. It was like being shrunken down and placed in a model of mountains that was not to scale in the reception sales area of a housing development, but these
were
to scale. What we were seeing was real.
Sure footed and nonchalant horses and goats grazed in narrow areas between the road and the cliff in what we figured was one false step away from their sure demise. At the first turnoff, I had to pull over. Neither Jet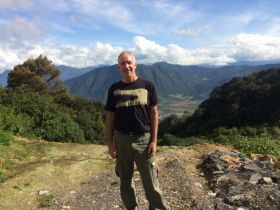 nor I had ever seen anything like it. The proportion was amazing. If it weren't for the lush vegetation, it would resemble one of those pictures or drawings you've seen of the moon or other planets, where there is no erosion to soften the edges of mountains or to level their differences.
Even at only 4,000 feet elevation, Orizaba looked like a typical mountain town, Mexican-style, and surprisingly densely populated, given its small population. It was brisk and the air was dry. To the north of Orizaba was Pico de Orizaba, a volcano topping out at more than 18,000 feet, which makes it the highest mountain in Mexico and the third highest in North America.
When searching for and choosing places to stay, in addition to general concerns and needing a place that will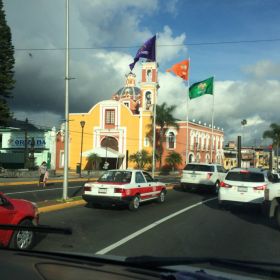 accept our dogs, we also need a very secure place for our van, which is more than eight feet tall. Our van is no ordinary van. It is a very sturdy Ford E350 that had been modified before we bought it as transport for people in wheelchairs. After we removed the lift, we customized it further to our exact specifications. Even if we could replace all the "stuff" we carried in our van, it would be close to impossible to replicate the van itself, and certainly, not in Orizaba. If it got stolen, our road trip would be over.
Unfortunately, none of the three hotels we tried that accepted dogs in Orizaba had enough clearance to park our van in a place we considered to be sufficiently secure. Given our late start from Puebla, it was around 2 PM. We tried using our Sprint / Moviestar / "supposed to work in Mexico" cell phone to call ahead to see if there was anything suitable in Cordoba. Consistent with our other experiences elsewhere in Mexico, it didn't work.Driving at night in unfamiliar mountainous areas in Mexico is a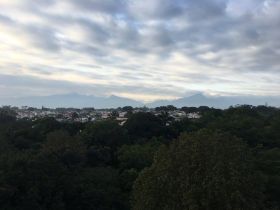 very bad idea. Did we dare to drive further on to Cordoba with no reservations? At the time, it seemed the lesser of two evils. Back into the van we went with no time to waste. We would make a run for it.
As we descended the mountains further towards the general direction of the flatter planes, feathery pine and eucalyptus gradually transformed to banana trees and coleus, which were very tropical and reminded Jet of Hawaii. As we approached Cordoba, we saw tulip trees and what looked to be acacia. The air became more humid and the smells richer.
The hotel we chose didn't accept dogs, but they did very generously allow us to park right in front, where the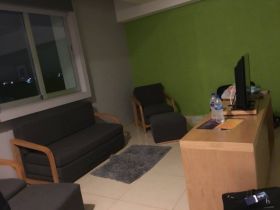 security staff could watch our van all night. Our dogs would have to make do with the middle seat for a bed. On a positive note, the hotel had a stream adjacent, a gorgeous park just next door with magnificent, mature foliage. Not at all unusual in Mexico, our room was very modern and very affordable. It had a cubist, green theme, very sleek and well-designed, and a huge area for the shower. Also very common in Mexico, it had a rain showerhead (the ty[e that sprays water straight down). Out the window, past the park, we could see an imposing volcano. This would definitely do.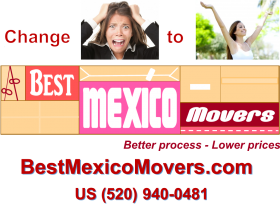 Cordoba seemed to be a very nice city, especially from the vantage point of our newly found, much more than acceptable sanctuary. We were set for the night, so we had time to look around and also to review what we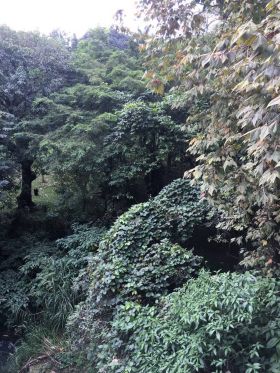 had seen coming into the city. At least from our very quick impressions and compared with some of the places in Mexico we had been, the architecture in Cordoba was not as interesting or notable. We didn't see the arches and bovedas we had enjoyed elsewhere. There was much less of the fine detail work along the doors and windows we saw elsewhere, especially in San Miguel de Allende. The rooflines were pitched and there was very little tile work. The colors were relatively humdrum compared to the rich earth tones of San Miguel de Allende or the wild, inventive colors of Ajijic.
One of the most popular questions on our site,
Best Places in the World to Retire
, is how are expats treated by Mexicans. The answer for us is that If you are genuinely friendly, as an American, when you travel to places where there are mostly Mexicans, you become a bit of a celebrity.
Within a few miles of the hotel we pulled our van into the parking lot of a popular Cuban-style restaurant on one of the main streets of Cordoba. Sitting at the next table was a family with five adult children, one son-in-law and one grandson. They smiled at us and we smiled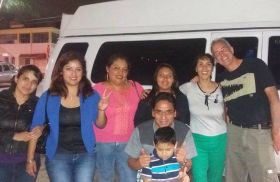 back. Jet is especially fearless in these situations, using her very, very, very rudimentary Spanish and randomly applied conjunctions to strike up a conversation. Before too long, they told us they had a ranch nearby where they raised rabbits and lambs, which they illustrated via pictures they showed us on their smartphones.
More than once, they tried to buy us beers. As we all finished our meals, Jet stealthily called over the waiter and let him know that we would buy the family dessert. Not too long thereafter, a tray appeared with 3-inch tall, big square pieces of flan. At first, the family was befuddled. After all, they hadn't ordered dessert. After the waiter explained and pointed to us, confusion was replaced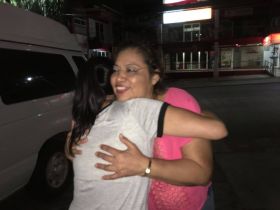 with big smiles as the happy family thanked us repeatedly and only then reached for their forks.
During our long good-bye's, other locals noticed that we were Americans, as a teacher with his wife and young son approached Jet and wanted to talk in English about the wife's experiences in Oklahoma. After our conversation and bidding them well, we took pictures with the first family in front of our van. Directly afterwards, the wife, Jane, gave Jet a pair of long, floral, silver earrings which she had purchased from Palenque, which Jane knew was on our way. It was only later that Jet noticed that Jane was wearing the same earrings in the picture, so she must have removed them from her own ears to make the present to Jet.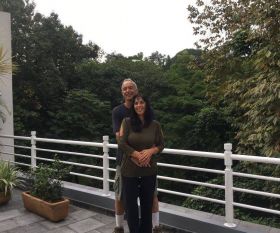 Of course, Jet was worried about the dogs all night. When I came to get them in the morning, of course they were sound asleep. The hotel management was very nice and let us take our dogs to where Jet was having breakfast, on a patio area with a pool in front of gorgeous, large trees with big old leaves and arching tops. Change of plans successfully orchestrated, dogs safe and sound (and with us), memories of comradery and kindness from the night before, we ate masa dishes traditional to the area, as we enjoyed the trees in front of the terrace and listened to the stream below.
Our next stop would be out of the mountains and on towards the Gulf of Mexico.
See links to all Mexico road trip stories below. You are currently reading the one highlighted with the
yellow background.
To see hundreds of questions answered by expats
already living in Mexico, click
here
.
To see hundreds of questions answered by expats already living in Mexico, Panama, Belize, Nicaragua and Portugal, go
here
and navigate to the place you're most interested in.
Want online, interactive help finding the best place abroad for you? Try the
Location Advisor
.
To download free research studies conducted with over 1,000 expats currently living in Mexico, click
here
.