Why We Will Be Driving Through Mexico for the Next Year: A Road Trip Series
Posted by Chuck Bolotin - Best Mexico Movers on June 10, 2016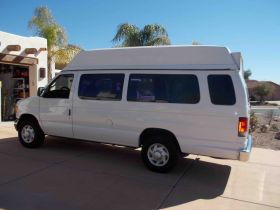 The Mexican border agent took a quick look at our over-sized van and motioned me to pull over to a special inspection area. Then, he asked me to open the rear doors. What he saw next was a cargo area so fully stuffed that you would have a difficult time adding a tennis ball.
"I'm sorry, senor," he said, "you either have to unpack the van to let us see what you have in all those boxes, or go to another point of entry where they have an x-ray machine." Given that unpacking and re-packing would probably take about 3 hours, there were no guarantee I could figure out how to fit it all in again, and it was already 90 degrees and rising where we were on the California - Mexico border, the second option seemed to make more sense. I got back into the van, waved goodbye, and drove off to try at another spot.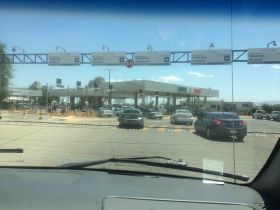 What had brought us to this point? Why, exactly, had my wife and I left the comfort of our four bedroom, air conditioned home, complete a pool and all our stuff, in order to drive through the desert to this hot and sweaty place, and then hope that a random border official would grant us permission to pass into his country?
I'll tell you.
As Vice President of Business Development for
Best Places in the World to Retire
, I have spoken with more than 500 expats, read more than 8,000 answers to the most often asked questions about moving abroad, conducted an extensive study about life abroad, and written dozens of articles that have appeared in national publications, so most people would call me an expert in living abroad.
However, I had never done it myself.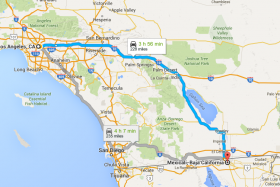 This May, we were going to change that, as my wife and I would attempt to cross the US – Mexican border with our two dogs and as much of our belongings as we could cram into a big, white van.
This is the first article in a series, in which I invite you to follow our story as it unfolds. Because we're just beginning our journey, I have no real idea what will come next or how it will end, so we will find out together.
I hope you find our journey entertaining and useful. I'll do my best to bring you along with us and give you a realistic a feel for what it's really like, and I'll write about our experiences as close to the time they happen as possible, so you can see what we thought at the time, as opposed to how we remember events later.
But before I pick up our story at the US-Mexican border, here's some background that will help you place our journey into context and maybe even expose some things you and I have in common. I was born in 1957, right in the middle of the Baby Boom. I'm married, and have two adult children who live in Los Angeles. Up until a few months ago, my wife and I lived in the house I described. We speak very little Spanish.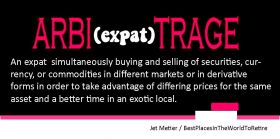 As a businessperson, I've always been fascinated by what economists call "arbitrage," which I'll define for our purposes as buying or selling to take advantage of different prices in different locations. (Arbitrage is what made the Renaissance explorers and many other traders rich.) In short, arbitrage is sort of like magic, if you can pull it off. In this case, arbitrage would be the ability to live a better life in Mexico for less money.
Arbitrage is what got me interested in the concept of living abroad, and what motivated me to found Best Places in the World to Retire. After three years of running the site, we had mountains of evidence that one could live a much better life for the same money abroad, but this evidence was all from other people.
The time had come to subject ourselves to the same experiences to see if we got the same results. In addition, on behalf of all the visitors to our site who are considering moving to a place like Mexico, I felt we had to answer questions about safety from firsthand experience. As Americans are led to believe, would our van with all our possessions be stolen immediately upon crossing the border with us left at the side of the road? Would we be held up at gunpoint or kidnapped? Would we be caught in the crossfire of drug smugglers? I needed to find out directly, and I will report to you exactly what happens.
Given that the cost of living is a key component to our story, I'll share with you some of our average monthly costs in southern Arizona:

Electricity... $275
Water… $130
Gas for the house… $80
Cable (Internet, TV, phone)… $180
Property tax… $480
Health insurance (just for catastrophic; $10,000 deductible)… $436*
*Will probably rise to well over $1,000 per month over the next few years.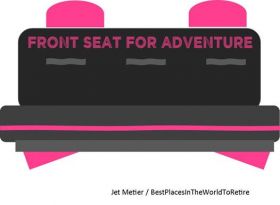 Here were our objectives:
Reduce or eliminate as much financial risk as possible (and thereby benefit from a huge increase in peace of mind).
Pay less day-to-day for a higher quality life.
Experience life in different places, meet new people, experience new cultures; test our ability to meet new challenges and as a result grow new competencies and confidence; develop a greater understanding of other people, the world, and ourselves; and basically experience life on a more meaningful level, all before we were too old to enjoy it, or too old to even do it.
Our plan is to drive from place to place, starting in Mexico, and to stay in vacation rentals for about two months at a time, all for about a monthly rental cost equal to just our former monthly house utility expenses and property taxes. While doing this, we plan to be in or very close to world-renowned vacation places where people spend hundreds of dollars a night and have to hurry to experience as much as they can as quickly as they can before getting on a plane to go back home. In contrast, we planned to be living close enough to experience the same thing, but at a MUCH more leisurely pace, and to live much better than we did before, all for a daily housing cost of about $40.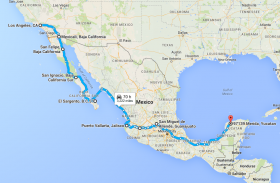 Our plan is to drive and spend time in the places below, places along the way, and places close enough for day trips:
La-Paz, Cabo San Lucas
Puerto Vallarta
Lake Chapala / Ajijic
San Miguel de Allende
The Yucatan Peninsula, including Merida (and the beach communities around Merida

such as Celestún,

Sisal and

Telchac, known as Costa Yucatan), Cancun, Playa del Carmen, Tulum, etc.
After we're done, we will either continue with our new lifestyle, find a place to settle down, or come back to the US. Whatever we choose, I'll let you know.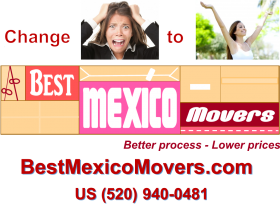 So we sold our house in a moderately good market, and put into storage or gave away everything that couldn't fit into the largest van I could find that I assumed my wife would drive. I took the proceeds from the sale of our house and diversified it into several classes of assets that could better withstand a variety of macro-economic problems I see as happening only in a matter of time. Before leaving, I contracted for the purchase of a much better health insurance plan (an international plan) for $222 per month for both of us.

Here's a summary of what I accomplished:
Risk from prices falling in housing market: gone.
Paying for maintenance and things breaking at our home: gone.
Monthly expenses including property tax but not including mortgage of well over $1,145 per month: gone.
Having to do chores to fix and maintain things almost every weekend: gone.
Health insurance cost for better insurance: lowered by $258 a month, which is more than 50% less.
Clearance for a great adventure with peace of mind: just beginning.
It was a really good start. The next challenge would be getting past a border agent and into Mexico.
---
---
(Map data 2016 copyright Google INEGI)
See links to all Mexico road trip stories below. You are currently reading the one highlighted with the
yellow background.
To see hundreds of questions answered by expats
already living in Mexico, click
here
.
To see hundreds of questions answered by expats already living in Mexico, Panama, Belize, Nicaragua and Portugal, go
here
and navigate to the place you're most interested in.
Want online, interactive help finding the best place abroad for you? Try the
Location Advisor
.
To download free research studies conducted with over 1,000 expats currently living in Mexico, click
here
.