Driving From Mexicali to San Felipe in Baja California: Why Is This Man Laughing?
Posted by Chuck Bolotin - Best Mexico Movers on June 21, 2016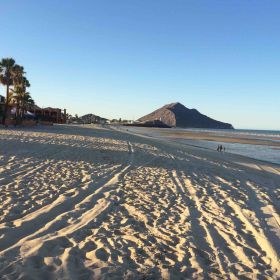 Two bodies of water surround most of the peninsula of Baja California. On the eastern side is the Sea of Cortez (also known as the Gulf of California), while the western side faces the more familiar Pacific Ocean. These watery expanses merge at what looks like the large, natural arch you've seen pictures of at Baja's southern tip, Cabo San Lucas, about 750 miles roughly south of the US-Mexican border. At its widest, the peninsula measures about 85 miles from side to side, and, depending on the route you take from the north to the south, you can experience both coasts, sometimes several times.
We decided to begin our journey on the eastern, Sea of Cortez side of Baja for several reasons, including that, being originally from Los Angeles, I was horrified by the certainty of having to endure mind-numbing, bumper-to-bumper traffic for the hundred plus miles driving through LA and San Diego, and then, topping it off with the possibility of a multi-hour wait to cross into Mexico at Tijuana.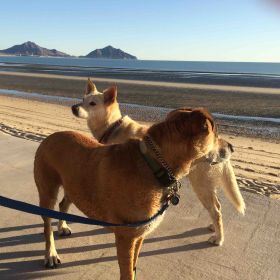 But why drive at all, instead of flying? Here are just a few reasons:
We have two dogs.
We have LOTS of our stuff with us, including clothing, kitchen items, beach chairs, a shocking quantity of women's shoes, etc., all of which, if we have with us, can make life much more convenient (not to mention, more stylish).
We could enjoy the little, out of the way places we would otherwise just fly over and completely miss.
We could get a much better, more authentic feel for places by driving there, as opposed to the almost surreal experience of getting into a large tube, waiting a few hours, and then being deposited into a completely different place. Much of life is in the journey, not the destination. How far are the places we will be visiting from each other? What are the places along the way? How does the topography change? How do the people change? These things can only be experienced and understood on the ground, along with the investment of the time it takes to do it.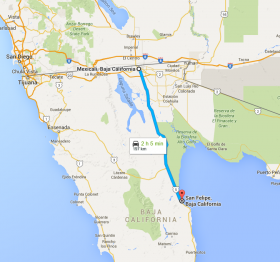 As I settled down and relaxed into the drive, it dawned on me that Baja is a land of bared contrasts: parched and dusty brown desert opposed by stunning, sharp blue and blue-green ocean; flatlands that extend for miles that butt up against sheer mountainsides; what looks like vast and untamed emptiness that is suddenly replaced by civilization.
It also dawns on you during a multi-day drive like this that, compared to the US, Baja is not judgmental, and it doesn't coddle you, either. People do pretty much what they like (of course, other than hurting each other). Baja is a place of fewer laws, rules, regulations and HOA meetings, fewer road signs and guardrails, and an expectation that you can take care of yourself without having to be nagged, hectored, and generally told what to do. At least in the less Americanized areas we drove through, Baja is more like the US West of the past than the US West of today. Baja treats you like you are a competent adult, as opposed to a clueless child. Baja doesn't tell you the answer; it tells you that you're smart enough to figure it out for yourself. For this American, the feeling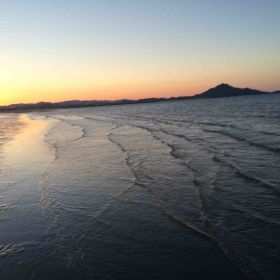 from this is liberating.
I'll have more on the driving conditions later. For now, I'll start with if you decide to drive Baja, don't bring your nice car; bring your good car. Bring a car that is in very good condition with very good tires, and axles that can withstand lots of jarring. Your car will get dirty and it will get scratched. Your windshield may get pitted. If you have a nice car, after a while, you won't be happy with how it looks, but if you bring a good car, almost all the tine you will be happy with how reliable it is.
Down Mexico 5, San Felipe is your first real glimpse of the Sea of Cortez, an easy 2 ½ hour drive from the border. Like much of Baja, until you get to the ocean, the landscape looks like Southern Arizona, with the difference that, unlike in the US Southwest desert where the landscape continues for hundreds of miles, in eastern Baja, it is replaced often with a flat, blue, glimmering sea, many times, in magnificent bays. Think: Tucson abutting the tropics.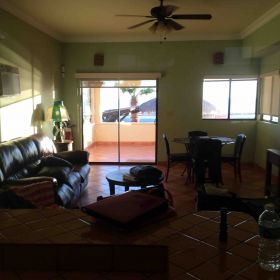 I was born and raised in Los Angeles, so I can compare the typical beach-going experience in Los Angeles with what we experienced when we arrived in the beach town of San Felipe. Here were just a few differences:
Instead of having 10,000 people in my field of view, I saw perhaps 10.
The sand is very white, very flat, and the beach is wide. You can walk out into the ocean for 20 yards or more and still be standing. There were tiny little waves (if you could call them waves at all).
The water is clear.
The water is warm.
There was no charge for parking.
I wasn't thinking about leaving early or staying late in order to beat the traffic.
We had a superb meal at the Hotel El Cortez right on the ocean for about $12 total for both of us, tax included.
I laughed a lot more.
If you are like me, when driving through Baja and arriving at San Felipe, there will be an equal sense of serenity and joviality that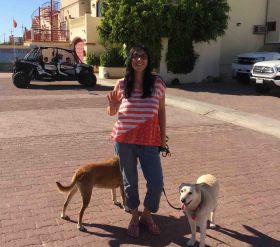 comes over you when you realize two things:
You are in a spectacularly beautiful place that you used to have to experience as a traditional vacation of a week or so and have to pay for via a second mortgage.
Your cost to be in and experience this place is less than if you had stayed home.
That explains the laughing.
Given that the Sea of Cortez is in the east, the sun sets over the mountains and rises over the ocean, so it was this sunrise over the flat, blue, clear water that greeted us on our first morning in Mexico. We spent a few hours leisurely walking with the dogs on this wide, sandy, almost deserted beach with its free parking and warm water, then packed up, and headed south again.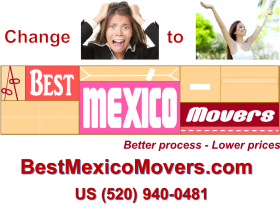 In our next article I'll describe our drive south from San Felipe, and why most people don't do it.
---
---
(Map data 2016 copyright Google INEGI)
See links to all Mexico road trip stories below. You are currently reading the one highlighted with the
yellow background.
To see hundreds of questions answered by expats
already living in Mexico, click
here
.
To see hundreds of questions answered by expats already living in Mexico, Panama, Belize, Nicaragua and Portugal, go
here
and navigate to the place you're most interested in.
Want online, interactive help finding the best place abroad for you? Try the
Location Advisor
.
To download free research studies conducted with over 1,000 expats currently living in Mexico, click
here
.