Cruisin' the Caribbean: Tips for the Ship
Posted by By Edgington on July 17, 2018

For retirees/expats considering a cruise, here are a few tips I garnered from a recent Caribbean island-hopping adventure my wife and I enjoyed.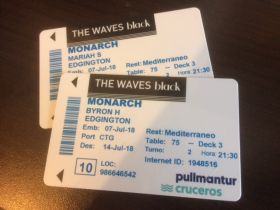 It was appropriate that I'd celebrate my 70th birthday at sea, since the older I get the more I find myself 'at sea', and the less I understand this wacky world. Be that as it may, the cruise was grand, and I learned a few things about such endeavors that I'm happy to pass on, for what they're worth.
We booked passage with Pullmantur Lines, a top tier maritime provider of such tours. We went with Pullmantur for three reasons: One, the trip was (reasonably) inexpensive; two, the ship was staffed by a Spanish-speaking crew, so we could practice our Espanol; three, the Monarch sailed from Cartagena Colombia, an hour flight from Medellin where we live.
Our first port along the way was the tiny island of Curacáo. This Dutch holding near the coast of Venezuela is a gem of a place to visit, and to inhabit I assume, though there's not much to do on Curacáo when the cruise ships depart. Next stop, Bonaire. If water sports are your main pursuit, this tiny dot in the Caribbean has excellent snorkeling & diving. Port number three was Aruba, One Happy Island, as all the T-shirts say. Next stop was Colón, Panama. We didn't leave the boat there, but there's excellent shopping nearby, and of course the Canal, which we have done.
That was the itinerary; now for travel tips for potential cruisers.
Monarch Berthed at Curaćao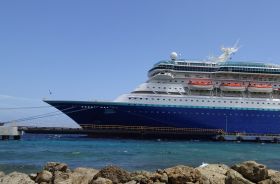 Pullmantur Monarch? So-so in some areas, excellent in others. The ship itself is in good shape, with a touch of ocean rash here and there, to be expected of a large vessel operating in a saltwater environment.
Accomodations: We had a porthole room, not a balcony. I'd advise paying extra for a balcony stateroom. If one's available, it's well worth the expense. If you book a balcony stateroom on a closed loop tour, get one on the port side traveling clockwise, starboard if traveling counterclockwise. Hint: If you want to be upgraded to a balcony stateroom, wait till after the first port. Cruise lines don't always know how many passengers they'll have for the duration of the trip until after that.
Crew interaction/On-board experience: So-so, though that was partly due to the language barrier.
Food/Beverages/Crew: Average to good; room servicing excellent; restaurants/bars adequate to good, though every clock on the ship seemed to be different, so it was tough to judge opening/closing hours. On board noise level was surprisingly low.
Amenities? I'll say it up front: The satellite based WiFi/Internet connection sucks. Do not purchase the Pullmantur offered Internet package, it's a waste of $$$. We struggled for a week trying to connect, with very little success, even after upgrading to The Waves premium club status at $45.00 USD each, per day. A side note: If you're used to communicating by smart phone, establish another method on board, because texting may or may not work. An old-fashioned walkie-talkie could be a solution, and many ships now offer their own app for messaging. These apps are reasonably priced, around $1.00 USD per day, or so I'm told. Having your own wireless router may work as well. Or you could just stay disconnected for the duration, a condition few of us wish to endure these days.
Book the first seating: Our dinner seating was scheduled for 9:45 pm! Latin folks do tend to eat later, but for this gringo 9:45 pm is closer to breakfast. Maybe a fluke, I don't know, but the ship served no decaf coffee. Titanic jokes about Sanka notwithstanding, I wanted a decaf and Baileys late at night, but no dice. The ship does offer buffets, so there was little danger of starvation. Anyone who's taken a cruise knows that food is central to the experience, so try to get that first seating. A woman named Anne O. Rexia is the only person in history to actually lose weight on an ocean cruise.
Board very early, or very late. The Monarch left the dock in Cartagena at 7 pm. We arrived around 1:30 pm, when boarding was first permitted, and there were already several hundred people ahead of us in line. With more than 1,800 passengers expected, the loading process had us standing in the heat for nearly two hours. Had we arrived at noon, or after 5 pm, our sweaty shuffle time on the dock would have been far less. If you have a disability and/or special need, don't hesitate to use it to board the ship.
On board briefings / misc.: The first day at sea all passengers must attend a lifeboat/abandon ship drill. This is mandatory. Tongue in cheek, here's my advice on this otherwise Darwinian exercise. Always climb the Christmas tree, and always go up, never down. The top part of the ship sinks last, usually. Seriously, though, I spent several years in the tourism business, so I know exactly what happens during those drills. Nothing. They're mandatory for the company, but they're just like briefings on the airlines; no one pays any attention to them. (The stories I could tell!) On a serious note, you need to know how to don the life vest, know where your 'muster point' is and on which deck, and in an abundance of caution, it wouldn't hurt to pack a small 'grab bag' of things you'd be lost without, such items as passports/cedulas, medicines, cash/credit cards, jewelry you'd hate to lose, house/car keys, and any items you've stashed in the stateroom's safe. (BTW, remember to check the safe before you disembark!)
Miscellaneous / What to pack: It's always windy on deck, so pack a hat you don't mind losing, or one with a chinstrap. That goes for eyeglasses as well. A delicate issue, but an important one. Speaking of the poop deck, do not put anything except very small amounts of TP in the head, they're all connected, and if yours goes down, several others can, too. Lomotil, and other anti-nausea drugs are always good to have. When I flew helicopter tours on Kauai, I kept a ready supply of ginger candy on board the aircraft, and none of my 15,000 + passengers ever got sick. As strange as it sounds, another solution to seasickness is to get into the ship's pool. While you swim, you're moving in synch with the cool water, not with the ship, so nausea might be alleviated. Don't want to hear that annoying alarm clock? Schedule a complimentary room-service breakfast, and its arrival will start your day just right. Pack a universal power strip / converter. Note: Most staterooms have very few power outlets, and fewer USB ports. Look on the TV, they often have a USB port there. Also, pack at least one portable power source. Travel insurance? Yes, but don't book it through the cruise company, they tend to inflate prices, and lower benefits. Buy insurance through a third-party source, or let your travel agent do it. ATMs on board typically charge upwards of $15.00 USD per transaction. Take cash.
Last minute items: Planning to shop on board? Wait till the last full day of the cruise when sales are offered. Can't decide which main course you'd like to eat? Order two, the wait staff will almost always oblige. Stay hydrated! Don't want to pay for bottled water ashore? Take a water bottle, and fill it on board the ship. Pack your smartphone in a waterproof device. It'll keep working, and you can take it with you into the pool rather than leave it on a lounge chair. Ship walls are metal, usually, so take a few magnetic hooks along to hang up wet clothes etc., as there may not be hangers available. Clothes pins can come in handy as well. Ask about a tour of the ship's inner workings. Often the cruise line will conduct tours of the ship's control room, bridge, behind the scenes areas, and crew quarters. Our crew showed me these places, and more. I had a lengthy conversation on the bridge with our captain where he and I shared tales of life in the tour business.
Security: Keep in mind that when you board the ship, initially and at every port, you'll pass through a security screening just like at the airport. Be careful what you purchase, it may be confiscated. Most of all, relax and enjoy the cruise!