Highway 1 in Baja: From a Yurt in San Ignacio to the Perfect Beach South of Mulegé
Posted by Chuck Bolotin - Best Mexico Movers on June 28, 2016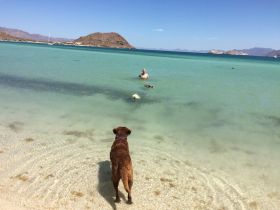 Driving south on Highway 1 from after it intersects Highway 5 is fairly uneventful, if by "uneventful" you mean "the hundreds of times when you're confronted with the fact that even a slight miscalculation on your steering wheel will result in certain death." A half inch to the left, and you'll crash head-on into a semi barreling towards you at 60 miles per hour. A half inch to the right, and you'll go over the roughly 12-inch shoulder to plunge either into a ditch, or down a canyon. (I recommend relaxed concentration, razor sharp reflexes, and hands at 10 and 2, just like your driver's education instructor told you.)
For most of the trip, Highway 1 is just two lanes; the one going your way, and the one with possible death hurtling towards you. Both lanes look to be narrow, and the shoulder varies from what seems like about a foot in width maybe a few inches. Don't let anyone tell you that Mexicans don't know how to drive; they're excellent drivers in general and, given the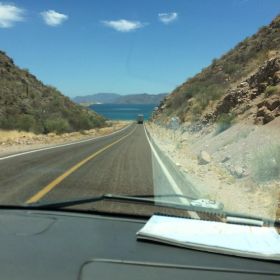 width of the trucks, their speed, and their very small margin for error, Baja truck drivers are first rate athletes.
You cross from Baja Norte into Baja Sur at Guerrero Negro, on the western, Pacific side of Baja. We didn't stop, because we had a reservation that night at a yurt (yes, you read that right) in the tiny community of San Ignacio and didn't want to add darkness as an additional thrill to our periodic near-death encounters.
San Ignacio has less than 1,000 residents and is about in the middle going east and west on the peninsula. Even though Wikipedia will tell you that San Ignacio has an elevation of just above sea level, it has the feel of being up in the mountains. It's definitely much cooler than being at the ocean (my wife wore a hoodie, even in late May) as the desert landscape is replaced by the unlikely sight of tightly packed palm trees and a lagoon.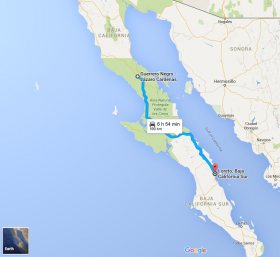 More than likely, the only yurts you'll find in San Ignacio will be at Ignacio Springs B & B. Although my yurt experience is very limited, I can report that these yurts were very comfortable, with a couch, a bed, and a full bathroom. Given that we were traveling in low season, our yurt was right next to the lagoon, and we could easily have taken out the kayak that was left for us steps away from our front door.
We drove the very short distance to town, which has a town square in front of a beautiful and very gold church. The size and impressiveness of the church would lead you to believe that there were more people living in the area in the past than now. As the only ones at what looked to be the nicest restaurant in town, we sat down to dinner outside and had a fantastic and what at that time seemed to be a surprisingly inexpensive meal. (We were in Mexico for just two days at that point, so we hadn't yet become accustomed to the countrywide 60% off sale.) We were right next to the main street, with local townspeople walking by and smiling at us and children venturing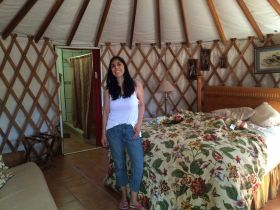 shy waves, all set against the sounds of the occasional rooster crowing. It was nice and cool and in front of the restaurant was what looked like a beautifully done slate patio / sidewalk. San Ignacio had the feel of a place that responds only to natural rhythms and is not concerned with the issues of more modern and more hectic life. My wife and I agreed that, given how out of place we must have looked there, someone taking a picture would think we were eating dinner on a movie set.
Back at our yurt and thoroughly content in this pleasant, unhurried town, we sat on the wooden benches next to the lagoon and watched the stars, as several ducks watched us.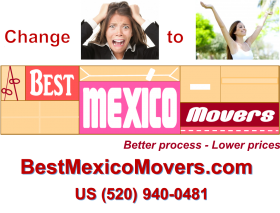 Starting Day 3, we headed almost due east, where we came across the port city of Santa Rosalía, on the other coast, the Sea of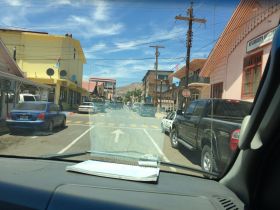 Cortez. My wife said that the town had a Caribbean feel to it, with architecture similar to what you would find in New Orleans. It also reminded me of a well-kept cowboy town because, instead of the block buildings we were becoming more accustomed to seeing in Mexico, Santa Rosalía had wooden buildings and red brick buildings with wooden signs and balconies, and because of its remoteness, Santa Rosalía had a Wild West frontier feel.
Further south, you will run into Mulegé, which looks like a portion of a South Pacific island that been cut out and set on top of Baja. There are palm trees everywhere, set inside a strict demarcation the existence of which probably has something to do with water. We didn't stop, because we wanted to visit the next beaches that were so highly recommended.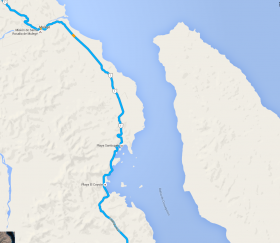 We were not disappointed.
On the Bahía Concepción about 20 minutes south of Mulegé are a series of the most sublime beaches you will find anywhere on the planet. Rubbing our eyes and trying to comprehend and to process the postcard perfection we saw to our left, we turned off the highway and approached the first beach, Playa Santispac. Several cabanas beckoned us, set against dark and light blue shimmering water and perfectly white, powdery sand. In the near distance, we could see a peninsula. To the side, several islands dotted the horizon. Farther away, was the other side of the bay.
In between us and the object of our immediate desire was a smiling young man standing next to a sign that had handwriting on it informing us how much it would cost for the dogs and us to enter. Quite frankly, I don't remember the amount, other than it was very reasonable. We paid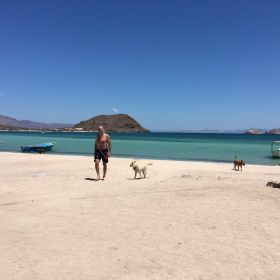 our pesos and he let us in. There were perhaps six other people on the beach that was several hundred yards wide. We pulled our van directly up to side of the cabana, turned it off, and looked at each other.
We had arrived.
Within three minutes, a man appeared with Ceviche for sale for some very small amount of money. In another few moments, another vendor drove up with ice cold drinks and ice cream. All prices were Mexican scale. It's like you've been placed in the middle of a Corona commercial, but much better, because it's real. You have no concerns or worries. Given the accident of you being an American, you can easily afford your day at beach perfection. All you have to do is to sit back on your chair in the shade of your cabana, decide what to eat or drink from the traveling vendors, swim in the calm, clear water with your dogs, take a walk along the almost completely deserted shore, admire the view, and appreciate how you are able to experience what in the past was almost impossible to achieve and now you are part of.
That night, we spent in Loreto, and the next morning headed to what would be our home base of operations for the next six weeks; a tiny fishing village south-east of La Paz.
(Map data 2016 copyright Google INEGI)
See links to all Mexico road trip stories below. You are currently reading the one highlighted with the
yellow background.
To see hundreds of questions answered by expats
already living in Mexico, click
here
.
To see hundreds of questions answered by expats already living in Mexico, Panama, Belize, Nicaragua and Portugal, go
here
and navigate to the place you're most interested in.
Want online, interactive help finding the best place abroad for you? Try the
Location Advisor
.
To download free research studies conducted with over 1,000 expats currently living in Mexico, click
here
.