Our First Few Days in Ajijic: "Not Too Much"
Posted by Chuck Bolotin - Best Mexico Movers on October 9, 2016

Not even Goldilocks would have a problem with Ajijic. It's "just right" and in the middle: not too cold, and not too hot. Ajijic is not too crowded, but with enough residents to have services: there's a Wal-Mart close by, and dozens of great restaurants, day spas, etc. Guadalajara, at 40 minutes away by car, provides an international airport, high-end shopping, culture, first rate medical care, etc. just close enough to be convenient but not too close to be an imposition of any attendant urban problems on any real part of daily Ajijic village life.
Ajijic sits at about 5,000 feet elevation, on the northwestern shore of Lake Chapala. In front of the town, is the lake, the largest in Mexico. Behind the town are steep mountains with gorgeous trees, vines, and in the rainy season, waterfalls. The elevation drops the temperature from what it would otherwise be at this latitude at sea level, and then the lake moderates everything, making it cooler in summer and warmer in winter.
Nothing is harsh and everything is balanced. I asked a Mexican man who was born in the area a series of questions, such as, "In the summer, is it hot?", "In the high season, does it get crowded?", and "In the rainy season, does it rain a lot?" To these and other questions, his terse but completely adequate and accurate answer, in broken but understandable English, was the same: "Not too much."
"Not too much." That pretty much describes Ajijic and the surrounding areas of San Juan Cosala to the west, La Floresta, San Antonio, Chula Vista, Riberas del Pilar and Chapala to the east, and all the other communities on either side and in between, which collectively are called "Lakeside." In the morning, while in Arizona or Baja the sun would come up quickly and with a blinding burst, at Lakeside, the sun rises gently, with a gradual transition to sunlight.
In addition to being agreeable for everyone, Ajijic is like a halfway house for expats, and there are lots of expats here.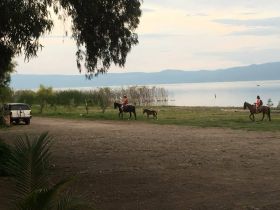 On our very first day in Ajijic, while sitting outside at Maria Isabel, a very pleasant restaurant on the malecon overlooking the lake in Ajijic next to free, adjacent parking, finishing a very good, inexpensive, and very pleasing meal, listening to enjoyable, live music, we saw three women getting into their car while holding on to small instrument cases that my wife Jet recognized right away, because Jet plays the ukulele.
"Are those ukulele cases?" Jet asked, somewhat incredulously, looking up from the French dessert crepe with exotic fruits she had ordered in central Mexico.
"Yes," came the response. "The Ukulele Club meets every Monday from two to four. There are 20 of us in the low season and 40 in the high."
"But I didn't bring my ukulele," said Jet.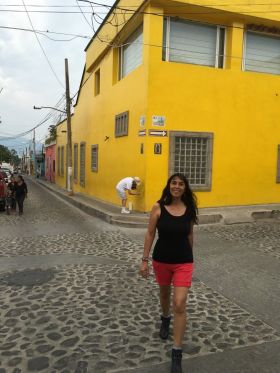 "No problem," the woman said, "we've got them for rent."
How easy is that?
In Ajijic, I found that I had a bounce in my step, because it's just so… pleasant. It's really pretty much perfect. Every once in a while, Jet and I would consider if the temperature should be a few degrees warmer or a few degrees cooler. More or less every time, we came to the same conclusion: it's fine just like it is.
Nothing is harsh in Ajijic. There are no rough edges; only rounded smoothness and contentment. If Goldilocks were in Ajijic, all her porridge would have been "just right."
Like pretty much all towns in Mexico, Ajijic has a town square, or plaza. Running along the west side of that square, going north and south, is Colon Street, which is what could arguably be called the main road in Ajijic, even though it is narrow and one-way. On Colon, from the carretera (the main road that parallels the lake) to the malecon (boardwalk / park area on the lake), are only five intersecting streets, so from top to bottom, Colon can be walked comfortably in 10 minutes. While what I'll call "Greater Ajijic" extends north, past the carretera into the hills and spans east and west for a couple miles in each direction, for the most part, when people speak of "Ajijic Village" or just "the Village", they mean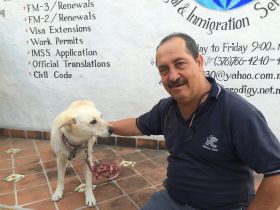 this smaller, central area.
We rented a home in the village of Ajijic, about a 7-minute walk from the square, which made life even easier for us. Even though there are perhaps a hundred more places we could have visited, here are just some of the places we could walk to within 10 minutes of our home that we frequented somewhat regularly:
Two separate seamstresses Jet and I both used.
About 20 different restaurants, including two Thai; an all you can eat weekend buffet with a French cook (Mel's); Chili Verde (great sandwiches, fried fish, etc.; right on the square); the famous Ajijic Tango (Argentinian); a restaurant with a gorgeous garden called Peacock Garden, complete with strolling peacocks; a Spanish tapas place; high end, medium end, and inexpensive Mexican. (I didn't write "cheap Mexican" because the food in all of them was good.)
A fresh bakery, just across the carretera.
A commercial printer where I got my business cards made.
Dr. George, a podiatrist's office I visited twice.
Sky Fitness, which has a great view of the lake and where I worked our regularly and Jet may have walked into once or twice.
Dr. Memo, our dogs' vet.
Five or six little grocery stores.
Total Body Care Spa, a place Jet or I got manicures, pedicures, facials and massages.
Edith's Salon, where Jet and I got our hair cut.
The town square, which was beautiful and relaxing, with several restaurants, and dancing on the weekends.
The malecon.
Ice cream shops—several traditional and one that used goat milk.
Lots of places to buy freshly cut fruit.
Lots of bars, some with live music.
Taking a look at the list above, you may not be impressed, because many larger cities in the US and Canada have this concentration of services within walking distance. However, Ajijic is not a large city; it is a village. Also, unlike a large city in the US or Canada that may have this all within walking distance, in Ajijic, everything was extremely reasonably priced. Some quick examples:
One hour visit to podiatrist: 250 pesos (about US $13)
One hour facial: 300 pesos (less than US $16)
Dinner with roaming peacocks: from 90 – 130 pesos (from less than US $5 to less than US $7)
Seamstress to mend a hole in a pocket of one of my shorts: 20 pesos (about US $1)
Here's the event that set the tone for us in the Ajijic area, even though it didn't take place exactly in Ajijic, but rather, in San Juan Cosala, about 4 miles to the west. We had just arrived in the Lakeside area and didn't know what to expect. We were driving along the carretera and came across signs for a "tourist zone." Standing on the dividing line between the two-way traffic the middle of the street for a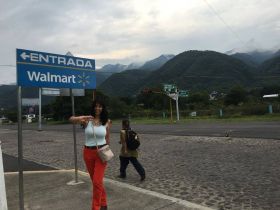 couple blocks appeared several young men, each one motioning to us and other cars to visit their particular restaurant.
One of these restaurants had a sign outside that read: Mexican buffet. Since we liked Mexican buffets and, after all, we were in Mexico, we decided to try it. We parked the car on the lake side of the road, and walked over. To the right of us, not more than 50 yards away, were gorgeous, green mountains reminiscent of Hawaii. To the left, about 30 yards away, was the lake. In between, was the restaurant, called Bambu.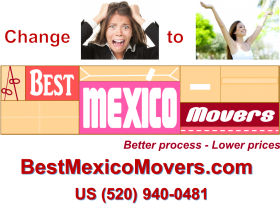 We walked up to the host stand, and looked down the stairs to see a series of tables with white tablecloths and umbrellas placed strategically around them, only a railing separating them from the drop-off to the lake. In the near distance on the lake, two men in a boat were net fishing. Birds flew by. One or two tables by the lake were open, so we could lay our claim to a lakeside dining experience. In the distance,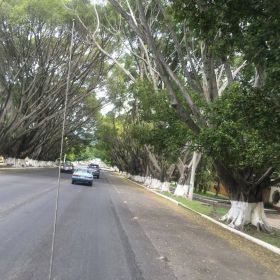 past the shimmering water and net fishermen, were several looming mountains. Jazz music played softly, as waiters hurried about at a ratio of about one waiter for every two diners. There was an omelets stand, an older woman making fresh tortillas, juices, stews, gorgeous traditional dishes set in earthen pots, fresh fruits, desserts, etc., etc., etc. The patrons were all well dressed (except for me) and looked to be upper class.
Looking this scene, I figured that my "cheap Mexican restaurant" days were over. "Gringo style restaurant + 'tourist zone' = Gringo prices," I thought, as I resigned myself to a much larger than usual outlay of pesos. Before asking the price, I did a quick comparison to determine what I would pay in the States and also what I would be willing to pay here at this restaurant. Lakeside dining, full buffet, Sunday morning. Humm. In the US, the cost would be $30 or more, each.
I asked the host the price. "Cuánto cuesta?"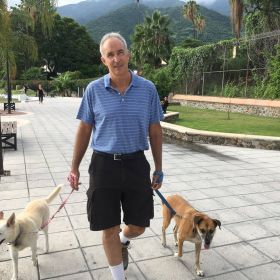 "Doscientos cuarenta," came the answer. He was telling me that it was 240 pesos, or about $12.50.
OK. Fair enough. Almost as a joke, I asked him if that price was the total for Jet and me together or just for one person: "Para dos?" I asked, smiling broadly.
"Sí," he said, in a matter of fact tone.
I couldn't quite believe what I was hearing.
I steadied myself. "Para dos?" I repeated, louder and clearer.
"Sí," he repeated.
So there it was: $6.25 each for a superb, lakeside, all you can eat, soft music playing, eating extravaganza in a "tourist zone", including tax. Even in this great place, it was "Not too much!"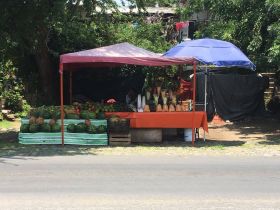 In the two months we were in Ajijic, we would visit Bambu six times in total.
Much more about life in Ajijic coming in our next stories.
See links to all Mexico road trip stories below. You are currently reading the one highlighted with the
yellow background.
To see hundreds of questions answered by expats
already living in Mexico, click
here
.
To see hundreds of questions answered by expats already living in Mexico, Panama, Belize, Nicaragua and Portugal, go
here
and navigate to the place you're most interested in.
Want online, interactive help finding the best place abroad for you? Try the
Location Advisor
.
To download free research studies conducted with over 1,000 expats currently living in Mexico, click
here
.