The Easiest Way to Round Out Your Wardrobe and Cookware Collection While Living at Lake Chapala in Mexico
Posted by Chuck Bolotin - Best Mexico Movers on November 24, 2018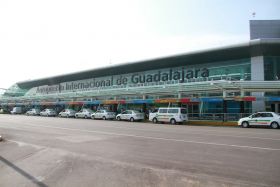 Two of the best things about living at the Lake Chapala area have to do with aviation:

1. Through what I can only assume is dumb luck, Guadalajara International Airport was placed at the south side of that huge metropolis as opposed to the north side, so us fortunate enough to live at Lake Chapala can get to the airport without having to first pass through 30 miles of the worst traffic this side of Mexico City.

2. Flying from one Mexican city to another Mexican city is really cheap and many times have fewer layovers than flying from a Mexican city to an American or Canadian one.

A little less than a year ago, when traveling for
Best Mexico Movers
, we visited a customs agent in El Paso, a city we noticed was paired immediately on the other side of the border with the Mexican city of Ciudad Juarez. Several times (once even on purpose) we drove our car between El Paso Texas and Ciudad Juarez in Chihuahua, Mexico. On the Mexican side was the Ciudad Juarez airport, along with cheap car rentals that you could legally drive to the US. And while standing on that Mexican side, you could literally look across the river and see several very nice malls on the US side, all placed very, very close to the border, very convenient and inviting to the Mexicans eager for a US shopping experience.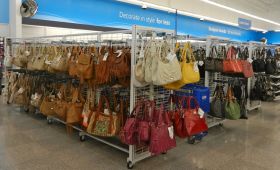 Putting all this together, it dawned on me that, right here from the Lake Chapala area, I could run an inexpensive experiment to satisfy my wife's "Ross Itch." For those not "in the know," a Ross Itch is the overwhelming desire (some would say "all-consuming need" or "irresistible compulsion") many women have to visit a really good, mid-priced retail store that advertises "up to 60% off department store prices every day." Jet also hungered (pun intended) for some of the types of food that are difficult to find locally, the type of gourmet housewares that could be purchased at Cost Plus, and the wide and dependable selection with comparison shopping available in a typical, good-sized American city. We knew of no parallel local to the Lake Chapala area, Guadalajara included.
Exactly how would I combine all these elements to create the perfect retail and culinary adventure for my wife? It seemed easy enough. We could get to the airport in less than an hour; the direct flight to Ciudad Juarez would take two hours and cost in the area of $50 round trip; we would rent a car for $40 per day or less in Juarez; glide across the border, and in almost no time be eating sushi sans cream cheese and buying large holiday platters; American-sized muffin tins, large roasting trays, and standard round cake pans; scales calibrated in ounces and pounds and… well, you get the picture.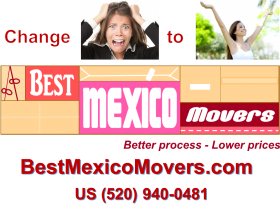 Pleased with how clever we were and giddy with excitement for our 6:30 AM scheduled departure, the night before we assembled our tools for the two nights, and the next morning left the house at 4:50 AM for our scheduled two-night retail celebration. Other than for buying things, we really only needed two small suitcases we could easily fit into the plane's overhead compartment, but we also brought an additional check-in bag, which contained an additional overhead bag and, only for an emergency situation, a large canvass bag.
It's amazing to see how many people can get up really early to catch a flight, and most of these people seemed to be at Guadalajara Airport prior to six in the morning. The lines snaked here and there with baggage and people, all seemingly close to being in suspended animation, all facing the check-in counter, occupying almost half the depth of the airport lobby. Upon first viewing this very unexpected sight, in a snap, our easy-going happiness transformed into four alarm panic. What if we missed our flight? With military strategy and focus, I directed Jet to stay in line while I left to speak with one of the agents to get direction on how to catch our flight.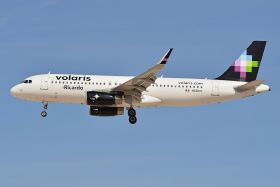 "Too late," she told me. "You were supposed to be here two hours early and it's already an hour before your scheduled departure. Your flight is closed."
"Closed" is such a final and unpleasant word.
But it was true.
The next flight with Volaris would be 5:49 that afternoon, almost twelve hours later. "OK, fair enough. Can I get a refund and I'll go buy a ticket on another airline?"
Short answer: No.
"OK, can I get a credit on a future Volaris flight?"
"Nope."
I tried talking to supervisors at the airport; talking on the phone to Volaris corporate; talking with a supervisor at Volaris corporate; etc., always ending up with the same answer-- no.
I was seeing a definite pattern.
With no other flights from other airlines available, here were our choices: we could either go home in shame and failure to lick our wounds, or we could pay for a completely new flight, stay in the airport until the sun came up, and spend the whole day at the airport until close to sundown, when the next Volaris flight would leave for Juarez.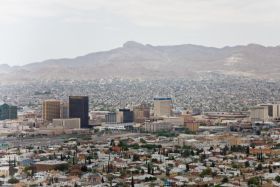 We decided to pay for new tickets and wait… the entire eleven hours. Luckily, Jet has a sixth sense about these types of things and was able to locate a comfortable restaurant with a comfortable booth where they didn't mind us monopolizing a table for 1 ½ shifts, and that had blazingly fast Internet. I was able to get some work done and while walking around explore every inch of the airport several times over while Jet made herself at home while reviewing her extensive holiday lists and as visions of shopping plenitude danced in her head.
When we finally arrived in Juarez, the day has passed us and it was already night. We rented our car as planned and headed north the twelve miles or so to the border. As we came within about one mile of the border and we could see the lights of Retail Heaven across the bridge, traffic came to a full stop. It was Saturday night, and evidently, we weren't the only ones who wanted to cross into the US.
I had read about how normally social, non-aggressive and generally happy rats, when placed into a pen with too high a density of other rats, start to exhibit anti-social, aggressive and very unhappy traits. The bridge is like that.
Cars jammed into any available spot, knowing full well that cutting off your neighbor and thus gaining 11 feet of forward space, while sacrificing some humanity, would mean a full 10 minutes less in line. It happened often. What was called for was razor-fast reactions. Meanwhile, in stark contrast, we saw what seemed like an almost endless stream of people walking to the side of the bridge easily passing us and disappear into the US, quite relaxed and probably congratulating themselves for not being in a car like us.
After about an hour of herky-jerky inching our way forward, we finally passed. The feeling was like what I would assume a wild animal experiences when the doors to its cage are thrown open and it fully realizes that it's ordeal is over. We were free of the bridge and being one of its crammed in rats, and off to our destination.
For mid-range shopping, El Paso is pretty great. It also has three nice malls, all within just a few miles north of the border and along a strip of about 10 miles east and west. It's almost like the trading area was designed for people coming from Mexico to have easy access… because, I assume, it was. The predominant language of the shoppers and pretty much everyone else in El Paso seemed to be Spanish, percentage-wise more so than at Lake Chapala. But the retail and food experience were all American. We enjoyed it.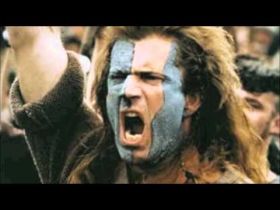 To those who would criticize my wife and me saying, "You can get anything you want here in Mexico," I would point to all those Mexicans jamming the bridge and in the malls in El Paso. Evidently, anyone making that assertion must know more than those Mexicans jockeying for position, because all these Mexicans were quite eager to shop and eat in the US. The parking lots were full, and Jet stood with her two carts stuffed with goodies at Ross for more than 45 minutes as similarly focused Mexican woman waited in front of her.
While at the Dollar Store, I was standing next to a Mexican man speaking Spanish to his Mexican friend and trying to explain to his friend that each of the items they were looking at really were "veinte pesos." Both of them shook their head in amazement. Equally amazed was the cashier checking us out. You see, Jet was purchasing chocolate candy and canned cranberry sauce with more joy and eager anticipation than French children greeting American troops in France, 1946. In other words, she was like a person who lived in a place where she couldn't visit another Dollar Store for three months or more. After checking and bagging our items for what seemed like 10 minutes, I asked the cashier if our purchase was the most items she had ever checked in her career at Dollar Tree. She said it wasn't, but it was close.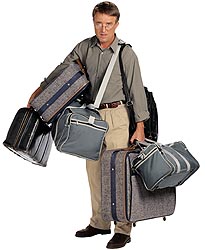 It was almost a surreal experience visiting the US as a tourist while having our home in Mexico. I had to explain to the two Mexican-American guys who lived in the US and were helping me at the Cricket mobile phone kiosk in El Paso what it was like to live in Mexico. They seemed fascinated. Maybe one day they'll visit, they said.
After our shopping and eating Bacchanalia, at our hotel room the day of our flight back, we used every single piece of luggage that we brought with us and one we bought in El Paso (Ross has great deals on luggage), called Volaris to get a better deal on checking more luggage than if we had to purchase passage for it at the airport, Jet unboxed and figured out how to compress everything so that it fit and then we used the scale in our hotel's exercise room to trim our luggage to exactly the right weight.
After stuffing our prizes (which included a set of sheets for our housekeepers and an immersion blender for Jet) into the trunk and the overflow into the back seat of our rental car and having a great Korean all you can eat barbeque in El Paso, we easily and quickly crossed the border into Mexico and having learned our lesson, we showed up at the airport in Juarez in plenty of time.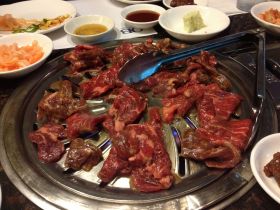 For those of you who would like a US-style diversion every once in a while, in a very fast, easy, and inexpensive way, as long as you can show up at the Guadalajara Airport two or more hours early, we would recommend our trip. It's broadening every once in a while, to see and experience something which now to us is different. That's one of the reasons to travel in the first place, isn't it?
On the plane ride home, both Jet and I were happy with our mini-vacation but also very happy to return home to our beautiful house and friends at Lake Chapala. Just like with other vacations, while El Paso is fun to visit, our home is here.
---
Be sure to check out our free eBooks and studies about expat life in Mexico, Panama, Belize and Nicaragua
here
.
To see hundreds of questions answered by expats already living in Mexico, Panama, Belize, Nicaragua and Portugal, go
here
and navigate to the place you're most interested in.

*********************************
This column originally appeared in the Ojo Del Lago, the very widely read English-language magazine for expats and others in the Lake Chapala / Ajijic area.