Ajijic, and the Livin' is Easy
Posted by Chuck Bolotin - Best Mexico Movers on November 7, 2016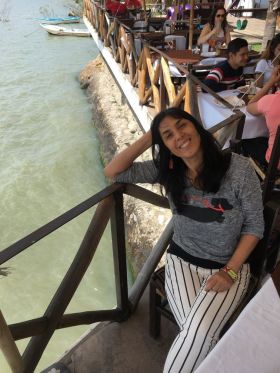 If you're like me, you've got a song in your head pretty much all the time. Sometimes, you know why it's there, and sometimes, you don't. Sometimes, you don't even know where you heard the song.
That's exactly what happened to me towards the end of our stay in the Ajijic area, as I was walking back from the corner store with some pastries. If you've read
my first two stories on Ajijic and the Lake Chapala area
, you know how I feel about it. In my head, I kept on hearing the beginning of the song from Porgy and Bess, "Summertime, and the Livin' is Easy."
Odd. Why would that song be playing in my head?
Then, it hit me.
Ajijic… and the Livin' is Easy! It's a prefect match!!
The reason is that the livin' in Ajijic is, indeed, very easy, so much so that I was able to come up with pretty much all of the parody lyrics while completing the five minute walk back to our rental home and then sharing a flakey breakfast with my wife, Jet.
Fairly quickly after that, just by asking around a little bit, I was introduced to a real musician, Paul Brier, who had written and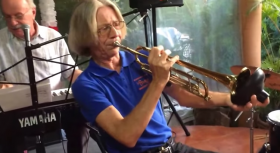 performed professionally for several decades. This being Ajijic, of course Paul would work on our song by polishing up the lyrics, adding music and then perform it live with his band, The Great American Songbook, at The Bodega, a local expat hangout. Within a few days, three accomplished, professional musicians, Paul Brier (keyboard, vocals), Jimmy Bartow (trumpet), and Francis Dryden (drums) were soulfully vocalizing "Ajijic and the LIvin' is Easy" live to a raucous, enthusiastic expat crowd. You can see t
he video, "Ajijic and the Livin' is Easy" here
. I placed the lyrics at the end of this story.
Coincidentally, in addition to music marking the end of our visit to Ajijic and the Chapala area, the beginning of it started out musically as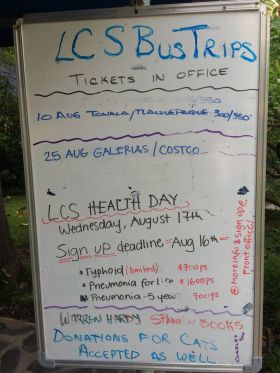 well—at the Lake Chapala Woodstock Festival and Dance, on the very beautiful, garden grounds of the Lake Chapala Society, in Ajijic. Of all the popular expat locations we know, none have an organization as historied, comprehensive, well supported, well run and effective as the Lake Chapala Society. Upon paying a very modest membership fee, new and existing expats have access to what I'm told is the largest English library in Mexico, no charge exams for your eyes, ears and skin, you can listen to lectures, engage in workshops, attend seminars, meet with the US consulate, watch movies, etc., and most of all, be warmly welcomed into the community and made to feel at home. It's a great organization… and it's easy.
While it's true that many of the expats at Ajijic and the Lake Chapala area are older, many are not, and, judging from what we saw at the dance, irrespective of age, all know how to have a good time. The band, brought in from Guadalajara, was excellent, the food was great, and pretty much everyone participated and everyone had a good time. You can see the
Lake Chapala Woodstock Festival and Dance 2016 video here
.
The weather is one of the primary characteristics of Ajijic that makes it so easy to live there. It's pretty much perfect. As a joke, Jet and I would sometimes try to determine whether the temperature should be warmer or colder. Almost always, the answer was the same: it's perfect as it is; we wouldn't change it one degree either way. With the windows open and the breeze coming in, it was almost like a gentle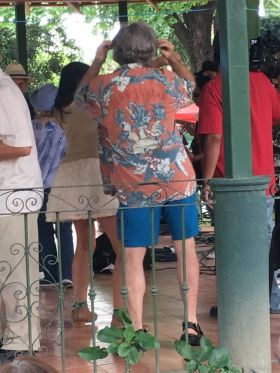 massage.
The hiking around Ajijic isn't easy for everyone, but many aspects of it were. It is difficult not to notice the verdant, tropical mountains just yards away from the town, so for someone like me who likes to hike, it would be natural to ask for the location of the trails. The first person I asked gave me the name of the street I should walk up to join one of the trailheads, which turned out to be right next to the house we were renting.
Now that was easy.
I put on my hiking boots, walked out our gate, made a left to walk across the carretera (main road), and within 7 minutes, I was walking on a dirt trail alongside a stream in the jungle, but of course during 74 degree weather.
I was stunned by how glorious it was. The trail was impeccably maintained. As I walked past vines and tropical plants, I could smell the jungle,
not as intensely as in Nayarit
, but pretty close. Other than hearing the gentle waters of the brook below as it meandered past smooth stones and a few fallen branches, it was silent; just as you would expect if you were surrounded by thick vegetation.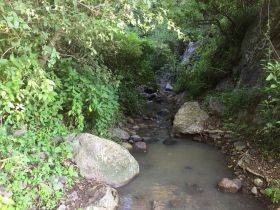 Of course, I had never been on this particular trail before and had no idea where it went. It was also a little odd to be by myself on a new trail in a new place in a new country, and in addition, it was getting dark. Would there be dangerous animals or unexpected sheer drop-offs? In the absence of information or someone to talk to, my mind wondered a bit. Would I run into marijuana growers who (at a minimum) wouldn't want me there?
I got my answer just a few moments later.
As I walked on, about 20 yards in front of me, in the middle of the trail, facing the other direction, sat one medium-sized dog. I saw him a bit before he saw me. Eventually, he noticed me, and got startled. Then, he ran towards me, barking excitedly.
I had to decide what to do.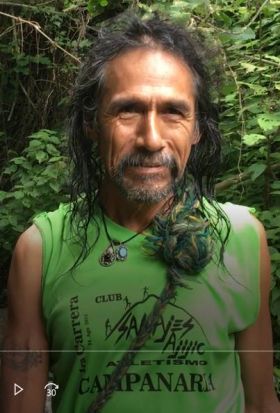 As I was deciding, I heard five or so other dogs start to bark nearby. Of course, they rushed towards me as well, barking but (good sign) not growling or baring their teeth.
As they circled me, I heard a human voice further down the trail rise above their racket. "Bienvenido!" offered the voice. Then, after a short pause, several more times, "Bienvenido! Bienvenido!" ("Bienvenido" is Spanish for "welcome".)
The voice was coming from a slight man in his 50s with long hair and an appearance that caused me to think that he could be living in the hills with his seven or so barking dogs.
"Are your dogs friendly?" I asked from a distance, still surrounded by the dogs, in my very broken Spanish. He answered that they were, and with large, friendly arm movements, motioned me to come over. The dogs settled down.
I had run into Maurice. Maurice could not be friendlier, as he introduced himself and gave me the inside information on the best trails. He even offered to be my trail guide on a hike the next Saturday. I would speak with again Maurice many times during our few months in Ajijic. (It turned out he was one of the gardeners at the Lake Chapala Society.)
Here is the video I shot of Maurice that day
.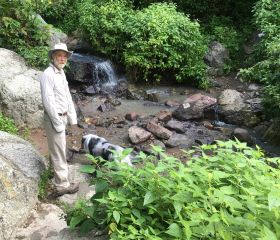 Ajijic has clubs for pretty much every interest. One of the clubs is the Ajijic Hiking Club, which has organized hikes twice a week. I went to join them on one such hike that started about a 10-minute walk from our home, right behind a doughnut shop on the carretera. Larry Laframboise and his dog Levi were our tour guides as we visited several waterfalls less than a 30-minute hike from the trailhead. It was sensational, and Larry was a great guide.
Video of our hike in the mountains and the waterfalls just above Ajijic here
.
The low cost of restaurants in the Ajijic area makes it so that if you don't want to cook, there is much less of a financial incentive to do so. For example, we went to the Wednesday tianguis (market) in Ajijic and for lunch, had 5 tacos total for the both Jet and me (we couldn't finish the last one) for 10 pesos for each taco, and the best aguas frescas of guava (what Mexicans call "guayaba") we had ever had, for 15 pesos. Total: 65 pesos (about $3.50) for both of us.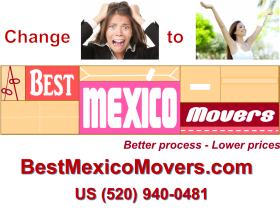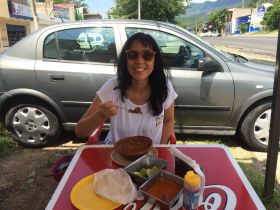 This particular taco stand had several long tables for their patrons, with sets of six or seven different salsas and condiments placed every few feet. Directly across from us, an expat arrived and sat down with a bag of three tacos he had just purchased. Very methodically, almost as one would expect to see a religious ritual performed, he opened up each taco and placed inside each one a precise amount of his personal formula of the salsas and condiments. He would not be hurried; it may have taken five minutes as we watched him. Before he bit into the first object of his desire, he told us that this was his favorite place and he looks forward to coming each Wednesday. He then heard me tell Jet, that at the price of 10 pesos per taco, we could come here every Wednesday and both eat as much as we liked. All three of us laughed uproariously, and then bit into our respective unique creations.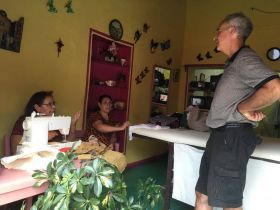 The livin' in Ajijic is so easy that I believe it affects the culture (or perhaps it's the other way around). For example, here's the conversation I had in broken Spanish with the woman who did the
sewing on my shorts
.
"Cuándo estará listo? (When will it be ready?)
"De la tarde" (In the afternoon.)
"A qué hora?" (At what time?)
"De la tarde."
"Sí, entiendo, pero a qué hora de la tarde." (Yes, I understand, but at what time during the afternoon?)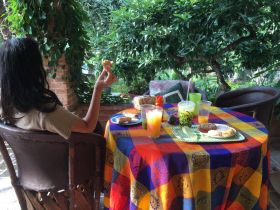 "De la tarde."
It was impossible to get a specific time from her. I had the same issue at the local grocery store when I asked when the fresh rolls would be delivered. The answer? You guessed it: "De la mañana."
Even though it would not be possible to get specific times, we absolutely loved how easy it was to get things done and how cheap it was (see previous article, "
How Ajijic & Lake Chapala is Like the Aunt You Always Wanted
"). After immersion in this happy set of circumstances for a few months, we started to think "Mexican style." As an example of an event that could trigger "Mexican thinking," we needed to get some upholstery repaired on our van. In the States, it would probably cost around $100 or more, and create lots of logistical issues. In Ajijic, I pulled into the local upholstery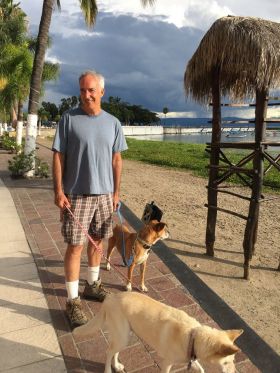 store about a two-minute drive from our rental, and asked them how much they would charge. "300 pesos (about $16)," came the reply. "We'll take it out of your van now and have it ready for you tomorrow."
After banging into my head how easy this was, it occurred to me that, instead of searching everywhere for dog cushies and eventually having to buy an overpriced version at the local Wal-Mart (yes, they have one), we could just have dog cushies handmade for a much lower price and with much less hassle.
Now that's easy.
After more than two months in the Ajijic area, it was time to bid farewell to our happy, easy home, and head 215 miles east, to the famous expat city of San Miguel de Allende. We'll tell you about that next.
"Ajijic, and the Livin' is Easy"
(Video of live performance
here
.)
(Sung to the tune of "Summertime", from Porgy and Bess.)
Ajijic, and the livin' is easy,
Mountains high, and the lake is below.
8 or 9 pesos is what you'll pay for a taco.
(At the current exchange rate, that's 46 cents.)
So, rush, all you expats, get 'em while they're hot.
The weather is pretty much perfect,
No need for a "yacket"*,
But you can wear one if you like.
(Just in case you want to be in style,)
You can walk pretty much everywhere,
And you have any problems, the locals will be there.
You can afford a good housekeeper,
The facials are cheap, and your dishes are done.
If you want to go shopping, a Wal-Mart is near by,
It's hard to be stressed out, even if you try.
*"yacket" is the way someone with a Mexican accent would pronounce "jacket."
Music by Paul Brier and The Great American Songbook—Paul Brier, Jimmy Bartow, and Francis Dryden
Lyrics by Chuck Bolotin and Paul Brier
Copyright, Best Places in the World to Retire 2016
See links to all Mexico road trip stories below. You are currently reading the one highlighted with the
yellow background.
To see hundreds of questions answered by expats
already living in Mexico, click
here
.
To see hundreds of questions answered by expats already living in Mexico, Panama, Belize, Nicaragua and Portugal, go
here
and navigate to the place you're most interested in.
Want online, interactive help finding the best place abroad for you? Try the
Location Advisor
.
To download free research studies conducted with over 1,000 expats currently living in Mexico, click
here
.