Racing Through The Panama Canal In A Dugout Canoe
Posted by Renate Jope - Panama Premium Real Estate on February 18, 2014


It was literally with a splash (more on that below) that Jet Metier interviewed one of Best Places in the World to Retire's earliest contributors, Renate Jope, about her life in Panama, intending to talk about one subject, and then finding herself veering headlong into another: Renate's experience canoe racing through the Panama Canal. What follows is the instant message (IM) interview.
Jet Metier
: Good morning Renate! How was the race?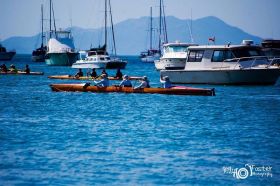 Renate Jope: It was good. We didn't "swamp" and didn't come in last either.

Jet Metier: The readers of Best Places are very curious about you. Let's bring them up to date. You ran a race. Where and what were the conditions?

Renate Jope: It was a six mile qualification race from the Balboa Yacht Club at the entrance of the Panama Canal, all the way down the Amador Causeway and back.

Jet Metier: You must remember most of North America is covered with snow right now and extremely cold. Please tell us what you saw along the way. It must have been thrilling to race with others along a world-renowned engineering feat.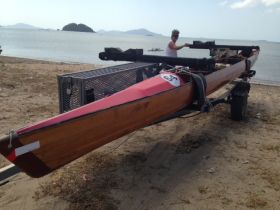 Renate Jope: We were in sweltering heat, and besides trying to stay upright and paddling real fast, I didn't take much notice of the surroundings, other than a BIG Panamax Ship transiting, (the largest ship able to fit through the Canal Locks). We had to stay out of the shipping lanes, of course, along with all the little anchored sailing boats. We found our buoys and plotted the course, alright. The race started just by the Bridge of the Americas, the "Center of the Universe!" Ha!

Jet Metier: Oh, I thought you were running. What kind of boat/canoe/kayak/ raft were you in?

Renate Jope: A cayuco, a dugout canoe. Paddling is a very traditional culture here in Panama; you sit in a dug-out tree stump and paddle.

Jet Metier: The course that you describe seems absolutely madcap: I mean it is not everyone who can say they have raced alongside big transoceanic ships.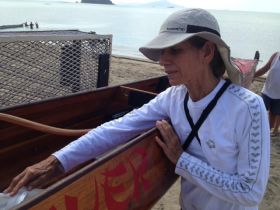 Renate Jope
: We are four all together with a backup in case someone can't paddle that day/race. This year the Panama Canal celebrates its 100th Anniversary, and therefore this race will be the biggest ever. It's "ocean to ocean" with over 85 cayucos participating.

So the whole race will be alongside big ships, if you so will. It's ominous to see them cruise along through the manmade channel through the jungle. By the way, the Panama Canal is full of crocs and caimans also...............so PLEASE no swamping. Ha!

The event is in April and we still have to qualify for it, as only 65 boats can lock through the Canal.

Jet Metier: I have to admit, I am a paddler too, except I am in a gym rowing with only a big disconcerting wall mirror in front of me.

Renate Jope: We train on paddle machines on land and on paddle simulators in the swimming pool, and then we also take the "Dengue Fever (our cayuco's name )" out to train in the Canal or the ocean. "Dengue Fever" is very tropical, alright.

Jet Metier: Tell me, if I were in the dugout with you, what if a big snapping crocodile comes up? Do I hit it with a paddle? And if it bites my paddle, do I let it have it? What's an encounter with a snappy reptile like? I mean, this is so exciting!

Renate Jope: They've done the races for over 60 years and nothing has ever happened. We have escort boats going along and they do scare the crocs. The crocs here are well fed, no need to wait for us to fall in. Ha!

Jet Metier: This "swamping thing"... it is where everyone jumps in the swamp together to change places or something?

Renate Jope: "Swamping" means "to turn over," when the cayuco gets full of water and we fall out.......So we have to empty the cayuco by rocking it back and forth (sideways), so that the water naturally flies out of the boat, then we try to get back in, one by one and bail the rest of the water out. I'm not sure where that term came from.

Jet Metier: This is so fascinating, Renate! You mentioned the sailboats and ocean liners, and also the buoys. Do you have to touch the buoys and bring back some kind of marker to prove you've hit the points?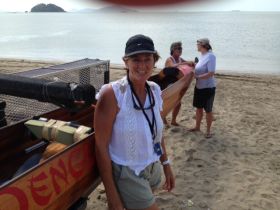 Renate Jope
: Well, the starting lineup was interesting to say the least, a few cayucos just couldn't stay upside due to strong currents. The canal empties into the ocean with millions of gallons per ship, so it creates a great current; and then, there is the tide. So, we were holding on to dear life at the starting line (you hold onto a line under the pier) until the starting signal. And no, you don't bring anything back, but you have to go around the buoys alright, and it's clearly marked, so are the finishing line buoys (big white inflatables).

Jet Metier: Is the strategy of the other teams to get you to run into the vessels? Is it like war out there? Has the Dengue Fever had any collisions or been in a tangle where strategy saved the day?
Renate Jope: Yes, we got rear ended by some smart men, entangled and couldn't make headway, kind of pissed me off. But then, we became free again, not sure why it did happen to begin with. It's awkward to look back, as the cayucos are not very stable.

Jet Metier: Renate did those men do that to you on purpose? Is this a contact sport?

Renate Jope: No it's not part of the sport, but it happens in the heat of things.

Jet Metier: Do you wear life-vest?

Renate Jope: We have life vests on board, don't wear them when paddling.

Jet Metier: Is this like a native/historical reenactment? I am thinking about that snow sledding race in Alaska that originally was to quickly transport medicine. Was there something that occurred when this race first began?

Renate Jope: The Boy Scouts started this race years ago.......that's when the US was still running the Canal.

Jet Metier: Renate, as you know, I first contacted you about another subject entirely, but if we may, let us keep to this subject for this time, because I know the visitors to Best Place in the World to Retire must want to know more details, like what got you into this very place specific sport?

Renate Jope: It's a big deal here in Panama to participate in the cayuco race and the 100th anniversary makes it that much more special. International teams come to participate also, from the USA, etc. It's a big deal this year.

Jet Metier: Why does this sport appeal to you?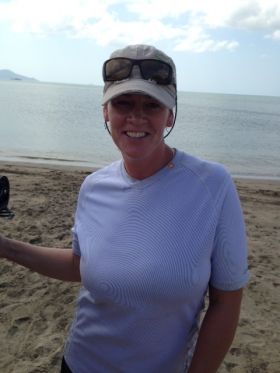 Renate Jope
: It's appealing to us old women, it's a great way to stay in shape, enjoy the beauty of our tropical nature all around us, and make history. The Canal is another World Wonder! The pure fact that it's three days through the Canal, and the Canal is 50 Miles long! It's going to be a real chore to say the least.

Jet Metier: Three days! Do you camp overnight in the Canal?

Renate Jope: We don't camp over; we come home every time. The first night we sleep at the Melia hotel on the Atlantic side.

Jet Metier: Please tell us, how one earth would paddling 50 miles appeal to women of a "certain of age?"

Renate Jope: Our team ranges from 38 to 68 in age; I am 56. It's hard work and especially with the strong sun and heat. We have a bladder of water between our legs that we suck on for hydration. Last year numerous people had to be helicoptered out, due to heat strokes and just plain fatigue. The 11 of April is the big race. You can Google it, too.

Jet Metier: Renate, I wish you the best of luck in your race. This interview has been an unexpected pleasure. How I admire you and live vicariously through you. I'll be on my rowing machine practicing how to rock the boat to eliminate water and growling at people who try to ram me. I will post your story very soon. But it will be even better if we can show you with your dugout and paddling. Can you do this for us? And for sure, let us talk again after the race, so all of us can know the outcome. Is there anything you can tell us, the best way to make preparations to go and enjoy your race along the way and how and where to get involved with the cayuco racing community in Panama? I think someone reading your story might make plans to go right now, sweltering heat and all, just to see this race.

Renate Jope: We could use a sponsor!!! Ha! Do you want pictures?

Jet Metier: Please, give me lots of action shots and glamour shots with you and your teammates looking like "The Goddesses of Racing on the Panama Canal" for this historic event.

Renate Jope: You are funny, because we don't have many.

Jet Metier: What does a sponsor do? Can you have more than one sponsor? What do sponsors get in return?

Renate Jope: Yes, we can have plenty of sponsors. This is very expensive but goes to a good cause, the Helen Keller of the Blind school here in Panama. We advertise their (the sponsors) products on our cayuco in the form of a logo or sticker.

Jet Metier: Renate, how would you like the sponsors to get in contact with you? And wouldn't it be great if someone or a business from Best Places became your sponsor? (Hint, hint everyone!)

Renate Jope: Anyway they can! You can give them my email or Skype or anything you have!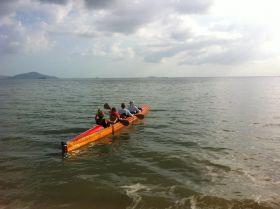 Jet Metier: Okay, folks, here is your chance to be part of Panamanian history; support Renate in her race through the Panama Canal. Just email her by using the button above, by her name.

Now until we meet again, Renate, I wish that your blisters stay small, your leg cramps barely noticeable, that there will always be a cooling breeze when you need it, and the sun will be covered by clouds, so you can be in shade. Have fun with your teammates, Renate, and we will talk again soon.

Renate Jope: Thank you very much! Cheers!

Jet Metier: Thank-you, Renate. See you on the site.

Note on pictures: team members pictured are, from top to bottom: Nancy, Renate, and Robyn.
Postscript
:
Guess who just joined the booster club for team Dengue Fever? These are the designs Jet Metier created for Renate's cayuco race to commemorate the 60th anniversary of this rigorous test through the Panama Canal. Jet has given these iron-ons of Dengue Fever a mascot and an escort with a very toothy grin. To download your own, suitable for ironing on your own t-shirt or tank top, visit Jet's Marketplace listing. You'll feel as if you are paddling through the scenic waterways of this tropical route with Renate Jope and the Dengue Fever cayuco leading the way.