What It's Like in My Country of Panamá
Posted by Lourdes Townshend on April 6, 2016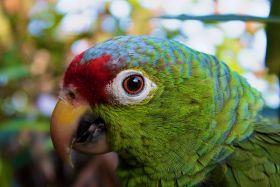 Panamá has the privilege of having some of the best weather in the world, as well as having primary rainforest areas, and the most beautiful nature found anywhere.
The name "Panamá" means "abundance." Abundance of fish, butterflies and birds. We have one of the most complete collection of all of these in the world. For a visitor who loves bird watching (with over 850 species), or who enjoys nature, this is the place to come.
There are many rivers to do water rafting, beautiful beaches to surf, international golf clubs, and mountains of all types inviting to hikers, including the famous "Volcán Barú" ("Volcan" means "volcano"), one of the biggest that you can find, situated in the most picturesque town in the west side of the Republic of Panamá.
In the vicinity of Volcán Barú, there is the magnificent "Parque de la Amistad," otherwise known as Friendship National Park Wildlife, at 6,500 feet above the sea level. This park includes around 420,000 acres, is shared by Panamá and Costa Rica, and covers parts of two provinces in Panamá: Chiriquí and Bocas del Toro. Also in this area are coffee plantations, beautiful quetzals, fine horses and cattle, hot springs, and the impressive rivers Teribe and Changuinola.
The main city in the area is David, followed by important towns such as "Isla Bocas" (Bocas Island, also known as Isla Colón), Boquete, Cerro Punta and others. This area has the most beautiful and complete biodiversity, including around 175 species of plants, and animals close to extinction. You will also find the biggest Indian comarca (area set aside for indigenous groups) of the "Guaymies", with beautiful colorful dresses.
As to weather, Panamá doesn´t have snow, earthquakes, tornados, or any other major disasters. We do have, though, rain from May to November. The rest of the year is beautiful summer sunshine.
We have several weather conditions, as per regions. The Baru area, including some of the above mentioned towns are like spring all year round, but with a constant mist, fog and rain. The feeling is absolutely marvelous and relaxing. The Boquete area is located 7 hours driving from the main city, Panamá. There are important airports in David and Isla Bocas, just one hour from the city.
One piece of advice, though. Panamá has a dress code, even in country sites. Just bring something appropriate for dinners or other occasions. Also, when traveling, have an open mind. Remember you are coming to a totally different culture, combining the colonial with the most modern cosmopolitan city (Panamá) in the world. Even though Panamanians are warm and friendly people and want you to feel welcome, things are different, as each place is.
How GPS works is different, because addresses are not well defined. Some international cellular providers (like Verizon) doesn´t accept change of chips. Public phones are not easy to find, and not everyone in the country speaks English, (especially in the country), even though is a very modern and educated city. Just bring your dictionary for additional help. Panamanians love that you make that extra effort, and they will do whatever is in their part to accommodate your language.
The average weather in the city of Panamá, and others are around 80° F, sometimes higher. The Dry Season is from December to April, and is beautiful for vacations.
(Pictured:
Red-lored Amazon in Panama.)