American Football in Panamá
Posted by Bob Gugel - Origen Real Estate Panama on September 17, 2013

Fútbol Americano is alive and well in Panamá.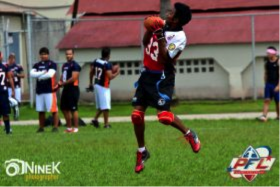 When my wife and I first arrived in Panamá we assumed soccer and baseball were the only popular sports in the country. That assumption changed one day when we were taking a power walk on the Amador Causeway. As we were heading back toward the Balboa Yacht Club, I noticed a familiar spherical object being tossed through the air on a field where soccer was usually played. My curiosity aroused, we walked over to the field and saw an adult flag football team practicing. Wow! Real American Football!
After talking to some of the players, I found out the team was the Gorillaz, one of 22 teams in the Panama Flag League. After they found out I had played college football and had coached flag football for many years, I was invited to a scrimmage at Balboa Stadium.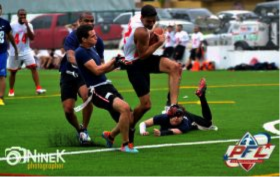 After that scrimmage I was asked to be a special consultant for the team, and I eagerly accepted the offer. At the end of the season I was honored to be nominated as Coach of the Year.
The Panama Flag League, which uses an 8-on-8 format, will be playing its 9th season beginning in September, and concluding with the league championship in January. Most players in the league are in their 20's and 30's with a few diehards in their 40's. Many had their start playing tackle, or contact football, in the Kiwanis League and other leagues, as early as age ten. The origin of American football in Panama goes all the way back to the Canal Zone days when American high schools played under Friday night lights like Balboa Stadium.
A Panama National Team was formed to participate, for the first time, in the 6th IFAF Flag Football World Cup held in Göteborg, Sweden, in August, 2012. I was fortunate to be on the selection committee that chose the 12 man team, and then assisted in the practices. A 5-on-5 format with all players as eligible receivers makes for a fast paced often high scoring passing game. (See attached video.) Panamá was barely edged out of medal play by a slim point differential, and was the only team to beat Austria, the eventual champion. The National Team will be playing in Israel in 2014.
A more recent women's league was formed in 2008. It has rapidly grown in popularity and has already expanded to 20 teams. This league follows the same rules and format as the men's league. A women's national team also competed in the Flag Football World Cup in Sweden, and will be going to Israel in 2014.