A Second Generation Immigrant's Dream in Panama
Posted by Wee-Yiong Fung - Prestige Panama Realty on April 26, 2014

Once Wee-Yiong Fung obtained his education in the US, he headed back to the land of opportunity, the place where his immigrant parents from China and Yugoslavia found hope: Panama. Along with other visitors to the Best Places site who were treated to a video of a narrated car ride Wee-Yiong provided as part of his answer to the question "What's it like to drive in Volcan and Cerro Punta, Chiriqui Province?" Jet now takes us on another journey with Wee-Yiong, one that is marked with traditional family values, wisdom, a soccer scholarship, and cattle genetics.

Wee-Yiong Fung: Hello

Jet Metier: Dobra Dan, Wee!(I am trying to write in Serbo-Croatian.)

Wee-Yiong Fung: Nice!

Jet Metier: Do you speak it?

Wee-Yiong Fung: Negative. English and Spanish.

Jet Metier: You mean when your mother got mad at you she didn't speak in her Yugoslavian tongue?

Wee-Yiong Fung: No, I was born when she was 42 and my father was 52, so they didn't insist on their language.

Jet Metier: Way to go! Because your background is so interesting, a real melting pot of Panama, can we talk about those cultures, Chinese and Yugoslav, when you grew up? That makes you unique.

Wee-Yiong Fung: Yes, white, yellow with Latin flavor. (Jajaja) I guess that is Panama.

Jet Metier: Oh, good. A country of unbridled love. Let's talk about your mom's culture first. I read that in Volcán, there was a considerable population of Yugoslavs and they influenced the farming and the architecture. Tell me about your grandparents or great grandparents and how they came to Panama and what was life for them her like?

Wee-Yiong Fung: My grandfather from my mom's side came to Panama for the Panama Canal, but he didn't go to Volcán. Instead he stayed in David [the largest city in Chiriquí Province, where Boquete and Volcán are located], where he started working on simple things like fixing bikes. Later on, he saved enough money to open a hostel.

Everybody knew my grandparents because they looked different, including my mom and my uncles.
My father came to Panama from China, running away from war.

My father and my mom got along well when they met because they both were poor, so poor, that their only goal was to sacrifice themselves for a better future. And they did it.

Jet Metier: That is a beautiful foundation for a family. Is there family history, details that they told you how poor they were and the kind of sacrifices they made? (Wee, I am very interested in you and your family.)

Wee-Yiong Fung: I am here to answer.( Jeje)

Jet Metier: Good, because I loved your answers on Best Places. They were so frank, truthful and very, very funny!

Wee-Yiong Fung: Thank you. I don't remember. (Jeje)

Jet Metier: Which cultural patterns, food, customs, values, etc., did your mother and father pass on to you and your brother?

Wee-Yiong Fung: When you are poor many things are lost in transitions because you have to adapt yourself to survive, and you get used to doing other stuff, so that later on it becomes your new culture.
Some things can be passed on like honesty, hard work, family first, always focusing on being better people (mentally and economically).

Later on in the 90´s, tradition hit on my father's side, so we started to get close to Chinese food, travels to China, etc., but we were used to the Latin taste so it WAS A LITTLE OF A shock.
I'm the best of Chinese-Yugoslavian-Latin culture. I adopted the best of each culture to make myself stronger and get an edge over others.

The Chinese portion is obedience, older people always knowing more than you, and hard work every day. The Yugoslavian part is use your presence to influence others for a good cause, and never give up. The Latin contribution is when something goes wrong, relax and avoid stress, because failing is part of winning but when you do fail, do it with a smile.

Jet Metier: Outstanding answer. Now I know. Tell me, what was the city of David like when you were a kid and how was it a cool place to grow up?

Wee-Yiong Fung: David was and still is to some degree a small town. But back in the 80's and 90's, you could feel that the whole town was your backyard: riding bikes next to cars without feeling danger, saying "hi," and smiling to people, you could feel a good vibe everywhere. Now, not so much. Every new generation is a change in society mentality.

Jet Metier: Tell me how soccer was your ticket to an education in the US. You must have been terrific.
Wee-Yiong Fung: My brother was in college in Louisville, Kentucky. He made do some things, like making video tapes of myself to show my soccer skills. Then he edited them and sent them to different schools. I went to study the English language and pass the SAT at the University of Louisville, Kentucky.

I was about to give up after a lot of effort, and it could be destiny or perseverance (depending on your philosophy), but at the end I got a scholarship to Spalding University in Kentucky. It was very important because my education has been very useful.

Jet Metier: What will you always remember about Kentucky and what did you like about being a student there?

Wee-Yiong Fung: I learned about other cultures. I learned to be independent. I enjoyed every second while I was there, because I knew many others wanted to be in my place. Living there changed my life forever. I met myself there for the first time, found myself in an existential crisis, and came out ready to discover life... before, I was blindfolded by ignorance.

After that I have never stopped learning from others and making myself better.

I guess that is the purpose of a parent; to make you better than them, so you don't have to suffer.

Jet Metier: Did you have particular goals about achievement when going to the US? Did you want to do something or see something that you had always dreamt about?

Wee-Yiong Fung: I had an agenda: make videos, pass TOFEL [Test of English as a Second Language] and pass the SAT's, study for free by playing what I loved (soccer), come back to Panama and take care of the family business.

And that is what I do: take care of my family business, from which there is only one remaining from the original ones. We sold the others and I started new ones with my brother.

Jet Metier: Please tell me what business you sold, which one you kept, and which did you start with your older brother?

Wee-Yiong Fung: The hotel, restaurant and dry cleaners were sold. We kept the cattle farm. We started real estate, wood furniture, home developments, construction, cattle genetics, investments, etc.

Jet Metier: I feel you have such burning ambition. What is it like to be a young educated man in a country, Panama, where there is so much opportunity?

Wee-Yiong Fung: It's a double-edge sword. Education gives you an advantage over others, but Latin culture slows you down, so you must play by their rules.

Jet Metier: What are the markers that you and your family have met that show you have reached your goals?

Wee-Yiong Fung: The market is always changing, so you must adapt yourself to the momentum. Real estate is part of that, because a lot of people are moving in. So, we can help others.

Jet Metier: Please, please hang with me for three more questions... I am fascinated by the cattle industry in Panama. What kind of cattle is raised in Panama and why?

Wee-Yiong Fung: Brahman is the most popular breed because it is ideal for our weather, and it adapts well.

Jet Metier: What are your trying to do with cattle genetics?

Wee-Yiong Fung: Genetics is used to make your cattle better. How? More conversion of meat with grass than cattle feed. The goal is to make money, so the faster they get to 1,000 pounds the faster you can make money. Old fashioned farmers sell their animals in three years. But with good genetics, you can do it 1.5 years.

Jet Metier: And what is the market like for cattle within Panama and for export?

Wee-Yiong Fung: Some cattle is exported to Costa Rica, but most of it is for use within Panama.

Jet Metier: Do you personally do wood work and or do you design furniture? What is the name of your furniture business and how can people find you to shop there?

Wee-Yiong Fung: For our woodworking business, we custom make what our customers need! We don't carry anything in stock.

Jet Metier: What kind of wood is popular?

Wee-Yiong Fung: Teak is very popular; we use it a lot.

Jet Metier: Do expats have different taste in furniture than local people and how are you satisfying the needs of expats?

Wee-Yiong Fung: It depends on their taste. Some ask us to do things they see in magazines. Some like minimalistic style, while others like local woodwork that looks unfinished and old.

Jet Metier: Last question. I know you have a sightseeing business, so if you were to design a weekend for young people who want to experience "insider version" of David and surrounding areas, what would it be like? You can even include reminders not to get involved with the natives fighting over women, like you did in your answer on Best Places about what to do in Boquete.

Wee-Yiong Fung: If you are a person who is "young at heart", looking for identity, fun, adventure, to party at night and to connect with people to make you feel human, then I would say....
Start at the Las Lajas beach, where you can feel that there is beauty in a raw stage. Drive to Boquete to enjoy the weather and enjoy a good cup of coffee. You can try adventure tours there, such as tree trekking, or river rafting. At night in Boquete you can enjoy the bars. From Boquete, you can drive to Costa Rica and cross the border on foot, so you can tell people you went to Costa Rica. And then finish in Bocas del Toro, which is three hours from David by car, to a place called Isla Colon. You will feel that you are on a movie set!

Jet Metier: I've enjoyed chatting with you, Wee. Thank you so much for the time you've spent with us. I heard you spent over an hour with us in order to make your Marketplace listing the best it could be. And I have always been curious about you and now I've gotten a feeling of your depth.

Wee-Yiong Fung: Thank you for your help.

Jet Metier: God Bless you and your family.

Wee-Yiong Fung: I like working with you and also everyone at Best Places.

Jet Metier: Thank you. Adios. Or as they say in Yugoslavia: Zbogom! ["Zbogom" is Yugoslavian for "go with God."]

Wee-Yiong Fung: Bye-bye!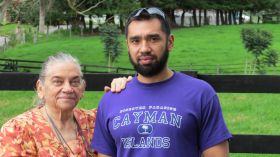 Wee-Yiong Fung with his mother Lou Mary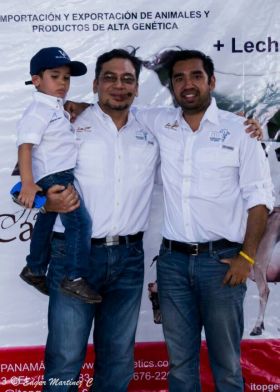 W
ee-Yiong
Fung
with his brother Wee Mingh
Fung
Wee -Yiong Fung with fiance Evelyn Fuentes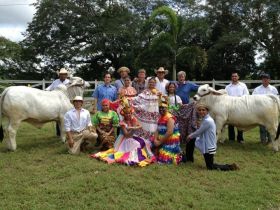 Wee-Yiong Fung's family cattle farm in Chiriqui,Panama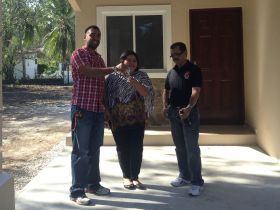 Prestige Panama Realty deliver keys to new owners for the home they built.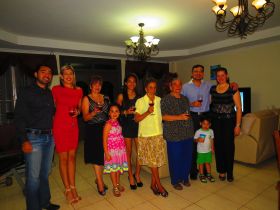 Fung Family of David, Panama 2014