Two House Rentals Gone Wrong, and a Guardian Angel
Posted by Chuck Bolotin - Best Mexico Movers on April 16, 2017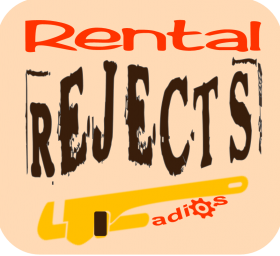 Now that it's over, I can tell you about it.
So far, on our
road trip through Mexico
, we have rented six vacation houses that did work out (pictured here) and two that haven't (not pictured here). From those experiences, there are lessons to be learned.
The first rental gone bad was in San Miguel de Allende. Here are the facts, with parenthetical commentary.
We found the rental on the very popular site VRBO. (This means nothing. VRBO is just a place for owners to place listings. We received zero support from VRBO in resolving our dispute. On a related subject, Craigslist is a very popular place for out and out scams. Be very, very careful using Craigslist.)
The pictures of the house looked nice. (All this means is that the person taking the pictures knows how to present a property. Very few people—other than Mexican nationals, which, from an American viewpoint, is hilarious—will take pictures of dishes in the sink, dirty toilets, laundry being assembled for folding, etc.)
The owner was an American. (All this means is that the owner understands your culture; it doesn't mean that he or she will be honest, etc. Some of the outright scammers take advantage of Americans or Canadians who put trust in the scammer because the scammer is also American or Canadian.)
The owner was extremely responsive in answering our emails and did so very specifically. (Better than the opposite, but not, by itself, enough to guarantee she was telling the truth.)
It was the first time the owner had rented through VRBO, so there were no reviews. (In and of itself, this is not determinative, but it's also not a good sign.)
Given the first four bullets above and ignoring the last one (as well as my good sense), I transferred $1,130 through PayPal (also zero help in a dispute, irrespective of what they would lead you to believe) to the owner for upgraded Internet and a little more than five weeks of rent. Luckily, instead of using cash, I used a credit card. Perhaps I had a premonition…
We owner wouldn't be at the home on the day we arrived and the rental was hard to find, so we were told to meet the housekeeper and her husband at the train station. A woman who was standing by a truck with about 10 feet of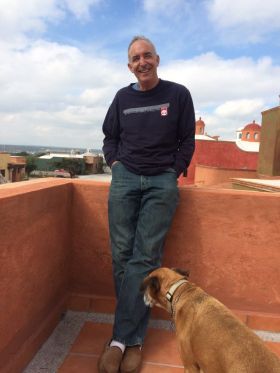 furniture stacked in the bed seemed to be looking for someone, so we introduced ourselves. Sure enough, it was the housekeeper, Maria, who instructed us to follow her and her husband to our rental. Down several streets we rambled, trailing behind the sideways credenza and roped down chairs and tables.
As we progressed, it was a bit like "Heart of Darkness," as relatively nice areas gave way to successively less and less nice ones. As we neared the home, accompanying our descent was the distinct smell of some sort of animal manure. We couldn't tell exactly what animal it was from, but it was probably pretty big… and there were probably lots of them.
In our emails to the owner, we told her we needed the house to have clearance for our van, which is over 8 feet tall. Just to give us some room for error (and in case the owner didn't know how to use a tape measure), we asked her if the rental had 10 feet of clearance.
She wrote that it did.
It did not.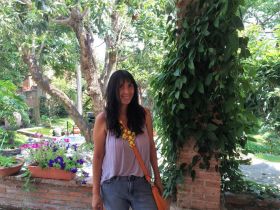 When we arrived, I didn't even have to measure. If I stand and put my hand straight up, it will go to about 8 feet, and the crossbar to the gate was several inches below my fingertips.
It was starting to get dark, and we had no defined Plan B, so we unloaded from the sidewalk, helped by Maria, her husband, kids, and a few other relatives. They were great. Next, we had to find a place to park the van, especially given the several suspicious-looking youths eyeing us and our stuff from the sidewalk, so I asked Maria if she knew any place nearby that was secure. Of course, she did.
Mexicans are generally very happy to help, very resourceful, and always seem to "know a guy"; usually a cousin. In this case, the person Maria knew wasn't related, but who turned out to be a very nice man with a repair shop that we were to drive to around the corner and up the street. Against the slight breeze and wafting odors, we navigated to the front of his shop and then through the two huge, black, extremely well locked gates where our van barely fit inside.
What the shop area lacked in terms of any more than a few inches more than was absolutely required for our van to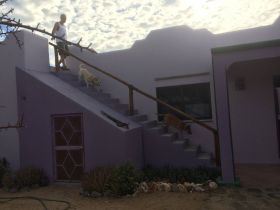 fit, it made up for with two snarling German Shepherds straining against two thick chains and those 12-foot metal gates with the barbed wire on top. Because of the tight fit, I couldn't completely open my door to get out, so I slithered out of the area created by the partially opened door held back by a wall, stepped in some dog poop, shut and locked the door, and went on my way to walk back to the house in the dark, accompanied by Maria and her kids, who for some unsettling reasons, felt the need to escort me.
Back at the house, I took off my shoes, went upstairs to where the office was located, plugged in my PC and found that the Internet didn't work. When I texted the owner on my cell phone to ask about this (remember; the Internet didn't work), she texted back that maybe the Internet would work better downstairs and if that didn't work, she gave me the phone number of another Internet provider to call and the prices they would likely charge me. (She had written previously that the Internet worked great throughout the house, and in addition, I had paid her for an upgrade she never did.)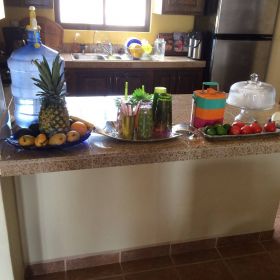 Because of her sensitivity to noise, my wife Jet had specifically written to the owner to ask if it was quiet. The response was, "The only noise you'll hear is of the birds singing."
In a fairly stark contrast to crooning robins, that entire night, over the sounds of the disco music playing next door which was only drowned out by what I would suspect to be a 240-ton locomotive coming by about every two hours with horns blaring, just as I was about to fall asleep between the train arrivals and departures, I would be awoken by the buzz in my ears from flying insects.
I could go on, but you get the picture.
The next morning, fresh from about 45 minutes of uninterrupted sleep, Jet and I scurried for alternatives. Luckily, we found that Los Labradores (a self-contained, pre-planned community
described in a previous article
where everything worked) had a vacancy. After our experience the previous night, in theory, something like Los Labradores sounded, looked, and smelled really good. (It
was
really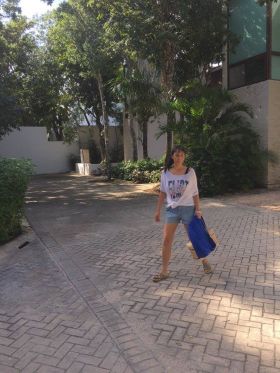 good.) All we had to do was to get our items out of the house and leave. Unfortunately, one of the doors wouldn't open with the key that I had used the night before. The housekeeper Maria tried her key, which also didn't work.
About half our items were locked behind a door no one could open, we were sleep deprived and we wanted / needed to get out immediately.
What would you do?
Predictably, Maria "knew a guy" who knew how to deal with such issues. Within five minutes he arrived and applied a solution I probably never would have thought of. After being told the issue, he simply cut away the silicon around one of the windows with a razor, removed the window, stepped into the room, and let us in. We carried our items to the van, paid him for his work and a new tube of silicon, I checked again for my wallet, and we left.
I wrote to the owner to tell her of our experience and very politely directed her where to send our refund. She refused. I reminded her of how she had written to us about several items that were demonstrably false, which didn't seem to make much of an impact on her, because she still refused. I even offered to pay her for several days that we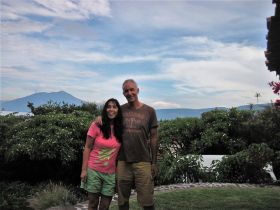 weren't even there. No deal; she would keep it all. Her exact words in an email to me were: "All I can say is that you are in Mexico and things are very different here. Unfortunately, I can not [sic] return the money to you. We had a deal and you broke it, not me. Good luck!"
After failing to get my money back through VRBO and PayPal, and after several months and lots and lots of time managing the case through a mechanism called a "chargeback," VISA returned every cent of my money. There are two lessons here. The one for people like you and me is to get and keep everything in writing and pay with a credit card, which I did. The lesson for the owner / serial liar of the home in San Miguel de Allende is that she should have accepted my offer to pay for a few days. Instead, she got nothing.
Our second house rental gone bad experience was more than a month later at the beaches around Merida in the Yucatan in a home that was owned by a Mexican national with whom we had some differences of opinion that others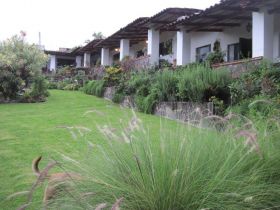 have told us were cultural, but I'm not completely convinced. For example, they didn't see any reason to include bed sheets or pillows, while we did. They had no problem with the cockroach that jumped up on the pizza to sample the pepperoni after we had opened the box for literally less than 30 seconds while, again, we did. (I could just imagine the cockroach watching us from the time we entered, his excitement at realizing we had brought a pizza, but his lack of impulse control to wait until we had left to eat some. In insect years, he was probably a teenager.) There also seemed to be some confusion about who would be responsible in the event the house needed repairs.
As to non-cultural issues, there was the issue of the prevailing winds, 5-foot-high mounds of decaying seaweed, stickers everywhere on the sand, and the less than clear ocean water.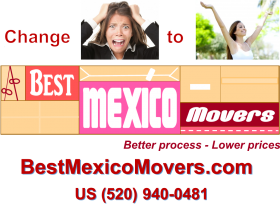 In fairness, I was told later that the seaweed comes and goes and the ocean water does get more clear. I have been told that we had hit a bad day combined with our unrealistic expectations, which to a certain extent, I can accept as valid.
That evening, Jet prophetically refused to unpack. I gave her the least stained bed to sleep on, sans sheets, while I took the couch. The next morning, I took the dogs for a walk. Well, you couldn't really call it a walk, because I had to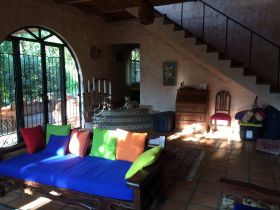 stop regularly to remove stickers from my dogs' paws. Upon my return, as I arrived close enough to the house to hear it, I was treated to a blood-curdling scream. Jet (who has no problems killing spiders, scorpions, etc.) had opened one of the cabinets and found it infested with cockroaches. As if we needed it, this was the final straw.
We just didn't belong there.
Unlike the rental gone bad in San Miguel de Allende, this one resolved quickly and fairly, because the owner had some integrity. Also, after hearing our complaints, she probably figured we were more trouble than we were worth. We paid for the one day we were there (I had not paid any deposit) and for the upgrade of the Internet, and left on good terms. The only problem was that we were in a completely new place in Mexico with no place to stay.
So there we were, in a small beach town near Merida; two adults, two dogs, a huge white van filled to bursting with our stuff, and it was mid-morning. We began our search.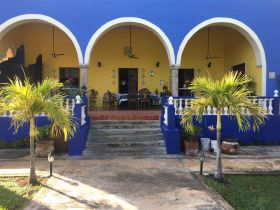 We had several criteria, including a place that would accept dogs, was big enough for our van, had good Internet, and a vacancy that night. As I drove towards Merida where I hoped we could find something, Jet researched using the Internet via our iPhone. Our strategy was to first establish a fallback position where, if everything else failed, we could stay a few nights. Given the traveling I had done for work in the past, I had special status at Hilton brand hotels, so the Hampton Inn in Merida that accepted pets looked very appealing, although expensive, so it couldn't be a long-term solution.
Jet had always wanted to stay at a real hacienda and found one on the Internet that had several good reviews. (See, we do learn.) It was in Kanasin, a town about 25 minutes from downtown Merida. So, to Hacienda San Pedro Nohpat we drove, with very little idea what we would find or if we would like it, and not much time to waste.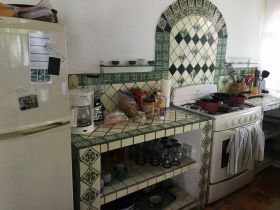 Merida has very, very nice and uncrowded highways. Down the off-ramp we went toward what would hopefully be our place to stay for a while, on a road soon accompanied on all sides by several versions of what you would call a "tuk tuk" if you were in Thailand—essentially adult-sized tricycles with a place for passengers, some powered by a motor, some powered by the human peddling it, all customized differently by their owners.
At first glance, the hacienda was impressive, with a lawn that must have measured half an acre by itself, bisected by a wide, straight walkway with lamps on each side leading to the steps of a very generous veranda. Tilting against the veranda was a ladder being used by a man who was painting. (Later, I would learn that this man's name was JR.) It looked like they might have been closed for restoration. Simultaneously searching for my Hilton Honors club card, I asked JR if they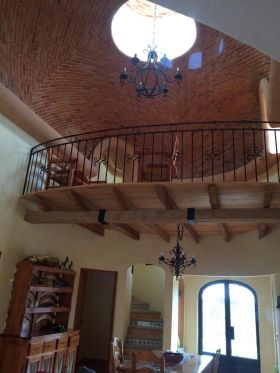 were open. He said they were, and called for his wife, Iona without leaving the ladder.
Then appeared our guardian angel, with a look in stark contrast to her husband. JR was dressed pretty much like me: dirty shorts and a tee shirt. Iona looked like she stepped out of a fashion magazine, tall, slender and composed, in a sun dress. Jet and I must have looked a bit frazzled, because Iona asked us if we would please join her on one of the back patios for a refreshment.
"But we have dogs."
"Great. I love dogs. They're welcome, too. I'll get them some water."
"We're afraid they may run away. Is the area enclosed?"
"Yes, and it's really large, too."
Our blood pressure dropped to close to normal.
Over the next twenty minutes (Iona was in no hurry), we sat with Iona and told her our tale of woe and need, surrounded by a lush tropical garden with overhanging vines that delighted our eyes and shielded us from the sun, in comfortable chairs, only muffled sounds from the street, well refreshed, with our similarly well refreshed dogs happily investigating the enclosed grounds of a 400-year-old hacienda.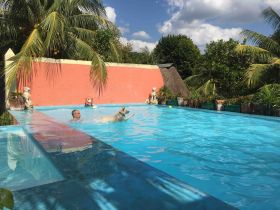 Within the last day, our dreams of being on the beach for three months with the dogs and us frolicking on the sand and in clear water had been dashed. Seated in front of us now, our guardian angel Iona offered a consolation prize but one it turned out was much more realistic and ultimately a lot of fun—the two-bedroom suite just behind her (no cockroaches or stickers, but sheets included) and even a pool for us
and
the dogs to use. It wasn't the beach, but it was a wonderful solution in a very stylish and interesting place. All we had to do was unpack.
See links to all Mexico road trip stories below. You are currently reading the one highlighted with the
yellow background.
To see hundreds of questions answered by expats
already living in Mexico, click
here
.
To see hundreds of questions answered by expats already living in Mexico, Panama, Belize, Nicaragua and Portugal, go
here
and navigate to the place you're most interested in.
Want online, interactive help finding the best place abroad for you? Try the
Location Advisor
.
To download free research studies conducted with over 1,000 expats currently living in Mexico, click
here
.