Colombian Cardiac Adventure, Part 1
Posted by By Edgington on January 31, 2018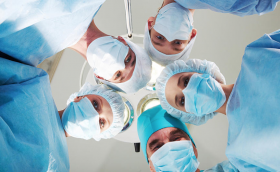 On Wednesday, January 7th 2018, while walking near my apartment in Medellin, I had a heart attack. I realize it was above and beyond the call of duty for a writer/contributor to go to this length for a story. No need to thank me, I'm recovering nicely, and because of my Colombian cardiac adventure I now have in-depth, personal info on health care in my adoptive country.
I once lived in Colombia. Now I live in the land of Ace Inhibitors, Beta Blockers, Plavix & Lipitor. My kitchen counter resembles a CVS Pharmacy. I'm no expert, but my recent experience provided a lot of insights to health care here in Medellin. For those contemplating a move to Colombia, and needing health care coverage, here goes.
Steps to Health Care Coverage
1- Obtain your Cedula: You can't do a thing without a residency card, no internet or cable, no utilities, no bank account, and certainly no access to a health care plan. If you have to pay for expert advice to get yours, do so, it's very important.
2- Decide your comfort level for exposure to illness & injury: The Colombian government requires all citizens to have health care insurance via EPS, Entidades Promotoras de Salud. (Health promoting entities). As part of Law 100 dating to 1993, EPS is the blanket legislation making health care coverage mandatory. Vendors have been sanctioned by the Colombian government to administer EPS coverage. Two of these are Coomeva and Sura. My wife and I signed up with Coomeva for a complimentary plan, and our payment is $92,000 COP per month, (equivalent to $31.00 USD). Another provider is Sura, which seems to be the preferred provider here. We went with Coomeva for emergencies only. We'll pay out of pocket for all else. Where a consultation with a specialist costs $35.00 USD, an ER visit might run $50.00, and a crown on a tooth costs $300.00, our strategy has merit.
Some expats choose to 'go naked,' that is, to forego health care coverage altogether, deciding to pay out of pocket for everything. Okay. Buen suerte! [Good luck!] I should mention the total cost of my recent cardiac adventure. The ER visit and associated staffing and medications, two hours in the cath lab for stent placement, followed by three nights in the private step-down unit, one night in a semi-private room, all meals, cardiac monitoring, nursing attendance throughout--total bill--$5,300.00 USD. My wife worked at a cardiac care hospital in Ohio, and she states that equivalent care there would have been $50,000, minimum. So paying out of pocket can be a valid plan. It's open ended, but it could work.
3- Find a bilingual expert: Once you have residency, track down a bilingual expert on the various health care offerings. You can't learn Spanish in a hospital under the stress of an emergency. And with technical issues such as health care, a fluent Spanish speaker is essential. It's not easy to find someone who understands the exotic, mystifying, often confusing system here, but it's very important. Also, don't rely on fellow expats for definitive information. Their experience may be very different. Hospitals and clinics in Medellin are beginning to provide International Patient offices with bilingual staff, but those resources are still scarce.
4- Consider private health care coverage: There are two types of health care plans in Colombia, Planes Complimentarios, Complimentary Plans, which cover the majority of the population, and are thus less expensive, and Planes Prepagadas, Prepaid Plans, essentially private health care coverage, thus much more expensive. Prepaid plans are priced according to deductibles, offerings, choice of menu items, and client age. An advantage to private coverage is that clients have many more choices when selecting a medical institution. Money doesn't just talk; it gets you in the front door and registered more quickly. Note: Some private plans may not insure clients above age 60.
As with various other financial items in Colombia, health care costs to the individual are based on the Estrata system, 1 through 6, with six being the highest level. Citizens in Estrata 1 & 2 pay nothing for health care coverage. Those in Estratas 3 thru 6 pay by scale. There are pluses and minuses to the low price tag for health care. A plus is that the care received truly is world class. A minus is the widespread prevalence of hurry up and wait syndrome. With so many people subsidized for their health care, waiting rooms are wall to wall people, and visits to a doc can be grueling three and four hour affairs.
Also, doctors spend very little time with each patient. It's a case of diagnose and adios, because of the full waiting rooms. All those well-meaning individuals who demand single-payer, medical-care-for-all, take heed. The care under Colombia's socialized system is excellent, if you're willing to wait for it. There's a reason we're called patients. A note of interest: Colombia's progressive and ambitious health care initiative is one of the direct and purposeful means to end the violence between the government and the FARC rebels that lasted half a century. It appears to be working.
5- Contract for private ambulance service: A critical item about the health care system in Colombia concerns access to emergency transport. Yes, there are ambulances here. No, they will not come to your home to take you to a hospital. (!) I know this because I called for an ambulance when my heart was attacking me, and was told that I had to find my own way to the ER! Public ambulances are used for road trauma, not for medical emergencies.
So after my heart attack we signed up with a private ambulance service called EMI. There are others, and they cost about the same. At $88,000 COP per month, ($30.00 USD), the price includes emergency transport, associated supplies like oxygen, IV placement, and orthopedic support for trauma, things a public ambulance may or may not have. Also, attendants in private ambulances are credentialed much like those in large U.S. cities. For thirty bucks a month it's cheap peace of mind.
6- Visit medical centers: The most difficult part of my health care crisis, aside from the pain itself, was the anxiety of the unknown. I had no idea what to expect, what the system offered, or where to go. During a heart attack was no time to be researching this. For older folks like me, just seeing the facilities, talking with the staff, and getting a feel for the institution you may be visiting can alleviate much of this fear and anxiety. Take your bilingual expert along on these visits.
Note: At the risk of incurring a lawsuit, it's incumbent on me to warn potential patients away from one institution in particular. At Clinica Las Vegas in Medellin I was not well served. Despite presenting with the classic signs of a myocardial infarction, staff at this clinic failed to put me on a cardiac monitor. They gave me no drugs or oxygen, and they ultimately dismissed me without treatment. Had I stayed there I may very well not have survived to write this.
Steps To Obtaining Health Care in Colombia.
1- Get your Cedula.
2- Decide your comfort level for exposure.
3- Obtain a bilingual expert who will accompany you for visits.
4- Enroll in either a public or a private health care plan.
5- Contract for private ambulance service.
6- Visit medical centers to get a feel for their offerings & credentialing.
The next post, part 2, will detail my personal experience with the health care system in Colombia step by step. Stay tuned.
Links to stories in this sequence: