My Personal Experience Comparing Healthcare in the US vs. Mexico
Posted by Chuck Bolotin - Best Mexico Movers on February 7, 2017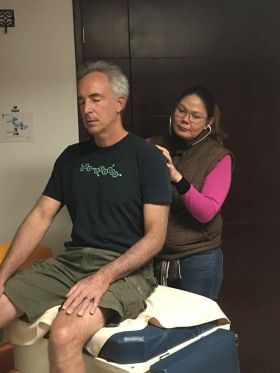 One of the most important and personal items people consider when thinking about moving abroad is "How is the healthcare?" While the
Best Places in the World to Retire website
has a huge quantity of answers provided by hundreds of expats to the question "
how is the healthcare" for more than a dozen locations on our site
, there is nothing like experiencing it yourself, which I had never done personally.
Until recently.
Let me tell you about it
First, for comparison, here's my US healthcare experience. In Arizona about a year ago, I injured myself playing basketball, and had a pretty significant pain towards the middle of my right calf. I limped home and put ice on it. Over the next few days, it didn't get any better, and it had also swollen quite noticeably. I didn't want to go to the doctor because I didn't want to use one of the two visits per year my health insurance covers with me paying a $45 co-pay, because for later visits, I would have to pay for everything myself, and doctor visits were well over a hundred dollars each.
A few days later, my dentist saw my puffy, inflamed, bloated leg (I was wearing shorts) and delivered an alarmed and rather shrill admonition to go see the doctor immediately because I could have a blood clot from which I could get a stroke or even die, all without any warning whatsoever. "Say no more, doc!" My dentist had my attention, so I made an appointment with an MD.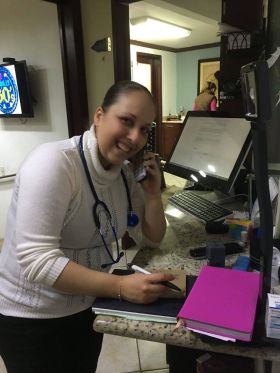 My general practitioner had me go through a series of procedures that cost more than $1,000, and then, after seeing two MRIs (the first one he ordered turned out to be for the wrong area) corrected his earlier misdiagnosis of a strain to a complete tear of my Achilles tendon. It was too late after the original tear to do much in the area of surgery, even if I wanted it, so he told me I could do physical therapy at the cost of several thousands of dollars, or just try to deal with it myself. Not having an unlimited amount of money and figuring the physical therapy would cost more than it would be worth, I chose to just deal with it myself.
So, to sum it up, even after paying for health insurance (which I understand that now would cost me well over $1,000 per month for myself and my wife Jet) the healthcare I received in the US was expensive enough that even after paying huge insurance premiums, I didn't go to the doctor until I figured that what I had might be a life threatening emergency, and when I did, I got misdiagnosed, then re-diagnosed and told that I could do treatment for several thousands of dollars more, or basically just live with what I had. And without any physical therapy, in exchange for the care I just described, I paid over a thousand dollars out of my own pocket, because I hadn't even come close to my $10,000 deductible.
Fast forward to our
road trip through Mexico
and finally winding up here in the Ajijic area, on Lake Chapala. About two weeks ago, I noticed that a pain I would get from time to time in the back of my left shoulder had gotten bad enough that it was impacting my day to day life. A friend recommended a physical therapy clinic right in downtown Ajijic. I walked in without an appointment, and was told to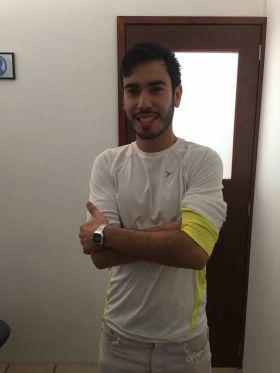 come back in an hour, at which time I could be seen immediately.
My therapist, Jonathan Tamayo Cosio, spent almost an hour and a half with me exploring the problem. What he came up with was interesting. Testing his theory, he asked me to turn over on my back, placed his hand on my diaphragm and asked if it hurt behind my shoulder when he pressed down. It did. Jonathan said that this led him to believe that my problem had nothing to do with my shoulder and everything to do with the ribs on my right side not opening sufficiently to let in enough air, so that the left side was overworked and produced the pain.
This was interesting to me because, during the 30+ years I had had this pain on and off and had it looked at by various doctors and chiropractors, no one had noticed this. Jonathan may have diagnosed the problem all these other US healthcare ace professionals had missed and caused me on and off problems and sub-optimal performance for most of my life. I paid him the 500 pesos (less than $25 for the session), and scheduled another. At $25 per session, why not come in more often?
After a week or so, the pain was only marginally better, so Jonathan suggested that I see a doctor, which I did. Jonathan wrote a note with his findings for me to give to whatever doctor I saw. Less than a hundred yards down the street from the physical therapy office, is the office of Dr. Leon, who is famous amongst expats. I walked in without an appointment, so Dr. Leon could not see me right away, but his colleague, Dr. Jessica
Quintanilla (proper title in Mexico, because she is a female: Dra.), could see me later that day.
From our 4:30 appointment until we left at 5:50, here's what happened.
Dr. Quintanilla asked me a bunch of questions about my general health and health history and documented it on her computer; she called and spoke with Jonathan; listened completely, fully and attentively to me and my wife; talked with us; examined me; and we jointly decided on a plan. She told me that I wasn't getting enough air in my right lung.
Being a very thorough doctor, she wanted to eliminate all potential issues, so she asked to do an MRI of the entire area. The MRI would have to be done in Guadalajara, about an hour away by car. I could either drive there myself, or she would have a driver take us there and back for 600 pesos (about US $30). $30 to have someone take me an hour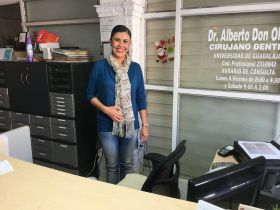 away, wait, and then take us home? $30 would hardly cover gas for the car and parking in an LA medical facility! After a good discussion, we decided that a more immediate and less costly solution would be to have some x-rays at a facility about a 10-minute drive down the road.
For immediate relief, Dr. Quintanilla gave me samples of a medicine to reduce pain in nerves and an injection that reduced inflammation, etc. For good measure, she prescribed some medication for me to take for the post nasal drip she discovered I had but didn't know I had and hadn't complained about. This post nasal drip would also cause other symptoms including coughing and reduced hearing I had been plagued with for several years but hadn't thought to or been told to connect the two. Now, I did.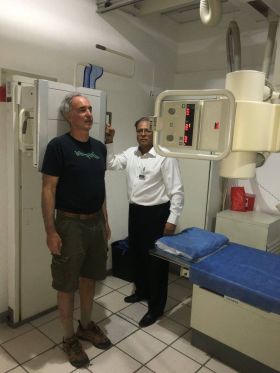 We thanked Dr. Quintanilla and told her we would pay. She said we could pay later. The cost for the hour and 20-minute examination would be 300 pesos (about US $15), and $100 pesos (about $5) for each injection. Dr. Quintanilla told us that if we felt the injections were too expensive when given at her office, she would sell us the medicine and we could have someone else less expensive do it. For $5 each, I figured I would have a doctor do it.
As we left Dr. Quintanilla's office, I couldn't tell if my suddenly improved mood and less pain was the result of a better physical condition from the injection, the expectation of a better physical condition, or the realization that I just had a complete and competent doctor examination with medications, three injections and the reading of the upcoming x-ray for less than $30.
To celebrate, and so my fretful wife Jet would not have to cook, we walked a block down the street, crossed the road and purchased the special complete roasted chicken (they gave us only the dark meat Jet prefers) with about 10 roasted and perfectly seasoned new potatoes, salsa, chilies, and tortillas to go for 92 pesos (about $4.50), and while we were waiting for it, two doors down, we purchased huge plate of steamed vegetables for 25 pesos (about $1.25).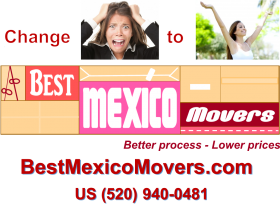 At our home that evening, we had an awesome chicken dinner (we ate less than half of what we ordered) complete with the steamed vegetables and a very good helping of good feelings. I had come to the realization that, whereas in the US, I denied or delayed myself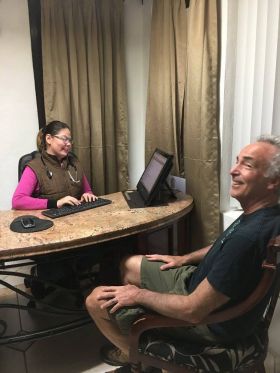 healthcare because of the cost, here in Mexico, I could visit a doctor for things I really should, and it would cost about as much as a good deli sandwich in the US. My health life in Mexico would be changed and much improved, not only in cost, but also in worry and in catching issues earlier and treating them competently.
That night was the first one in quite a while in which I didn't wake up in significant pain, and the next morning, more than 60% of the pain was gone. The air had just a touch of coolness to it but not too much (after all, we are in
Ajijic where the weather is close to perfect
), and the sun was shining. I had found some great allies in keeping me happy and healthy. In my healthcare life, I was no longer alone. It felt good.
See links to all Mexico road trip stories below. You are currently reading the one highlighted with the
yellow background.
To see hundreds of questions answered by expats
already living in Mexico, click
here
.
To see hundreds of questions answered by expats already living in Mexico, Panama, Belize, Nicaragua and Portugal, go
here
and navigate to the place you're most interested in.
Want online, interactive help finding the best place abroad for you? Try the
Location Advisor
.
To download free research studies conducted with over 1,000 expats currently living in Mexico, click
here
.