How Living in Mexico Can Give You a Lifestyle Upgrade
Posted by Chuck Bolotin - Best Mexico Movers on August 23, 2017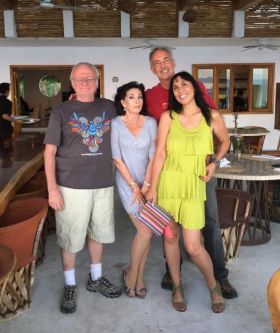 Picture this: you've gone to meet your wife after her facial and pedicure at a local boutique hotel. Leaving the bright sunshine outside, you open the thick, wooden doors and are welcomed into the cloistered anteroom. Around you is subdued lighting, ornate furniture, and a smiling, perfectly groomed young female receptionist with Old World mannerisms and a sophisticated hairdo.
Passing into the dining area, your feet and joints appreciate the thick carpeting, while your eyes feast on the rich colors and sumptuous furniture. Above, there are chandeliers. Two elegantly dressed and made up women wearing scarves and speaking in civilized tones are quietly conversing over wine in crystal glasses and what remains of their equally elegant meals on fine dishware. Nearby, a formally-dressed waiter politely delivers their check and leaves the area. You become aware of the gently playing classical music.
Where are you? Have you landed in a tony upper-end US or Canadian city or suburb? Gathering your wits to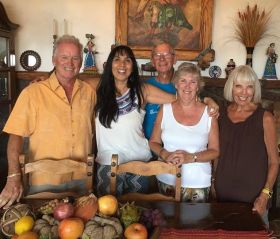 focus on the practical, are you suddenly nervous and a bit indignant about how much you're going to have to shell out for all this extravagance, thereby ruining the entire experience?
Not at all. Relax. In this case, you're in the little village of
Ajijic
, in the Mexican Highlands, on Lake Chapala, where the two women you saw are now paying the waiter the equivalent of about $6 for each of their meals and $2 for each glass of wine. Smiling and after leaving an appropriate tip, they return to their conversation, in no particular hurry to leave their comfortable surroundings.
To the side of the women, your wife appears, very happy and relaxed. She's just had that facial and pedicure for the equivalent of about $23 total. Remembering where you are,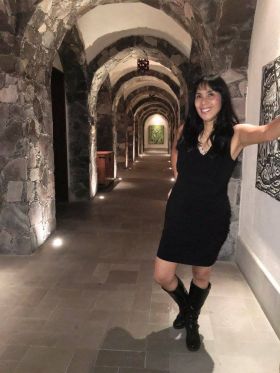 relief at the price rockets through your body. Your breathing slows and your blood pressure drops. Now you're happy again, too. "Care for lunch, sweetheart?"
You and the expats around you are leading a life that would cost much more in the States or Canada for a very manageable amount down here.
You see it everywhere; going to the movies (about $3 for first-run American movies in English), out dancing, or to a play. If you choose to, you can go to Roberto's, where you can get what would be a $25 dinner in the US for about $8, while enjoying it all listening to live music in a garden setting, in near perfect weather all year round. If you go Friday night, you'll get two for the price of one.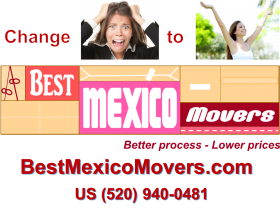 In many of the areas I've gone here, the expats look like they could easily be in West LA or Manhattan, leading enviable upper-middle class lives. The difference is, many of them do not have typical upper middle-class bank accounts. To put it simply, they've figured it out, as have others in other parts of Mexico. In
Baja
, it may be the home on the bay with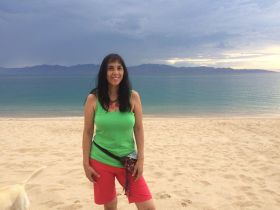 the view of islands, while in
Puerto Vallarta
, it could be the benefits of larger city amenities while living on the Pacific. In
San Miguel de Allende
, perhaps it's becoming a patron of the arts and local charities, and in
Merida
the style of living in a colonial city, while in
Cancun, Playa del Carmen, Tulum or Akumal
, it could be living in or near a world class tourist destination with famous beaches. There are other equally great and diverse places in
Mexico
as well, and from what I've heard from interviewing hundreds of expats in other countries, the same can be true with local color and variation in
Panama
,
Portugal
,
Belize
and
Nicaragua
.
But it's not only that things cost less, although that's a huge part of it and much of your lifestyle upgrade would be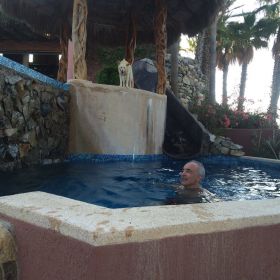 based on this. Here are some examples from what I've personally seen or experienced during our
one year road trip in Mexico
:
There are radically fewer chores to do
. You can easily afford
housekeepers (about $2.50 an hour
) and gardeners (about $3 per hour). At that price, you can leave the chores to others while you enjoy your clean house, freshly laundered clothes, well-manicured garden and doing what you would rather be doing. (We did the math and determined that not having to do chores was
the equivalent of adding 36 years to our lives
.)
Healthcare is more accessible, more humane, and won't wipe you out financially
. When you go to see a doctor, you aren't shuffled from room to room and then, after a sudden knock at the door followed by the doctor looking down at a chart as he or she talks at you, compelled to hurry it up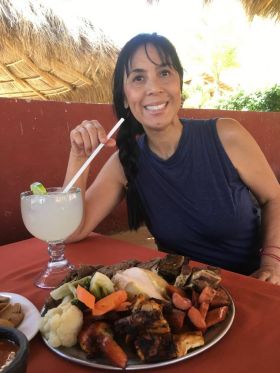 for a six-minute appointment, and afterwards, paying a small fortune for the visit or your health insurance. Here in Mexico,
a typical doctor's visit may cost around $30 or less out of pocket
, and he or she may spend up to an hour with you. If your health insurance is like mine, y
ou'll pay about 75% less for better coverage
. Sort of makes you feel better… all by itself.
Stress can be much lower
. Scratch the car? No problem. Just pay $25 to have it repaired while you're getting your brakes done and your car delivered back to you. Have to pay to get Internet set up? Relax; it's $5.50 for installation and $14.50 per month for cable. Perhaps a good game of tennis, a hike in the mountains or an exercise class would be nice. Here in Ajijic, all are free or close to it. And don't forget how much less stressful it is not to have to do the dishes the day (or days) the housekeeper comes (see "chores", above).
Those who have figured it out are leading upper middle-class class lives on lower-middle class incomes. I know people who live pretty much on Social Security who can afford to occasionally eat out and go to plays; things they never could do in the US. For them especially, their lives are substantially different.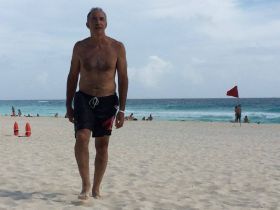 Are there some lifestyle downers to living in Mexico? Sure there are. In most places, the
power and the Internet goes out more often
and the plumbing is nowhere near as good. In most places, there is much
less shopping variety
and not knowing Spanish can be frustrating in some circumstances. Sometimes, people are late or don't show up at all and certainly not all places look like the hotel I described or dinner at Roberto's. Could I have written an article about those things? You bet. It's just that, personally, I don't enjoy writing or thinking about that and I would rather focus on other things. What would you focus on? Of course, I don't know, and your reality will be different than mine.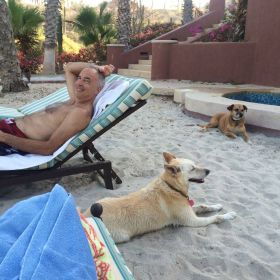 From my perspective, though, if you've got the right attitude, balancing out the positives with the negatives compared with living north of the border, you can live here as if you've got much more money and many fewer cares.
Just like those two women at the hotel.
See links to all Mexico road trip stories below. You are currently reading the one highlighted with the
yellow background.
To see hundreds of questions answered by expats
already living in Mexico, click
here
.
To see hundreds of questions answered by expats already living in Mexico, Panama, Belize, Nicaragua and Portugal, go
here
and navigate to the place you're most interested in.
Want online, interactive help finding the best place abroad for you? Try the
Location Advisor
.
To download free research studies conducted with over 1,000 expats currently living in Mexico, click
here
.