The Beach, the (Holiday) Breaks, and the BBQ
Posted by GISELLE SOCARRAZ - Real Estate Chiriqui on March 4, 2014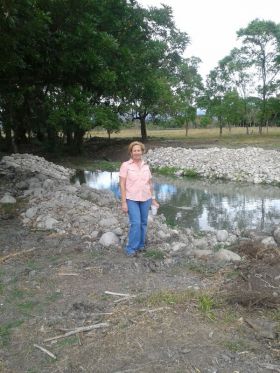 Jet Metier has noticed there are three things you can do after reading a person's reason for moving to Panama. You can 1) learn from them; 2) laugh with them; or 3) interview them to learn and laugh some more with them.
Giselle Otero lives in a world in which she hears operatic airs from humpback whales and smells the "life-giving bitterness" of the flowers that lent their essence to coffee beans. In this interview, Giselle shares with Jet in loving ways, the vividness of her Panamanian experience.

Giselle Otero: Hi Jet!

Jet Metier: Good morning, good morning, good morning, Giselle!

Giselle Otero: And a good morning x 3 to you as well, Jet!

Jet Metier: Tell me, what song is in your heart this morning?

Giselle Otero: Ja! Ja! Ja! Funny you should say that, Jet. In my office, I like to keep music playing throughout the day (improves the ambience and puts my clients at ease). As such, the song playing in my heart this morning is "Tu Voz," a duet between the immortal mariachi king himself, Vicente Fernandez and the incomparable paragon of the Cuban musical spirit, Celia Cruz. Great stuff.

Jet Metier: I am in such a good mood because I quickly reviewed your answers and your stories on Best Places and I just felt so happy.

Giselle Otero: I'm glad you enjoyed my answers. :)
Jet Metier:
Oh, I did. And when I looked at the pictures you sent me of your homes...I was going to talk about your homes, but if I illustrate your story with those pictures, I think our readers will just flop on the ground and start crying: they are so beautiful. You have found paradise.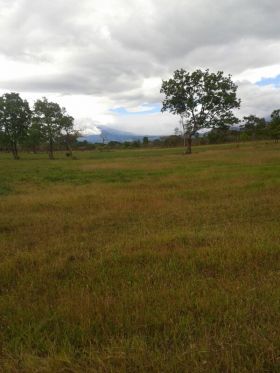 Giselle Otero: I know. I count my blessings every day since we've been here.

Panama is such a magical place. No matter what landscape I look out at, Panama offers a variety of beautiful, natural art that few other pieces of heavenly soil on this earth can match. Whether it is the rolling hills of Coche Arriba, the gently lapping waters of Bocas Del Toro, or the mighty urban skyline of Panama City, I always find inspiration here.

That and the fact the people here are just an incredible lot: very sympathetic, very well-mannered and very pleasant to talk to.

Jet Metier: Your descriptions are so inviting. So I would like to play a game of "pretend." Let us take three destinations that would be perfect for a picnic. The reason I am choosing a picnic is because you describe scenery so beautifully, I know we armchair travelers will enjoy it, and because I want to talk about the art of bringing the right kind of food and activities to match the atmosphere. The last picnic will be on your island home.

Let us start in Bocas. Where shall we go, how do we get there, what do we bring (because it won't be there), what will we see, and what will we do? Pick any place; a favorite beach, a hidden mountain ravine, the graveyard next door...

And of course, describe the menu, including drinks, and the ethnic origin of your dishes. How does this sound to you, Giselle?

Giselle Otero: Sounds like fun! Let's get started.

Jet Metier: Oh, and you must tell me what I should wear.

Giselle Otero: Don't worry, I will. :D

Okay, now...if you are going to the region, obviously your picnic should be on Isla Colon. You can get there via prop airplane (for those who like to pretend they are Indiana Jones), as well as by boat (my preferred means of travel).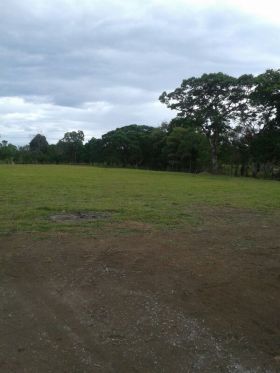 The planes tend to go through valleys and near mountains on their way to Isla Colon, making sure that any rollercoaster junkie on them can get the ride of their life due to turbulence. All you need is a fedora and a John Williams [composer from Star Wars and Indiana Jones] score to make the effect complete.

Now first rule of going to Bocas: dress breezy. Sun dresses, blouses that let you breathe, and light t-shirts. Stuff that allows the sea air to caress the flesh and keep you cool, while keeping your flesh nice and not sunburned (unless you decide the "broiled lobster" look is in, of course). For the same reason, you should have a wide-brimmed sombrero atop your head (don't worry, Isla Colon is home to one of the few salons that I would recommend to anyone in the world; your hair will be well taken care of).

Oh, and shoes? Never ever bring heavy boots, high heels, or platform shoes with you to the island. You will only end up serving as entertainment for the locals as they watch you fall, get stuck, and or BOTH over and over again; sandals and low top sneakers, dear Jet. Not this girl though. Ugh. (:|

Jet Metier: I have a fedora and I am dancing to Celia Cruz. Let's get off the plane and find our spot and start picnicking.
Giselle Otero: Anyhoo, now depending on which beach you want to have your picnic on, you have a few choices insofar as views and access to treats.
Your closest choice is perennial favorite, Bluff Beach. It is the closest pristine beach to Bocas Town itself, and as such, is within walking distance to a lot of the local food vendors. Grab yourself a pipa fria (cold coconut juice still in the coco itself), a heaping helping of yuca frita (fried cassava wedges) usually served with a garlic sauce ("mojo", pronounced MOE-HOE) and an empanada and relax.
It's a gorgeous surf spot, and you can easily find a shade tree in any direction.
Second option is to make the trek to the other side of the island, Bocas del Drago. Despite the frightening name, it is actually a very safe, very tranquil spot. It takes roughly 45 minutes to get there by taxi (unless you are one of the steel-legged wonders who can make a hiking trip down the long winding road, then it will take you the better part of the day), and you will see some gorgeous vistas and jungle foliage (so keep that camera handy).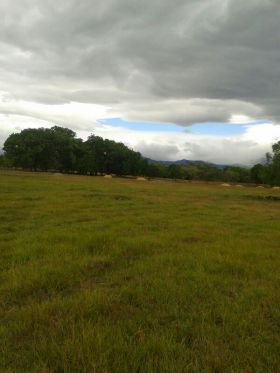 Now Playa Del Drago is much smaller than Bluff and offers no real surf. What it DOES offer is plenty of shade, an unobstructed view of clear blue waters, truly incredible snorkeling spots and a restaurant that is only two minutes behind you and serves up one of the better examples of the island's staple: pargo entero (whole fried red snapper) with tostones (flattened and fried plantains) and a wide variety of natural juices (with plenty of local beers for the adults in the party).
Oh, and if you have an underwater camera? This is where that piece of equipment earns its keep.
Jet Metier: I do happen to have an underwater camera bought just for this purpose, Giselle. One of these days I might learn to snorkel. But I don't like putting my face in the water.
How about concerns for the "fraidy cat" in me? Are there "creepy-crawlies" on the sand or nearby peeking out of the jungle edges?
Giselle Otero: Actually, most of the jungle creepies stay DEEP in the jungle. Notice I said "most." Two such creatures can't seem to leave us be (and you will come to loathe them for it): the mosquito and the chitra (sandfly). Bad news: as long as you are on a beach in Panama, you will encounter these pests. There is no avoiding them. They will be all over you like syrup on a Pancake House table.
Good news: The Panamanians (especially the Boca Torranians) have been locked in mortal combat vs. these pint sized, petulant pests for more than a few centuries. As such, they know how to reduce their chances of bothering you and have reduced it to a science. Their local bug repellents (usually made of a combination of mashed coconut derived lotion and eucalyptus) keep the bugs away, your skin smooth, and it is great for those who aren't fans of the DEET used in "Off!" sprays.
Jet Metier: Giselle, I'd just like to interrupt for a moment. Folks, go to Giselle's answer on, "How bad are the mosquitoes and other bugs and insects in Panama?" in the Best Places questions and answers, if you really want to know how she feels about this subject.
Now how about when we get the call of nature. Are there "facilities?"
Giselle Otero: There are "facilities." But remember: this is an island, so expecting heated toilet seats and golden faucets is a little bit much.
Jet Metier: Are there lifeguards or medical help nearby?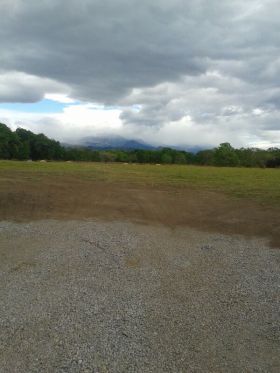 Giselle Otero:
Unfortunately, swimming in Bocas is an "at your own risk" proposition. The locals have consistently preferred a system wherein the community itself would assist those in danger (as opposed to designated lifeguards working shifts). So think less "Baywatch" and more "Flipper" and you've got the right idea. Oh, and as for medical help, there is only one hospital on the island (which caused me some serious trouble when I broke my leg a few years ago).
Jet Metier: The shade of the trees is such a nice feature. But can I rent umbrellas, chairs, and sporting equipment?
Giselle Otero: Yes. In Bocas Town itself, there are plenty of outfitters who will be more than glad to set you up with anything you need. My advice, though? Bring your own. They can get a bit pricey (by Panamanian standards at least).
Jet Metier: And I hear it rains a lot in Bocas. What do people do when it starts to rain? Wait? Use an umbrella? Keep on swimming and eating?
Giselle Otero: They usually go into a nearby restaurant or bar and have a little "warm me up," (usually a shot of Ron Abuelo,) or grab a juice, while they wait for the rain to pass.
Jet Metier: Oh, by the way, are there other vendors there to buy things or services? I am thinking I could use some beachy jewelry.
Giselle Otero:
Careful about saying that aloud, Jet. There are legions of teenagers and children selling crafts wandering the island and merely meeting eyes with them is an invitation for a mob scene of folks pushing sea shells, hemp rope and scale bracelets, and other such knick-knacks in your face. I would stick to the artisan market in Bocas Town itself. It's impossible to miss, as the only thing which occupies more island real estate than that, is the airport.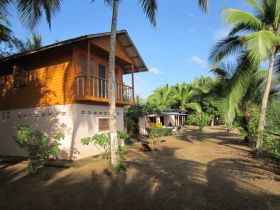 Jet Metier: I so want to go to both beaches. I have never seen the Caribbean and you make the people of Panama sound so nice.
Giselle, anyone reading your responses is having so much fun with you; they want to go home with you. So let's take the boat back. (I learned my lesson about those hot-shot pilots on the way over.) I'm smelling like coconuts and eucalyptus, and I am considerably "warmed-up." Now I want to celebrate a national or regional holiday in Chiriqi. Are their traditions that are followed? Why do you like this holiday?
Giselle Otero:
(rofl) [for those not acquainted with these terms, "rofl" means "roll on the floor laughing"]
My dear, dear Jet. Rule #1 of living in Panama: every month, there are at least four holidays. The Panamanians have more festivals, holidays, carnivals, days off, fiesta days, and celebrations than any other nation on earth (and denying them as much is one of the few ways to make them cross with you).
Jet Metier:
Is church involved?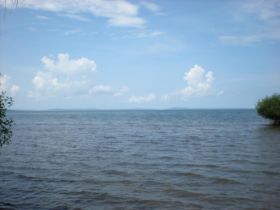 Giselle Otero: On those days they go out and spend time with their family. If the feast day is religious they go to their respective service institution (temple, mosque, church, etc.) and then go to relax with their family. Usually BBQ is the order of the day.
Now their most famous holiday (one that is especially popular in the island regions) is Carnival, (which is celebrated in February - March). For nearly a week, partying from sun up to sun down is the name of the game and more food and drink is consumed than even on Christmas Eve.
If you are going to Carnival on the islands (ESPECIALLY Bocas), be warned: you may end up facing off against the "devil."
Jet Metier: Yikes! That is why I skip Carnival and try to go to church every day during Lent.
But first, Giselle, we must have our BBQ. Please describe a barbecue at your island home. Take us from sun-up to the wee hours. Are there Cuban foods you cook and share with your neighbors? What do the kids play around the property? How have you designed your house for entertaining, dancing, serenading...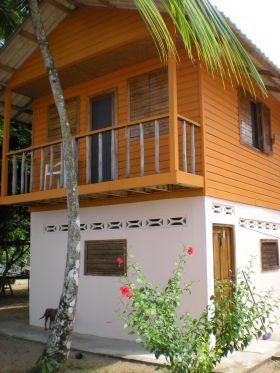 Giselle Otero: Glad you asked! My husband (being a Camaguey boy, and thus, is as Cuban as salsa and Jose Marti) always serves up lechon (roast pig) either in a caja china (a specialized BBQ grill) or in an open pit. Now Cubans...we take roast pork VERY seriously. The marinating and pre-treatment of the meat usually starts 24 hours before the grilling (my husband begins his "art" a full two days before, allowing the herbs and citrus juices to really sink in). Now once that is done he starts work on the other platters: black beans, rice, yuca, plantains, and salad. Once he begins this process, the kitchen becomes off limits as he (like any other temperamental artiste) must have space to create freely (that, and he needs jazz music playing while he cooks, and heaven help whoever interrupts the music or gets in his way as he dance-slides from stove to oven to outside BBQ, like James Brown by way of Gordon Ramsey).
While he's doing that, I'll be entertaining our guests (mostly our neighbors, but we do sometimes get our friends from the city to step away from their government jobs to relax a bit) and setting up the different platters that everyone brought with them (representing a cornucopia of styles and cultures from Panamanian fusion to American southern comfort food to Middle eastern stylings).
The kids, well…the BIG kids (the twenty and up) usually are off playing. Dominoes, and occasionally a football match breaks out. The little ones are usually swimming, playing tag, climbing trees, drinking coconut juice and generally running amok (safely).
That's why I love the way houses are designed here: they are multi-purpose, and there is plenty of space for everything from rough and tumble sports to dancing under the moonlight.
Jet Metier: Our time has been such a pleasure together and I'm imagining that you're down to the end of your favorite cup of Ruiz coffee. I've enjoyed your good nature and the funny way you look at life. I am sure the community at Best Places appreciates your candor and a glimpse into what a wonderful life they can have in Panama.
I am sad to go, but I must. Please throw a flower out into the water outside your home for me. You have given so much of your happy soul. Thank-you.
Giselle Otero: Anytime, Jet! I had a great time talking with you. Adios!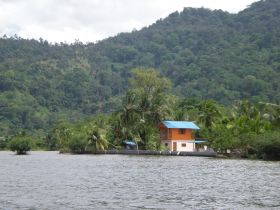 Jet Metier: God be with you, Giselle. We will think of you whenever I make arroz congri that you generously shared with me from your family recipe files.
The first five pictures are of Giselle's land in Coche Arriba, Panama, where she and her husband are planning a family community on their 23 acres. In the last four pictures, this is their beach front property on the island of Miramar, Panama, mentioned in this interview as their dance/BBQ central. The couple has different ways of relaxing; Giselle swims, while her husband fishes. This beautiful shoreline home is the outcome of their happy compromise.