A Guided Road Trip From the City to Pedasí, Azuero Peninsula, in the Republic of Panamá
Posted by Lourdes Townshend on March 7, 2015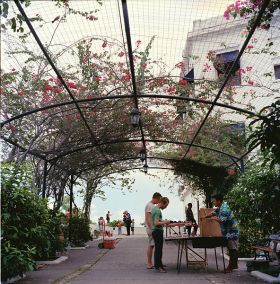 Panamá has recently invested several million dollars in their road infrastructure, making it one of the most modern systems at least in Latin America, connecting the airport to the city via a beautiful highway 20 minutes drive surrounded by the Panamá Bay.
As a matter of fact, in today´s newspaper, very important information was released that the government will invest several million dollars more between 2015-2019 to expand the strategic vital plan. With this plan, the logistic capacity will increase, connecting airports, ports, country boundaries, logistic and agricultural production zones, as well as the areas with high tourism and service potential.
(Souvenir stand under archway at
Paseo de Las

Bóvedas
, Casco Viejo, pictured.)
According to the government, the ultimate goal is to convert Panamá into an "International Logistic HUB." Some of these protects will improve the "Corredor Norte and Sur", expansion of Corredor Sur, construction of the Howard-Puente Centenario Road, and access to the cargo department at Tocumen International Airport (the main airport situated in the city of Panamá).
There is also another highway called "Transistmica" that connects the city to Colón (the second largest city in Panamá ) that takes about two hours because of the heavy traffic, and is also connected through a modern expressway called "Autopista Panamá Colón", a one hour drive from the city.
(Corredor Norte vía Transístmica pictured right.)
The Interamericana Highway connects different towns and villages into the "interior" (countryside, once past the Panamá Canal going west), and from there, second roads into the different cities in the provinces, along beautiful mountains with views of rivers.
This is the case going into Pedasí. The Interamericana will take you into Pedasí. The drive takes approximately 5 to 6 hours, depending on your driving, the traffic, and if it's a holiday. This main road is in excellent condition almost all the way. Speeding is not tolerated, even though drivers takes their chances, and many accidents happen, especially when some people drive under the influence of alcohol.
The only way to get into Pedasí from the city is to take the Interamericana by one of two bridges that go over the Canal, the "Puente de las Américas" or "Centenario", which are about 20 minutes one from the other, assuming no traffic jams. From there you drive passing by towns like Arraiján, Chorrera, Capira, Chame, Coronado, San Carlos, Santa Clara, Penonomé and Aguadulce, until you reach "Río Hato" which has a modern airport and is close to Santiago, one of the major small cities.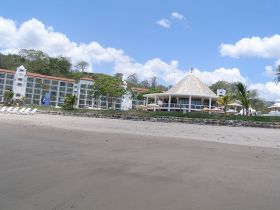 (Playa Blanca resort located in
Arraiján
, pictured right.)
Then, you take a left and pass by Chitré, Las Tablas, Monagrillo and Pocrí (a picturesque and charming little town, like others in the Interior, where all the houses are around the Catholic church and a park. So cute. In every town, visitors are welcome and people is very friendly. This area has a lot of culture and folklore, and you can get all kinds of crafts, souvenirs, fresh fruits and vegetables.
Especially if you have time, and take a drive to "El Valle de Antón", one of the nicest small towns with beautiful weather, and surrounded by mountains. Hotels and restaurants are available everywhere. It is advisable to make arrangements with a tour operator, if you do not know the area.
After you get into Pocrí, it is easy get into Pedasí and Tonosí. This area is very beautiful, especially if you like outdoors adventure, and relaxing in a nice and peaceful place in a hammock taking a capuccino or a glass of wine.
(A parade with
tamborinos
played in Tonosí
, Panama, pictured right.)
This road leading into Pedasí is two lanes but nice and accessible. Speeding sometimes is a problem, for example, when passenger vans want to get to next town very fast. Just use caution. And always use sun protection and hydrate very well, as Panamá has year round beautiful weather, inviting you to be outside at the beach, or the pool. On your way there, you can visit many smaller towns and villages where you can stop and visit, maybe get some un expensive crafts and souvenirs. There are hotels in Chitré before you get into Pedasí, with many facilities. The water is good.
Also, if you need furniture, Chitré and the surrounding areas are the best, and have talented artisans who can make pieces in wood designed to your specifications, at incredibly low prices.
(San Miguel church in Monagrillo, pictured right.)
Some small roads leading to villages are still very dusty, and not paved.​
Always be careful, and get your directions well before you leave, as towns (specially the very small ones) do not have good street signage. The way Panamanians tell directions is very well known and goes something like this: "From the pink house, its one mile to the river. Make a right and take the bridge straight to..." It sounds funny, but that´s the beauty of it. Everybody is so helpful, and you will not get lost. Always try to drive at daytime if you are not familiar with the area.
And if you rent a car, my personal advice is to always take the car rental full insurance. Otherwise, if something is not covered, you will have to pay and then work it out with your credit card company.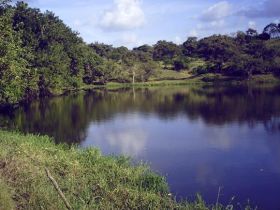 (Lake Soberania, Los Santos pictured right.)
Just for the people seeking retiring in Panamá, when you are a legal retiree (expat) you have the same benefits as locals, meaning that you are eligible for discounts everywhere, on items ranging from airlines tickets to medical assistance, to medications, movie, train travel, metro tickets, among others.
And above all, there is beautiful weather, so you do not have to worry about changing clothes because of the snow. There is always sunshine, even though it will sometimes be punctuated by light or heavy rain. Life in the "Interior" is very different from the city.