Indians, Natives and Birds in Panama
Posted by Linda Jensen on March 25, 2014

One of the first things to catch my eye when we arrived in Panama was the indigenous Indian women's brightly colored dresses. They make them and many are sold at the side of the Pan-American Highway under thatched roof huts.
From infant to adult sizes the colored dresses float in the wind at the small vendor's places. On the women everyday you find yourself counting the different colors you see as you walk around town or pass the villages long the highways. Blue, green, red, pink, purple, black, white, yellow, orange, turquoise, teal, light blue. Sometimes it reminds me of Easter Eggs! Every colorful dress is made in a simple style with lots of bright trim, much like the Indian style skirts of my childhood, Bright rick-rack in many contrasting colors embellishes the simply style dress; they look lovely. Different areas of Panama have different style costumes and adornments. The Indians have different arts and crafts to offer as well. They are interesting and many are quite beautiful people.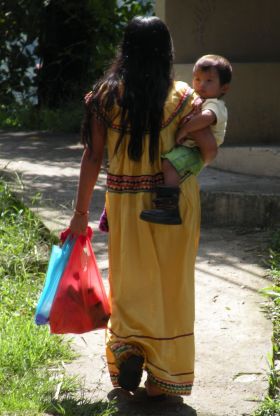 Panama's native people have a Spanish heritage and some of the other costumes reflect this. Native Panamanians are of many different origins: German, Spanish, French, Italian, and other nationalities are reflected in the culture of this warm and friendly nation. Of course we see modern influences in the extreme high heals, stretch fabrics are popular and skin tight jeans and pants can be seen everywhere. Times change, but the Indian people maintain the strong ties to their history with fashion.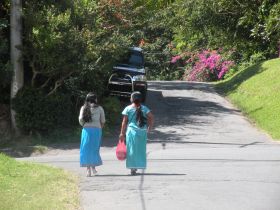 If memory serves me there something like 900 plus bird species in this country. That is going to take a lot of bird watching to see them all anyway. Hummingbirds are all over and I have seen about six different types. Many of the colorful big birds are almost extinct, like the red Macau.