A Coastal Jewel About To Shine Brightly-- Puerto Armuelles, Panama
Posted by Linda Jensen on March 25, 2014

A surprising small town with evidence of a once vibrant past is located just 60 miles (97 kilometers) from the provincial capitol, David, Panama. Only 5 miles as the crow flies from Costa Rica you will find Puerto Armuelles, Panama. It is about 21 miles south of the Pan-American Highway (at the border to Costa Rica, turn left before you go through the border crossing.)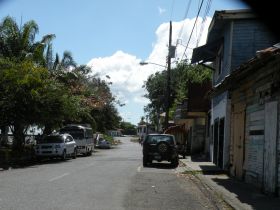 The surprisingly good two-lane highway is under construction to become a four lane inland route for trade and economic growth. You pass through the farming and ranching small villages. There are a few banana plantations still there. Once the port was an active banana and oil trade distribution area. However, through the years earthquakes damaged the deep water piers; and worker strikes and economic changes took a toll on the banana plantations.
The town is named for a hero that died in an accident during the Coto War between Costa Rica and Panama back in the 1920's. Tomas Armuelles died on March 3, 1921, they re-named the city from Rabo de Puerco ( Pigtail) to Puerto Armuelles then.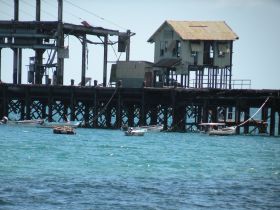 The most famous person people think of from this small village is Omar Moreno, an outfielder for major league baseball in the USA 1975-1986.
A friend took us to Puerto Armuelles a few months ago. We returned recently and one cannot help but feel this sleepy Latin village is poised for growth. There are many buildings and homes that show hints of a much richer past. There is an airport, not so hot, but still there. Many unused warehouses sit in the hot sun and seem to decay in front of your eyes. However in the future the deep water Pacific port will rebound as a new economic hub with 217 storage facilities are planned for the future. Traffic will fill the new four lane highway as businesses come to life all along the way. Do you hear the sound of money? I do. You see growth and change all over Panama; Puerto Armuelles is just one more place where dreams will come true for many entrepreneurs and businesses. Get the message; come to Panama for a visit and stay for a lifetime! Enjoy photos from our visits: