My Friend Deet, 81 years old still rides her bicycle
Posted by Kari Lyn on December 6, 2018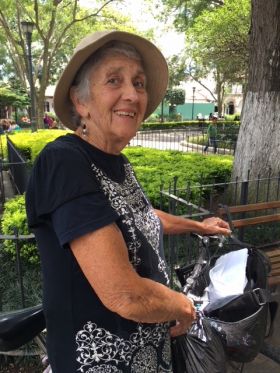 The streets of Antigua are all stones. Some say cobblestones, but these are not well cobbled. The city is a World Heritage Site, so it must maintain the old style and flavor of most things here, so they don't repair the stones with cement to really hold them together. They use a mixture of gravel and a substance called "cal." It is lime, the main ingredient in cement for concrete, but it's the only ingredient with substance. It is like using clay for adobe bricks. It doesn't have the holding power of the usual cement, but it lasts about a year, it seems. The streets are in constant repair, but hey, it gives a lot of men jobs. I have observed many a tourist trying to rush across the uneven stones of the streets (because pedestrians do not have the right of way), and fall right in the middle of the road.
Deet in Parque Central
Until the last few years there were very few streets signs in Antigua to indicate where you are, and the stop signs for vehicles were so obscure you were in jeopardy at almost every corner. It's getting better, a few streets at a time. Walking the sidewalks, not much better than the streets, is taking your life in your hands: many are full of holes with missing covers, irregular use of materials, broken surfaces, constant dips for driveways, and pieces of metal sticking up. To top it off, the colonial architectural style includes having all windows at the street have a window sill: a cement platform protruding out with iron bars imbedded in it, to create protection for that window from anything wider than 4 inches (10-12 cm) from getting through. All of us have at least once smacked a head or shoulder on one of these window sills. It is the colonial style for which Antigua is famous. But what a charming little city!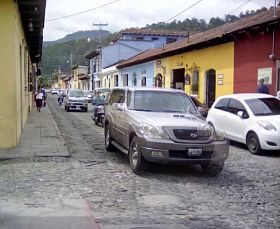 A street in Antigua
If you think about having nine square blocks, not long ones like big cities, and then think about one and a half million visitors to Antigua during the season of Lent leading up to Easter Sunday, you should also try to imagine things like parking. There are very few parking lots, and parking structures are not allowed due to the zoning restrictions from being a World Heritage Site. Add to that the many religious processions through the streets during Lent and Easter, Advent and Christmas, and a few other important holidays, it can be very difficult to drive and even walk in Antigua. More Guatemaltecos in the city now have cars, and they love to visit as well as foreigners.
If you want to meet people in Antigua a great place to start is in the very center of town at the plaza known as Parque Central. The town is basically about nine blocks square as the area where you would go as a visitor. It is easy to walk to everything from there. The streets running north and south are "avenidas" and those east-west are "calles," meaning streets. So if you look at a map you locate the Volcano Agua, which is south, put your back to Volcano Agua and face north, you will find the avenidas begin at Primera Avenida to your right and continue left to Septima (7th) Avenida. What would be the eighth avenida is called Calzada Santa Lucia, but you have reached the western side of town once there. The calles start at Primera at the north end of town and increase as you move southward to Noventa. So if you can find some street signs at the corners you can readily use your map, but if not, you will have to count blocks as you walk. Little by little, more streets signs are appearing, and the stop signs for cars have been improved in visibility.
My friend Deet moved to Antigua 26 years ago from Chicago. She rides a bicycle because it is much easier on her knees than walking the uneven surfaces of the streets and sidewalks. She is just now turning 81 years old and has used a bike here all this time. She rides around town to the market, to friends, to appointments, and to the Parque Central.
Her real name is Judith, pronounced "Hoo-deet" in Spanish, so she is known by most as "Deet." Many of the extranjeros (strangers, or foreigners) who have located themselves close to Antigua know her. She can be found almost every morning at Parque Central, chatting with other expats or introducing herself to visitors to welcome them. She parks her bicycle nearby, carrying along whatever she may need that morning in her basket, and always has a supply of her homemade flyers to hand out. The flyer indicates that she will give you a massage in her home, one hour, for a meer 100 quetzals. This is about $13. She has been doing it for many years, but now that she is older she has to limit her guest's body weight to 160 lbs., or 72 kg. She was trained years ago in California in the method taught at Esalen, a health retreat on the rocky central coast. Those were her hippie days. And though $13 isn't much to most of us, massage has supplemented her meager Social Security pension which will stretch much further in Guatemala than almost anywhere.
Deet is an interesting, capable, and versatile woman. She can chat and speak several languages, having been raised in Chicago by parents who spoke German, and she seems to learn language easily, lucky her. She traveled the world extensively in her younger years, managing about 35 countries. This was after she raised her two children, went back to school for college education, and worked a variety of jobs, not too high-paying. After her husband passed away and her children were established, she was free to wander. When she came to Guatemala she thought it was to stay a few weeks and learn Spanish, but like many other visitors, she loved it so much she never left. She manages to get back to the US yearly to see friends, family, and a doctor or two to keep up with health checks.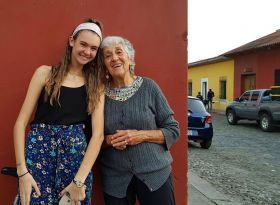 Deet and Abbey
Deet is constantly meeting people and making new friends, finding satisfaction in her skill at connecting people. Her birthday falls the last day of the year, so she has a party on New Year's Day for as many as she can get to show up. During that time she asks her 45 to 70 guests to line up in the yard according to where they are from, starting at the East Coast of the United States, going all the way around the world and back again. Then you get to meet the people who may be from where you are from, or closest to it. And she asks sometimes for people to line up by age, or some other category, and it gets everyone meeting new people that they might never have met. The last lineup then includes photos of everyone so she can have a large print made to remind her of every year and every friend.
Another way Deet connects people is a gathering every week just for women, called "Sunday Supper." All week she is telling tourists or short-timers to join her for dinner at a restaurant, along with some of the women who have already transplanted themselves, to come along and meet some extraordinary people. She always says she ONLY meets fascinating, nice people here. And I agree. There is something about the nature of people who love to travel, wander, and be adventurous that is different from those who stay mostly at home and man the ramparts of our birth places, keeping the communities there lively, running smoothly and convivial.
Deet used to give free tours around town as well, just by chatting with tourists in Parque Central. Since she always has her bicycle, she would sit on the seat and walk along with the tourists, guiding them and telling them history and stories of the area. More recently she has suspended those offers as she has less energy and stability. Except for one thing that she is still doing and is very passionate about. She invites people to join her on Saturday mornings to walk south of town to a fantastic organic farm where there is a weekly farmers' market, giving a tour talk along the way.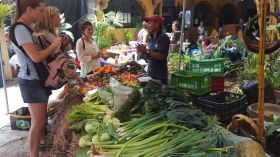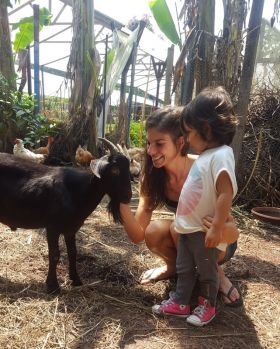 Caoba Farms has a health food store, two restaurant choices, and live music on Saturdays until mid-afternoon, as well as the tables of other vendors. The two restaurants are permanent, and they also do live music on Thursday evenings. The tables are spread around private areas through the garden, many of them under a huge canopy for protection from rain. You have a choice at one restaurant of wraps, soups and salads, wood-fired pizza, specialty beers, smoothies made from every fresh ingredient you could want, and delicious breads and desserts. The other is run by a local indigenous family where they grill over their wood fire and offer fresh rice, beans, salads, and tortillas in the Guatemalan style. Or you can mix your order from both places.
Deet gives her own guests a free walking tour of the garden and relates many interesting bits about its background and herbs and plants. At the back of the area where vegetables are grown, looking vibrantly healthy, are the animals they raise in their individual pens: chickens, ducks, geese, pigs, sheep, goats, and bees. People can bring their dogs to Caoba; children can play games or have an art class with a local man for a few quetzals; and one can take a yoga class at 10 and a salsa class at 11, for a great low price. All of it brings people together, some who are passing through town, and some who live in the area and love the ambiance.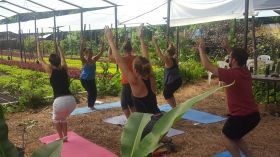 Yoga Class at Caoba Farms
Deet is a great humanitarian and has helped many organizations with projects for the country. One of them is called Wings, a group that offers cancer health checks to indigenous women and provides birth control information as well as a choice of preventive devices. Deet raises a little money for them by selling items in her home made by indigenous people, like purses, scarves, and jewelry. She also pushes their brochure into the hands of her massage clients to further inform about the cause. Wings has been here for many years and is successful in helping people all over the country. When the Volcano Fuego erupted in June 2018, hundreds of people died and were buried in their homes. Thousands were displaced. Many more people disappeared than the government avowed. Wings raised more funds at that time and began a plan for providing medical services and a new clinic for the community of people being relocated to a totally new town.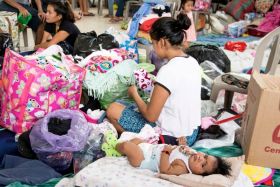 Survivors of Fuego's Wrath
Another volunteer group arrived in Antigua to help. Deet spent an hour or more every day in a former restaurant set up by the World Central Kitchen to cook three meals a day for the displaced families. She helped make sandwiches, and showed me around the kitchen where people were cooking soups and spaghetti and other hot meals to be delivered to the shelters for hundreds of people. The group knew that the consumers were actually eating better than they were accustomed to at home, before the eruption. But that was small comfort in comparison to losing their homes, their family members, and their community, now buried under tons of cooled lava and stones.
If you visit Antigua you might spot Deet in Parque Central or somewhere around town. You'll know who she is on her bicycle, wearing a hat, and if you talk to her she might tell you to get a hat as well, and to drink plenty of water because you will be a mile high in the sky when you are there, closer to the sun than most people live.