Easy Love'n the People of Panama
Posted by Linda Jensen on May 31, 2013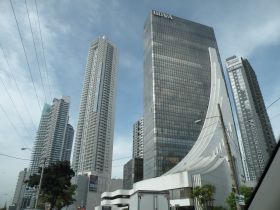 Our first day in Panama City we walked and enjoyed meeting people. From the staff at the Hilton Garden Inn to people in cafes and stores, we were pleasantly treated and had no problems.
We arrived in December 9, 2012 and we rented a car on December 11th to drive to our planned destination, Boquete in Chiriqui Provence.
This picture is the Concierge giving Arne instructions on how to get out of the city.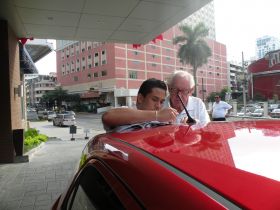 We drove on a modern highway most of the way and in each place we stopped for refreshments or just to stretch our legs and to take the time to speak to people. They, in turn, were very friendly and nice to us. Our drive was pleasant and we enjoyed the scenery. When we missed the road to Boquete we drove on and turned to go visit Volcan first. Here we stayed in an old lodge. The staff were very nice and although the room was a bit dusty from recent remodeling it was okay.
Once more we drove off, this time looking for Boquete. Everyone that we got directions from did as good a job as possible. We finally found the highway and 45 minutes later we arrived in Boquete. We did not make reservations anywhere. We saw a sign for Dos Pinos Apartments and spent two weeks there. The manager was a very sweet lady. Her sister cleaned and her brother did odd jobs and maintenance.
This place had beautiful grounds. We walked into town and took drives around town. We stopped for coffee in some of the places we knew were gringo hangouts. On Tuesdays we walked to the Tuesday Market. They have crafts, food, produce, art , jewelry and more there. People speak, introduce themselves and it is lively place to enjoy for a couple of hours. Amigos is a popular bar and grill where most of the clients are expats. There is a photo of Arne enjoying a coconut-rum drink at Amigos. The customers are friendly there as well.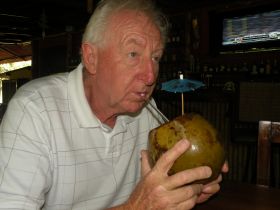 When we moved to the Boquete Valley of Flowers Condos
we had an opportunity to meet our neighbors.
We are acquainted with everyone here. Our landlord has
been kind to us and invited us to meet their friends. We are often invited to go places with various people. One local
businessman stopped us one day as we walked to town and
gave us a ride. Then he gave a us a tour of his business, introduced us to his staff, to customers and anyone that came in the door. We have a friendly relationship with the British fellow at the laundry in town. We eat at Sugar and Spice so the wait staff there are very sweet and always full of smiles.
This is a diverse community. Visitors and locals, expats all seem to be more than willing to help you or to share their names and numbers. My advice is if you enjoy people you will meet people. Smiles are door openers, and so often people are looking forward to meeting someone new, too.