This is Beautiful Playa Venao, Panamá...
Posted by Renate Jope - Panama Premium Real Estate on January 15, 2013

Beautiful Playa
Venao
has been my passion for many years,
an
d this is the area I moved to a long time ago, in 1985. I was lucky to get to know Panama from th
e "inside out", being
exposed to the folklore of the Los Santos Province and its music an
d festivities.
Getting to know some deep traditions was the highlight of my move abroad, my ki
ds growing up in a sane and safe environment with Spanish being their
first language. All in all a well-balanced upbringing for a child if you ask me.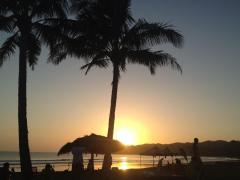 Beautiful Playa
Venao
is surrounded by raw nature, the tropical dry forest (which
Expats
are now
refores
ting to bring back the wildlife that vanished due
to the lack of habitat) with its animals, the ocean with its abundance of life, we always have a beaut
iful playground all around. Spending time with the loca
ls
is also always a favorite.
Summertime is here, (December til May) Playa Venao is seeing gorgeous surf, the northerly trade winds blow daily, no rain whatsoev
er...surfers, booggie-boarders, and
body surfers abound.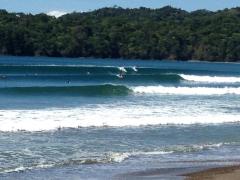 The slowly cooling ocean is very welcome to refresh us from the hot hot sun, playing
in the waves is just so much fun.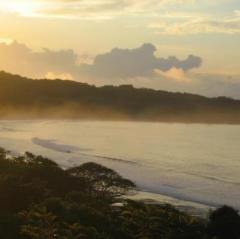 Temperatures drop sh
arply this time of year due to the oceans
upwelling
, which brings the water from the bottom up to the surface, including its fish, which therefore attracts many seabirds.
What a magical place it is...