The Most Magnificent Beaches of La Paz, Baja California Sur and Surroundings
Posted by Chuck Bolotin - Best Mexico Movers on July 17, 2016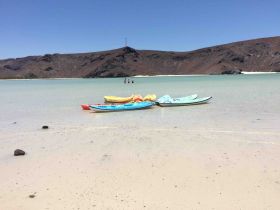 Within the creation of any great work of art, you can usually see certain elements of that great work in several previous works, but none of those previous works have all the elements at one time. It is the same with great beaches. You probably have your own list of the elements that make up a great beach. Here's the list for my wife, Jet Metier:
Warm weather.
A cove or a bay, perhaps with a view of an island.
Warm, clear water (preferably different shades of blue).
White, powdery sand.
Gentle access (no hard slopes), and easy to walk on.
Clear skies.
Few people.
Safe conditions.
Clean, with a place to put trash.
Quiet
Unthreatening marine flora and fauna
A place where the dogs can play safely (not be attacked by other dogs, get swept out to sea, etc.)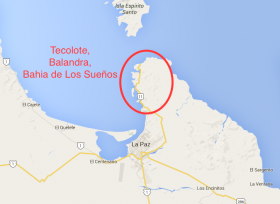 Once you're in Baja for a while, you can get greedy and add a few more. For example:
Shade, either naturally occurring, or a palapa.
Available services such as clean bathrooms, food, water, showers, etc.
Baja California, especially on the eastern, Sea of Cortez side, has various quantities of these elements in great abundance in many, many locations, so it no surprise that, every once in a while, through random chance or some other means, all these elements come together to create what could be called "the perfect beach." Here are just a few of the contenders that we visited during our six weeks in the general La Paz, Baja California Sur area, keeping in mind that we visited from the middle of May until the beginning of July, which is off-season, and that there are probably many, many more great beaches we don't know about.
La Ventana Bay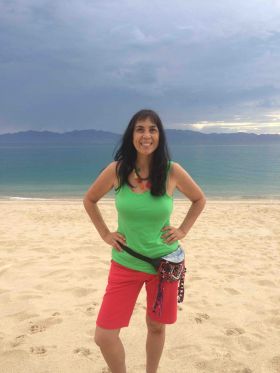 No surprise here. My wife picked our house in part based on her criteria above. From the house we were renting, I could walk directly down the hill about 7 minutes and be at the beach. There, I could release our two dogs, who would play in the surf or chase birds, because there was usually either no one there, or just one or two other people, for miles. However, other than our rental home just up the hill, there were no services.
On a whim, I decided to put on a diving mask and try snorkeling. Being from Southern California, I was immediately astounded. Within water just two feet deep, I saw several varieties of fish. Within 5 feet depth, I saw coral. If you wanted to, you could just stand in a few feet of water, put on a mask, stick your head in the sea and feel like you were in a giant aquarium.
Fishing boats passed in the near distance, and the shores of Isla Ceravlo loomed about 9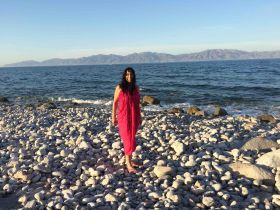 miles away, so clear that you could make out the beaches and where dry streams met the sea. If you walk or drive to the north just a bit, you come to Hot Springs Beach, with its built in palapas and naturally occurring hot water coming through the sand. If you venture further on the completely unmarked dirt road perhaps just a mile or so, past even the randomly appearing homes without city water or electricity (some, surprisingly quite big and nice), you would come across beaches that you would swear if you didn't know otherwise had not yet been seen by humans. They were raw—coral on the sand, rocks, and no marks of civilization whatsoever. People travel a long way to go to a place that others have not, and yet, although it wasn't true in this case, it certainly felt like this was one of those places.
Balandra
When you enter La Paz, drive to the malecon and turn right, after a left onto another road a few miles further, you'll soon be winding around several coves with mangrove areas near the road, and continuing out into the sea, with flat, clear, shallow water. It is a kayaker's paradise, although we saw very few kayakers. In fact, we saw very few people at all, as one beautiful beach after another rolled by on our left. Every once in a while, you would see a restaurant on the shore, with palapas and perhaps some campers. The sea would be glistening as birds stood on exposed rocks perhaps 40 yards from shore.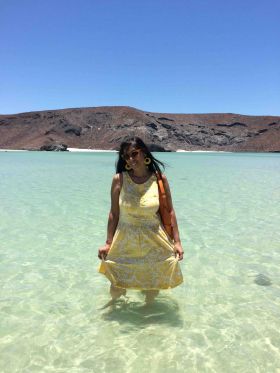 The most famous of these many beauties is Balandra, and if you've seen a picture of a beautiful beach near La Paz, you were probably looking at Balandra. As we pulled up to the parking lot, there were around 30 cars, which was more than we were used to seeing. There was a concession stand selling dresses and hats and another that rented umbrellas for shade, which was a bit odd, because there were several palapas available at no charge.
Like many of the other bays along the way, the perfectly clear water in Balandra is about two feet deep for what seemed like more than a hundred yards. You can see people 50 yards away, in the sea, standing, talking with one another while holding drinks, or floating by on a raft just a bit higher than knee level of the people standing in the water. We took off our sandals and walked in. Within a few feet, I saw what looked like a green snakelike fish wiggle by at about 10 miles an hour.
We didn't see bathrooms, it was too crowded for dogs, and we didn't see any food concessions, but it was quite impressive and worth seeing.
​Tecolote
Given that Balandra was not for us, mainly because we couldn't let the dogs out, we continued on the road to see what we could see.
No more than 10 minutes later, the road dead ended at Playa Tecolote. As you arrive, you have the choice of one large restaurant to the right, and one to the left. In either restaurant, if you buy a meal, you get to use the palapa and their bathrooms. If you don't, there are still many places further to the right or left you can use for free.
We tried each of these restaurants on separate occasions, and both were very, very good, with prices higher than we had become accustomed to in Baja, but perhaps 50% or less of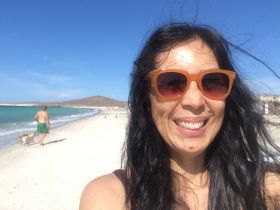 what you would expect to pay in a beach area in Southern California, but with no charge for parking. You can use the bathrooms (not fantastic), get a great meal, shade, and enjoy the white sand and clear, clean, flat water. You can even rent a kayak for a very reasonable amount, and a jet ski as well. However, even with all these services, there were very few people there; perhaps 25% of capacity, at most. At both restaurants, the waiters loved our dogs and called them by name. We were able to take long walks completely undisturbed. My wife had sea bass, which came as an entire fish, for about $7.50. She loved it.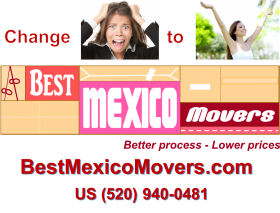 Bahia de Los Sueños
In my wife and my opinions, I saved the best for last.
I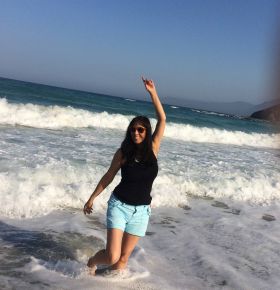 n order to get to Bahia de Los Sueños from where we stayed in La Ventana, you have to drive to the same road to get to the intersection where you would make a right to get to La Paz, but instead of making a right, you make a left. This takes you through the agricultural area of Los Planes, and then, to more and remote areas. You can go to the public beach to the left, or you can go just a bit further, over a cattle guard, and approach a guard with a gate. We were told to tell him we were going to the restaurant, which we did, and which was enough to get him to lift the gate.
We drove on dirt roads for about 8 minutes or so (of course, no guardrails, steep drop-offs, no signs, many alternative choices, etc.), and then, we saw a small sign, which we followed. Suddenly, appearing before us were elegantly placed palm trees, a nice place to park in the shade over powdery white sand, and a large building. I walked up the stairs, past the three pools and a group of about 10 people eating lunch on the patio of what looked to be about a 5,000 square foot game room with a bar extending almost the entire left side, and kitchen in the back. There was a pool table, other games, and above, on the open second floor (the ceiling must have been close to 30 feet high), ran an elaborate miniature train. To put it mildly, this is not what I had expected to find in this remote place. It was like Citizen Cane had come to Mexico and opened his home to the public. What was this place at the end of the dirt road?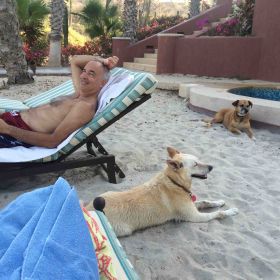 The waiter explained that it was a restaurant, that the boutique hotel was up the paved, palm tree shrouded walking path, and we were welcomed in the restaurant… with our dogs! When we sat down, they moved an umbrella and brought the dogs water. Then, came the menu. Although the prices were more than we were used to in Mexico (and in US dollars), it certainly was reasonable. I ordered a steak sandwich for $12. There was no charge for parking or the magnificent view, which we could see through the palm trees.
Over time, we learned that, not only could we use their bathroom at no change, but also all the facilities of the hotel were available to us. On a single day, we used their towels, lawn chairs, umbrellas, showers, three pools (one infinity), I went snorkeling, stand up paddle boarding, kayaking, and walked on the beach for miles with the dogs with close to no one there, all at no charge other than our meals. Never were there more than seven people on the beach. Not only did I use the slides into the pool, but so did the dogs. It was like Club Med without the beads. Almost spontaneously, with no one even there, as I was swimming in the clear, blue sea and contemplating my next activity, I exclaimed to no one in particular, "This may be the perfect beach." And for us, it was.
Are there more beaches like the ones I describe above in the La Paz area? Yes, we visited more than we have space to describe here. Also, I am quite certain that, given how all the components of the perfect beach are in abundance in this area for probably more than a hundred miles, there are many, many more, some perhaps even more beautiful. We just haven't seen them yet.
---
See links to all Mexico road trip stories below. You are currently reading the one highlighted with the
yellow background.
To see hundreds of questions answered by expats
already living in Mexico, click
here
.
To see hundreds of questions answered by expats already living in Mexico, Panama, Belize, Nicaragua and Portugal, go
here
and navigate to the place you're most interested in.
Want online, interactive help finding the best place abroad for you? Try the
Location Advisor
.
To download free research studies conducted with over 1,000 expats currently living in Mexico, click
here
.