Arriving in Our Little Village in La Ventana Bay, Just Southeast of La Paz, Baja California, Mexico
Posted by Chuck Bolotin - Best Mexico Movers on July 8, 2016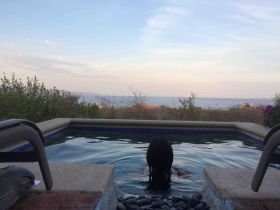 As you progress south on Highway 1 in Baja, you know you're starting to enter La Paz because, just like in any other part of the world I've visited, as you enter a more densely populated area, the road adds lanes on your side, in this case, from one, to two, and then, eventually to three.
The first major thing you see when you arrive driving south on Highway 1 into La Paz is… Wal-Mart. So we had driven 842 miles into Baja from Mexicali to La Paz, experienced beautiful beaches we previously didn't even know existed, seen both the Pacific and the Sea of Cortez, stayed overnight in a yurt, drove 20 + miles on unimproved road, braved the terror of passing semis on a road with almost no shoulder or guardrails, all to arrive… at Wal-Mart.
This Wal-Mart looked strange for two reasons. One was that, since leaving Mexicali several days earlier, we had not really been in an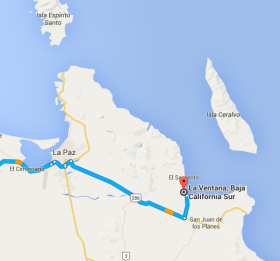 area populated enough to support a large store of any kind. The other reason it looked so strange was that it didn't look so strange. It looked… like Wal-Mart.
Just like the one we stopped in just before crossing into Mexico 4 days earlier
. It was like we had driven through Baja to find the place where the universe had folded over onto itself.
We certainly didn't see the need to stop in Wal-Mart, so we continued. We passed Sam's Club and Home Depot, and in the distance, we could barely see a Starbucks. (I'm not making this up.) We were instructed by the vacation rental management company to look for a large supermarket called Soriana, which we soon found, right next to a huge, modern movie theater. (Among the other movies they were showing was something about Tortugas Ninjas.) We parked the van in the shade for our dogs, slightly opened the windows, and joined the procession into the store.
Once inside, there were some minor differences comparing to a typical large supermarket in the US, but not many. The biggest difference was that the produce and meats were priced per kilo (2.2 pounds), and the prices, which were slightly lower on many items,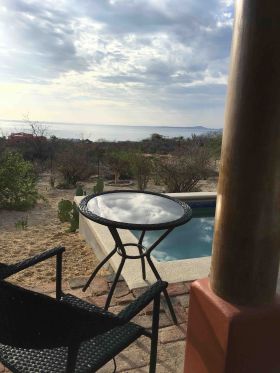 and denominated in Mexican pesos. The reason I mention what should be the obvious fact that the prices were in pesos is that there was so little else that was really significantly different, so it almost surprises you that they ask for payment in pesos.
We had installed an app on our iPhone called Converter, which was very helpful understanding pricing in dollars and per pound. Another app we had installed would have been helpful with translation, except that our cell service didn't work in La Paz. This seemed odd, because, before leaving the US, I had signed up for Sprint Open World, which advertises that it works just as well in Mexico (and for no additional charge) as it does in the US. Well, in the La Paz area, it doesn't work well. It only barely works at all, sometimes. It turns out that, in Mexico, Sprint partners with MovieStar, which, although it proudly announced itself on the display of my iPhone and let me know it had 4 bars, was pretty much useless. (I'm told that the only cellular service that works in Baja Sur is TelCel.)
We paid for our items in this well-lit, very modern, clean, well-priced supermarket, joined the dogs, and started towards our rental home, just south-east of La Paz, about 40 minutes away, if you don't make any wrong turns. After asking for directions several times (of course, GoogleMaps didn't work because we couldn't get a cell signal), we finally got on what seemed like the right road, which quickly decreased to two lanes, and then back to one.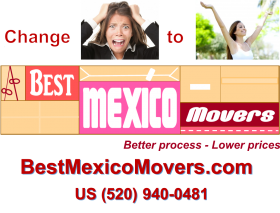 It was mid-day, so we weren't too concerned about running out of daylight. We could easily make out the cows crossing the road, as the pavement changed from rough, to having big potholes, to being newly paved, to not paved at all, and then back again.
Of course, we missed our turnoff, because we didn't see any sign. The only reasons we suspected we had gone too far was that it was taking too long, and we were now in an agricultural town called Los Planes that was definitely not on the sea. We turned around, identified our missed turnoff via some signs that advertised several businesses in the area that were much more visible coming from the other direction, drove through an incredibly beautiful valley of cardon giant cactus (very similar to the saguaro you see in Arizona), and then, to the little town of La Ventana, right on the sea of Cortez.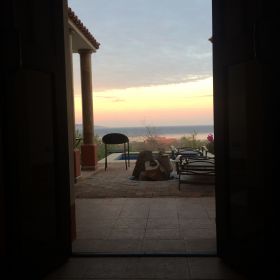 We bounced over several topes (speed bumps). Some were marked, and some were not. After being in Mexico for a while, you start to get a feel for where most (but definitely not all) of where the topes will be. It also wouldn't surprise me if they put just a few topes in random places just so you will drive more slowly in general. For whatever the reason, it was good to drive slowly through La Ventana.
Taken at a more leisurely pace, and with the anxiety of not knowing where we were removed, we could see that the bay was really quite spectacular. Just as one gets accustomed to seeing one's children and each of one's children is beautiful in their own way, we had become accustomed to seeing unanticipated bay after another unanticipated beautiful bay on our drive through Baja, and each one was beautiful, but, if you took the time to notice, different.
The coastline of La Ventana waves back and forth gracefully, and as you drive and gain or lose a small amount of elevation, different views are revealed. Directly in front of the bay, about 9 miles away, is Isla Ceralvo, which creates a channel for about half of your view. On either side, the rest is open sea. The water is so completely flat that it almost looks like a big lake.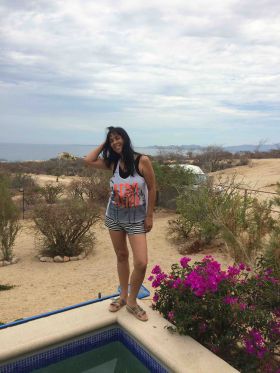 To get to our rental, we had to drive about 5 minutes from where the road became unpaved, and then make a left, up a hill for about a hundred yards. From there, our 3 bedroom / 3 bathroom home with a very small pool ($1,200 / month) had more than a 180 degree view of the bay and the island. You actually had to turn your had from side to side to take it all in. Dotted around the immediate area in between vacant lots with native plants and the occasional cow where very impressive homes that it turned out were owned by people from Calgary, Canada.
Here is where we would spend our next six weeks, visiting the beach directly below our home as well as the surrounding beaches, the almost complete quiet, take a trip to Cabo, eat fabulous meals at 60% off, enjoy the rhythm of sea and life in a fishing village, the calm, clear water by day and the stars at night. It's also where we learned what it's really like to live in a small coastal village in Baja Sur. More on that next.
---
---
(Map data 2016 copyright Google INEGI)
See links to all Mexico road trip stories below. You are currently reading the one highlighted with the
yellow background.
To see hundreds of questions answered by expats
already living in Mexico, click
here
.
To see hundreds of questions answered by expats already living in Mexico, Panama, Belize, Nicaragua and Portugal, go
here
and navigate to the place you're most interested in.
Want online, interactive help finding the best place abroad for you? Try the
Location Advisor
.
To download free research studies conducted with over 1,000 expats currently living in Mexico, click
here
.